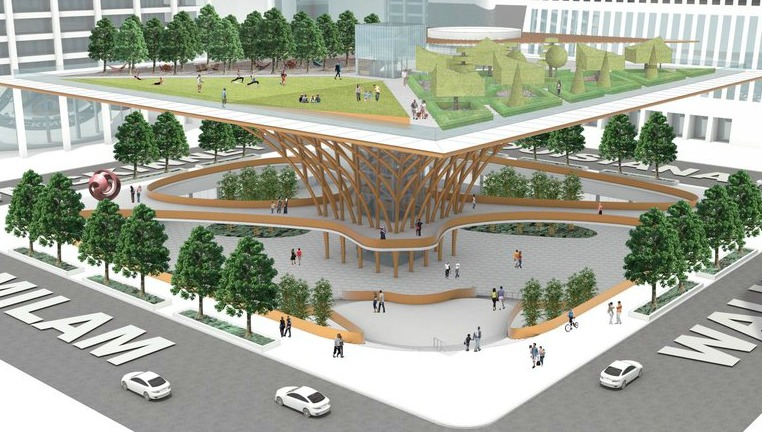 (Above: An artist's rendering of a design for a "sky park" at the corner of Milam and Walker in downtownHouston. Image Courtesy: ByDesign/Gensler)
If the future of Houston design was left up to the next generation of architects and designers, what would our city look like? It's a concept Houston design firm Gensler is exploring with their "next-gen" group called ByDesign.
Group members recently presented their latest ideas to a small group of brokers, clients, and community influencers. We talk with Tiger Lyon, technical designer for Gensler, and Angela Palmer, a technical designer and an associate with the American Institute of Architects (AIA). They tell us about some design concepts they have for a future Houston, and we invite listeners to call in with their ideas too. VIEW SLIDESHOW
Also this hour…
Energy: What Did We Miss?
We've been devoting time in recent weeks to talking about the various sources of energy in Greater Houston and across Texas. In previous weeks, we've talked about the future of energy from wind, solar, coal and nuclear and natural gas. On today's show, we examine any forms of energy we may have missed, including biofuels.
We talk with Loren Steffy, author, writer-at-large for Texas Monthly and managing director for the communications firm 30 Point Strategies. He also follows the energy industry closely.
Minorities and Affordable Housing
The city of Houston is in a housing crisis, according to Tom McCasland, director of the City of Houston's Housing and Community Development Department (HCDD). He explains why. And then we hear from one of the many nonprofits the city partners with to address this issue – the Houston Area Urban League (HAUL). Next year, the organization turns 50. It provides social services for African Americans and other minorities, including workforce development, healthcare, financial literacy and affordable housing. The organization's president and CEO, Judson Robinson III, explains some of the challenges Houston minorities face in finding and maintaining affordable housing and how his organization works to help them.
Turk Farrell
With a new Major League Baseball season just days away, now is a fitting time to tell the story of a mostly forgotten figure from Houston's early baseball history. Richard "Turk" Farrell holds several distinctions that should be interesting to Houston baseball fans. He was the first All-Star the Colt .45s ever had. And he gave up the first-ever home run hit in the Astrodome (to Mickey Mantle in an exhibition game). And, overall, he was a quality, workhorse starting pitcher for the franchise for several years as one of the stars of the early days of Houston Major League Baseball. And, apparently he was quite a character.
Michael Hagerty talks with baseball historian Ron Briley about who Turk Farrell was and how he's remembered (or not) in the city where he spent most of his career and where he and his family would call home. Briley grew up in the Texas Panhandle and is a long-suffering Astros fan. He wrote about Turk Farrell in an article for the Society for American Baseball Research (SABR).
Houston Matters offers a free daily, downloadable podcast here, on iTunes, Stitcher and various other podcasting apps.