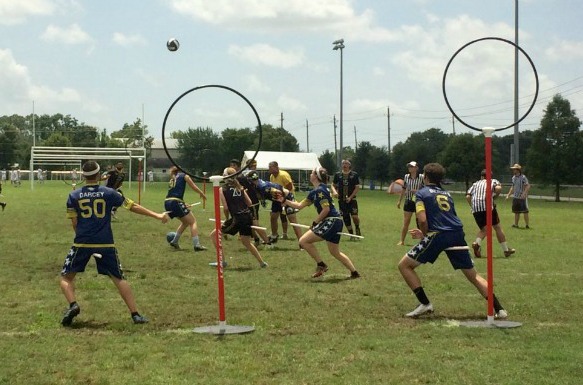 Yeah. You're looking at a Quidditch match above. More about that below. First, on Monday's program, we discussed how Greater Houston has long exceeded federal standards for ozone levels and is facing new, even tougher standards set forth in the Clean Air Act. That, according to the Greater Houston Partnership, may create circumstances that could prompt companies wanting to build new industrial plants to do so outside of the region. That's the economic argument against those tougher standards.
There are also, of course, environmental consequences to not toughening ozone standards over time. On this edition of Houston Matters, we consider those consequences and seek out reaction to the GHP's concerns from Dr. Neil Carman, clean air director for the Sierra Club Lone Star Chapter.Â
Also this hour…
Firefighters and Post-Traumatic Stress
A new report released last week by the International Association of Fire Fighters says firefighters and paramedics experience post-traumatic stress disorder at rates comparable to combat veterans. We talk with Houston Fire Department staff psychologist Dr. Jana Tran about treating firefighters with PTSD.
New Chabad Directors Seek to Serve Jewish Students at RiceÂ
Rabbi Shmuli Slonim and his wife Nechama Slonim are the new directors of the Chabad Jewish Center at Rice University, where they will serve Jewish undergraduate and graduate students. We talk with Rabbi Slonim about his journey from Australia to New York — and now to Houston. Plus we learn about the differences between Chabads and Hillels on college campuses and what role he sees religious organizations like his providing for students seeking connections to their religions away from home.
Houstonian Writes Play About Working at the White House
Sam Houston State University professor and Houstonian Peter Roussel spent many years at the White House as a staff assistant and deputy press secretary. Roussel wrote a play about his experiences, called Ruffled Flourishes, which debuts at the University Theatre Center at Sam Houston State University this Saturday (Aug. 27, 2016). The playwright shares some of his memories of working at the White House.
Houston Hosts Quidditch ChampionshipÂ
If you're familiar with the Harry Potter series of books and movies, you've probably heard of Quidditch. It's a fictional sport in which student wizards fly around on broomsticks. There's a larger ball called a "quaffle" and a number of hoops to throw it through to garner points. There's also a smaller golden ball, which flies around on its own power, known as the "snitch," which – if you catch it gives you an automatic victory.
Okay, so flying gold balls, student wizards whooshing through the air on broomsticks — it's the stuff of fiction. But it's also the inspiration for real-life Quidditch matches, which first became popular on college campuses a decade ago. And, as News 88.7 arts and culture reporter Amy Bishop explains, the game has now come down to earth in a Houston suburb.
Houston Matters offers a free daily, downloadable podcast here, on iTunes, Stitcher and various other podcasting apps.