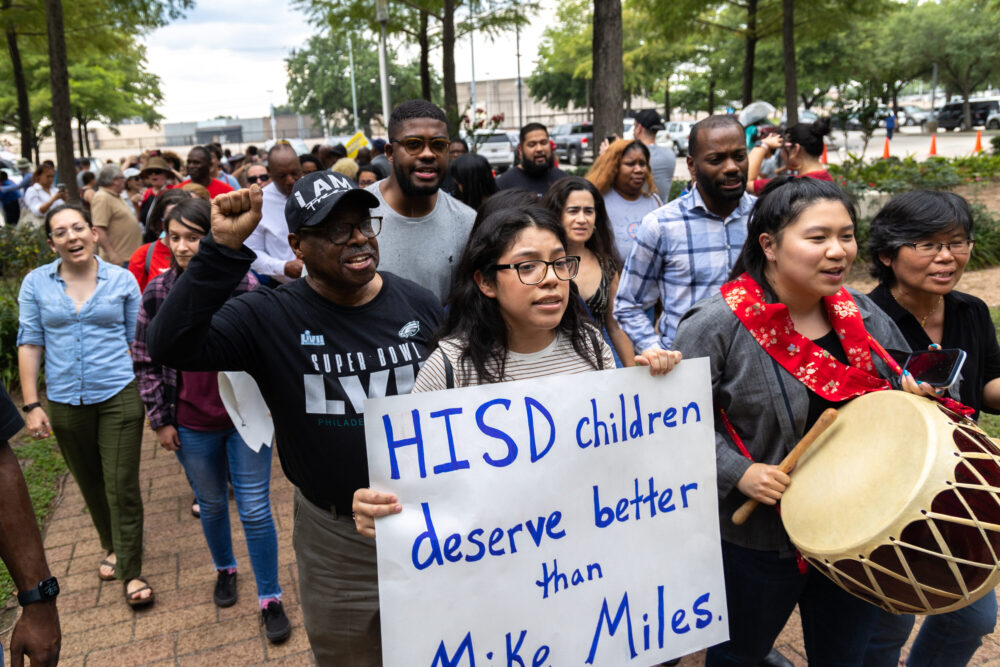 Jessica Campos said her daughter used to love going to Pugh Elementary, but now she dreads reporting to the campus in Houston's Fifth Ward. The teachers and administrators there used to be communicative with parents and receptive to their questions and concerns, Campos said, whereas now they tend to be tight-lipped and standoffish.
Campos said she even had the police called on her Thursday morning, after she stood up during a "coffee with the principal" event and questioned why the format had changed from a group conversation to one-on-one interactions between the principal and students' parents.
"It almost feels like a cult has taken over my school and my teachers," Campos said. "I don't know what's going on behind those doors, but my child is there. I'm trapped."
Pugh Elementary, like the rest of Houston ISD, has been taken over by state education officials. The school is one of 85 campuses across the district that are part of the New Education System (NES) adopted by superintendent Mike Miles, who was appointed in June by Texas Education Commissioner Mike Morath, who also replaced HISD's nine elected trustees with a state-appointed board of managers.
Premade lesson plans for teachers, a greater emphasis on testing-based performance evaluations and repurposed libraries – where some students are sent for disciplinary reasons – are now the standards at NES and NES-aligned schools. Miles' brief tenure also has been marked by districtwide layoffs, additional turnover and terminations among teachers and administrative staff, and a reduction in services for students with special needs.
Campos said she was among the parents and teachers planning to share their experiences at a Friday afternoon protest at HISD's headquarters, the Hattie Mae White Educational Support Center at 4400 W. 18th St. The demonstration was organized by the Houston Federation of Teachers (HFT), the largest teachers' union in the district, with HFT president Jackie Anderson, American Federation of Teachers president Randi Weingarten and regional AFT president Zeph Capo also among those scheduled to speak.
"Houston educators are appalled about what's being forced on them and their students," Anderson said in a news release about the protest. "We won't be silenced; we won't be cowered by tyrannical rule; we won't be controlled by fear. This is a school district that is on the path of destruction for nearly 190,000 students. That's not what parents want, and we will fight to end this hostile occupation for as long as it takes."
Appointing Miles and replacing the HISD board was part of a longtime plan for Morath, who announced in 2019 that he would be intervening because of mismanagement by then-trustees and Wheatley High School's string of failing academic ratings from the Texas Education Agency (TEA). HISD temporarily fended off the state takeover by suing Miles and the TEA, who pulled the trigger after a favorable ruling earlier this year by the Texas Supreme Court.
HISD said in a statement Friday that it "respects the rights of our students, staff, and parents to assemble and express their views through protests."
Campos said parents and teachers feel "bullied" by HISD's new leadership, which she claims has created a culture of fear across the district and at Pugh, which is part of Wheatley's feeder pattern. She said she does not feel like her opinions as a parent are heard or valued and that she now has more limited access to the campus, which "feels very much like prison," she said.
Maria Benzon, a middle school teacher at Sugar Grove Academy who was placed into HISD's excess teacher pool and subsequently reassigned, echoed Campos' sentiment about teachers being fearful of making mistakes or losing their jobs. She also said that, while she doesn't entirely oppose some of the new curriculum strategies being implemented, teachers need more flexibility in delivering lessons and there is an overemphasis on test scores.
"The takeover needs to stop," said Benzon, who also planned to speak at Friday's protest. "We don't have a democratically elected board. We need to be treated more professionally and with more respect. There are so many reasons why we're standing up today."
Ruth Kravetz, the co-founder of local advocacy group Community Voices for Public Education, said she is among the hundreds of HISD stakeholders expected to take part in the protest, which the teachers' union described as a "practice picket." Kravetz said she expects it to be a precursor to a teachers' strike, adding, "Eventually teachers will strike in large numbers" over the changes brought on by Miles and the board of managers.
"This isn't just a little bit of changes," Kravetz said. "This isn't a disagreement with someone with a philosophical difference about how to educate our kids. This is about the very future of our public schools."