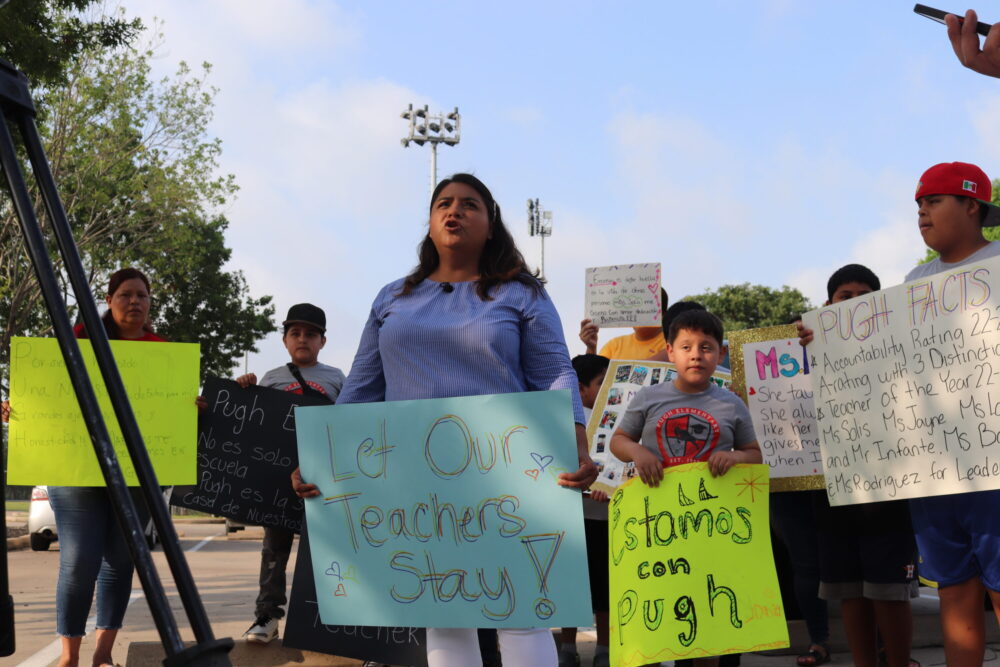 Do you have a story about special education in Houston ISD? Send an email to dominic@houstonpublicmedia.org.
About a week before classes started, the state-appointed administration of Houston's public school system slashed 21 special education contractors while promising that "every school in HISD will meet the needs of all students." One month into the school year, that promise has not been met.
Houston ISD confirmed that the contractors came from AMN Allied Services, which did not respond to a request for comment. According to a contract from last school year, the company provided "speech service, documentation and evaluation" — basically, the workers performed evaluations to determine if students qualify for special education and provided therapy to those with speech impairments.
Jane Friou is the co-founder of the Houston Special Education Parents Association, and she has a daughter at Lamar High School in Upper Kirby, near the River Oaks area. With three school years to go until graduation, Friou is focused on getting her daughter ready for "independence and life beyond school."
"We're still working on a number of academic things, but we start to look at employable skills and speech therapy," Friou said. "My daughter does have a speech impairment, and being able to communicate is going to be a very important job skill for her when she leaves school in the next couple of years."
On the first day of class, Friou received a message from Keeva Price, the district's director of Speech & Language Services.
"This letter is to inform you that Lamar High School does not currently have a licensed Speech-Language Pathologist to provide speech therapy services," Price wrote, adding that the district would provide "compensatory services" to make up for the lost time.
It's not just Lamar High. In Southeast Houston, Maranda Strong-Chavez is the resource teacher and special education department chair at DeAnda Elementary. Students there are five weeks behind on speech therapy — and counting.
MORE: Dominic Anthony Walsh discusses this story on Houston Matters
https://cdn.houstonpublicmedia.org/wp-content/uploads/2023/10/05105856/special-ed-HISD-HM-100523.mp3?source=rss-feed
"At this time, on our campus, they still have not found a speech therapist," Strong-Chavez told Houston Public Media. "The 62 students on my campus that are supposed to receive speech services — the students are going to be owed at least seven to eight sessions, and it's still accumulating until they find someone."
Parents at Horn Elementary, Wainwright Elementary and Durham Elementary also received messages about the failure to provide speech services.
Asked if the decision to cut contractors directly caused the service disruption, Strong-Chavez said "it probably has."
"I've had a parent call me every other day asking me why their child is still not receiving speech services," she said. "It's a big detriment on my campus right now to not have a speech therapist because 10% of my school population depends on that speech service."
In a written response to questions about the shortfall, a Houston ISD spokesperson claimed "there was no disruption to service delivery as we routinely change our network of service providers to meet the changing needs of students." When presented with a list of schools that did not have a speech therapist, the spokesperson only addressed the vacancy at Lamar High, writing that "a contract speech therapy service provider has been identified and is in the hiring process."
The district spokesperson also said the administration has been "very deliberate and focused on expanding our speech therapy team" — 17 of 40 vacancies on the team have been filled since the beginning of the school year — and "many" of the contractors who were released in August "have been brought back."
Around the same time the contractors were released, the district also slashed its in-house autism services team. The half a dozen team members, based out of Central Office, provided highly specialized support to teachers serving students with autism.
One special ed teacher, who requested anonymity due to fear of retaliation, said the cuts hurt new educators who don't have experience handling crisis situations.
"They don't know who to call to come in and help, and I'm thinking, well, it would be the autism team or it would be this program specialist, but none of those positions are here," the teacher said. "It's several times a week, and it's mostly new teachers. That's the worst. That's the area I was the most worried about — our new teachers that just don't have the same level of experience. They don't need to struggle like that. There was really great support."
When the cuts were made, a district spokesperson promised that "all teachers and support staff can continue to access additional coaching and professional development throughout the school year."
In a widely praised move, state-appointed superintendent Mike Miles is including special education as a significant component in campus principal evaluations. 20% of the principal evaluation is based on how well the school serves students in special ed, with 10% of the score coming from those students' standardized test scores and another 10% based on legal compliance.
But, as Strong-Chavez pointed out, compliance on campus is difficult when Central Office doesn't provide adequate resources.
"The law says that you have to have a child's evaluation done in 45 days," she said. "When you don't have the staff to support that law, we're going to be in trouble in the district."
The district has long struggled to comply with state and federal laws protecting the approximately 18,000 students receiving special education services in Houston ISD. Those struggles were actually among the reasons the Texas Education Agency took over the district in June, more than two years after the agency appointed conservators to oversee the special ed department.
According to reports from those conservators, in July the district remained "off track" from compliance in multiple areas — like communicating with parents in a timely manner, holding planning meetings within 30 days of student evaluations, reducing the number of disabled students removed from class for disciplinary reasons, providing adequate training to all staffers, creating strong goals for students in special ed, and tracking whether or not students receive their accommodations. Full compliance is required for the takeover to end.
The state-appointed Board of Managers will receive a "special education presentation" during a meeting this Thursday. Superintendent Miles has said he intends to release a comprehensive plan for special ed in October.