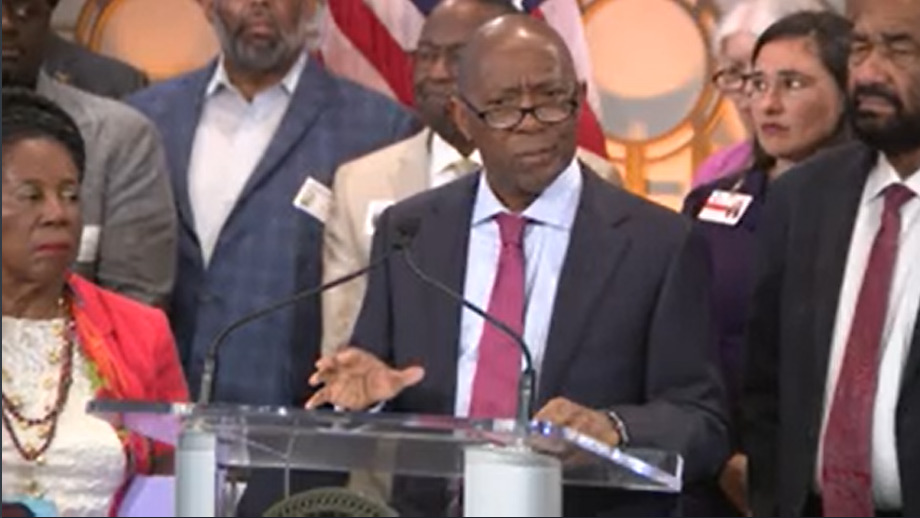 Houston Mayor Sylvester Turner condemned a plan by Houston ISD's new superintendent to convert dozens of school libraries to what he calls "team centers." Superintendent Mike Miles' plan would involve the removal of librarians from the centers, though Miles says students would still have access to books. The centers would also serve a disciplinary function for students who are disruptive in class.
Turner said the plan would discriminate against poorer, nonwhite students.
"You cannot have a system where you're closing libraries for some schools in certain neighborhoods, while more-affluent neighborhood schools have libraries that are open and stocked with books and other resources," he said.
The mayor said that Miles' plan would reverse the progress previous HISD leadership had made in expanding library services throughout the district, while punishing both disruptive and well-behaved students alike.
"Under former Superintendent Millard House," Turner said, "HISD was putting a librarian at every school through a five-year plan. If HISD reverses course and removes librarians and closes libraries now, some students may never develop a love and appreciation for reading. And we do not want our schools to look like prisons."
RELATED: City leaders criticize Houston ISD superintendent Mike Miles over plans for school libraries
In anticipation of Turner's remarks, Miles issued a statement saying, "I cannot and will not govern the state's largest school district by press conference or press release. The time for politics is over, and we will not be distracted by intentional misinformation."
Miles added that he would be willing to work with "anyone who is serious about improving the learning and life outcomes of HISD students."
Turner, responding to Miles' statement, said he had been serious about those outcomes since long before Miles had arrived in Houston.
"I have committed most of my professional life in improving the quality of education and the quality of life for students, not just in HISD but across this state," Turner said, referring to his career as a state representative. "No one can take action in this city as though you are the general and you are less than your soldiers."
Turner said Miles' plan would not stand. He left unsaid how he would or could stop it. But others who joined Turner at the podium indicated they would apply outside pressure to halt the initiative. Congresswoman Sheila Jackson Lee, who is running to succeed Turner as mayor, indicated the possibility of federal intervention.
"Eliminating...the libraries are a direct hit on Brown v. Board of Education, which in 1954 decided to integrate our schools. It is a violation of the 1964 Civil Rights Act dealing with accommodations," Jackson Lee said. "This speaks loudly to the Department of Education...and the Department of Justice, who has indicated many things to me that this is getting their attention."