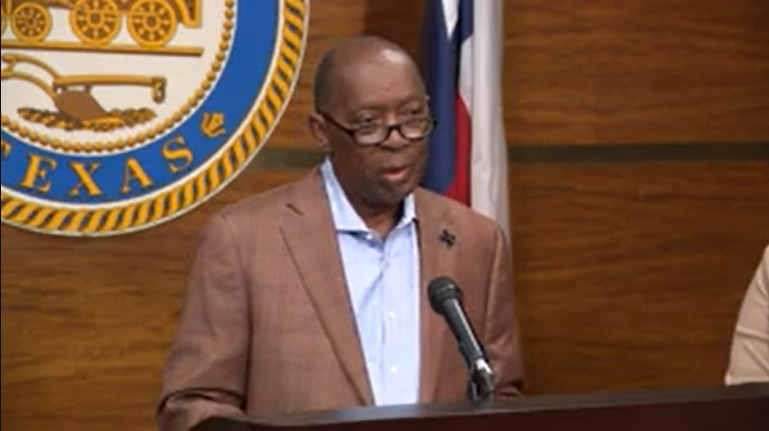 Houston Mayor Sylvester Turner and other city leaders Wednesday criticized a plan by new Houston ISD superintendent Mike Miles, who is eliminating librarians at dozens of schools in the district while converting their libraries into multi-use spaces where misbehaving students will be disciplined.
Librarian and media specialist positions are being eliminated at 28 campuses designated to be part of Miles' New Education System (NES), which entails premade lesson plans for teachers, classroom cameras for disciplinary purposes and a greater emphasis on testing-based performance evaluations, among other initiatives. The libraries at those schools will continue to include books that can be read or checked out by students but are otherwise being reimagined as "team centers" where special programming will be held and disruptive students will be sent so as not to interfere with their classmates' learning, according to HISD spokesperson Joseph Sam.
The library-related changes also could be coming to the 57 schools where principals elected to be NES-aligned campuses, with Sam saying that would be determined on a campus-by-campus basis.
Turner asked for Miles to reverse course on his decision to overhaul libraries in certain schools while allowing others to continue operating with dedicated professionals. Most of the 28 schools that were designated for the NES program are in the feeder patterns for Kashmere, North Forest and Wheatley high schools, which are located in low-income communities of color.
"You cannot have a situation where you're closing libraries for some schools in certain neighborhoods and there are other neighborhoods where there are libraries fully equipped," Turner said during Wednesday's city council meeting. "What the hell are you doing?"
Miles was appointed as HISD superintendent June 1 by Texas Education Commissioner Mike Morath, who also replaced HISD's nine elected trustees with a state-appointed board of managers. Morath and the Texas Education Agency (TEA) intervened because of mismanagement and alleged illegal activity by previous board members and also because Wheatley had a string of failing academic ratings from the state.
In addition to implementing his NES program, Miles also announced last week that 2,347 jobs are being eliminated from HISD's central office as a way to cut costs and streamline operations. He also plans to expand the NES reforms to a total of 150 schools over the next two years while enacting a district-wide, pay-for-performance model for all HISD teachers.
On Wednesday night, after Turner and a few city council members voiced their opposition to the plan for libraries, Miles wrote a letter to Turner that was publicized by HISD. The new superintendent invited the mayor to tour some of the NES campuses once the school year starts in August, so Turner could "see first-hand the unique attributes of this model and its ability to support student achievement."
Miles wrote the libraries, in addition to being used for "continuous instruction" for students who are removed from their classrooms, also would offer access to technology to reinforce classroom lessons and serve as places where students can work independently with the support a learning coach, work in pairs or small groups and work on differentiated assignments based on their proficiency level. He also said libraries are earmarked for these purposes because they often are large, centrally located rooms on a campus.
"The foundation of NES is equity – where the most disadvantaged students in Houston receive the most support," Miles wrote. "One of the unique components of the NES model is the team center – which is really the hub of differentiated instruction in an NES campus. This is where students who need extra support to catch up and have access to more time with a teacher or learning coach, and those students who are ready to work ahead can take on more challenging lessons and assignments."
Turner said Miles has "gone too far" with his plan to repurpose libraries in the district at a time when public school systems and governments across the Houston area, the state and beyond are exerting greater control over programming at their libraries while also banning or restricting access to some materials, often in the name of protecting children from themes perceived to be inappropriate or explicit. That sentiment was echoed by city council members Karla Cisneros, Robert Gallegos and Abbie Kamin.
"It's so awful," Cisneros said of the library plans for HISD's NES schools. "This is undermining the education of our children. An educated populace is really the bedrock of success, and this is just counter to that."
Sam said students at the HISD campuses without librarians and media specialists will continue to "have access to literacy and books," just not to professionals who can guide them in that process. A pre-approved selection of books will be available to students during school hours and to take home, Sam said.
Kamin said the assumption that school libraries will be needed to corral misbehaving students sends a troubling message. So did Turner, who recounted his experience as a fifth-grade student in Acres Homes, a predominantly Black neighborhood that includes Highland Heights Elementary, one of the 28 NES schools.
Turner said he and his classmates had been assigned to write reports about their summer vacations. But because Turner's family could not afford to take one, he read a book about San Antonio and the Alamo that he found in a library, and wrote his report based on that book.
"For many of these kids, the library is their portal to the outside world," Turner said. "I've always been a strong proponent of libraries, especially in schools in neighborhoods where kids are challenged for a number of reasons. When you close the libraries, you have gone too far. And this now becomes a time when we must engage in this process."