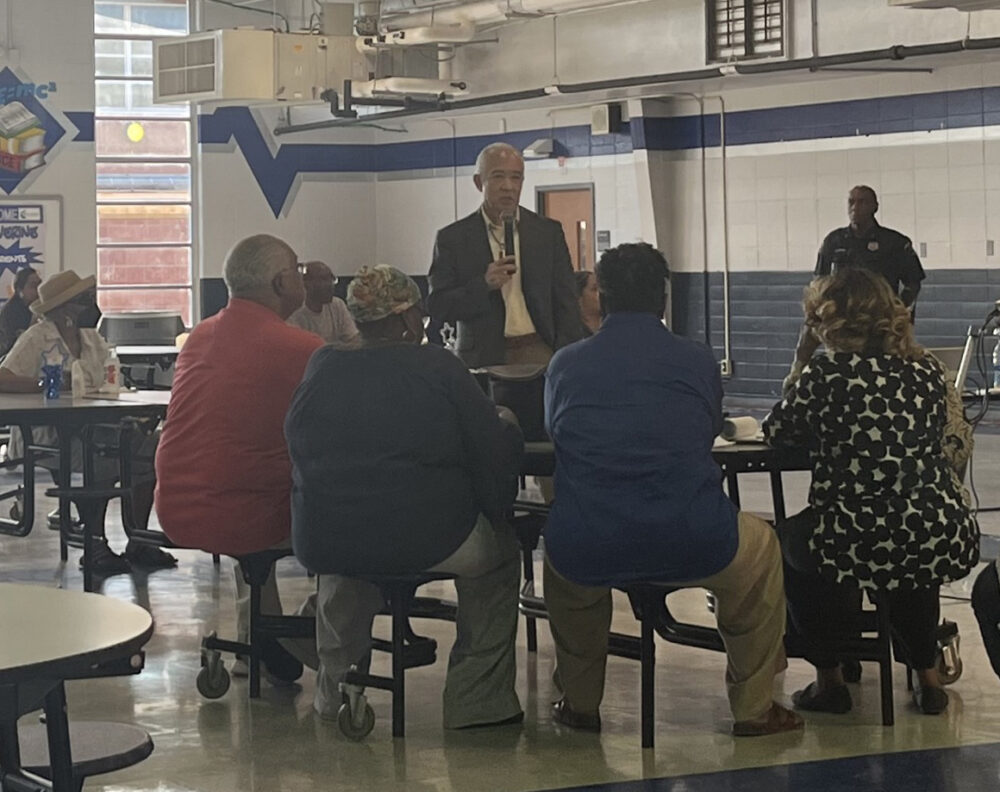 Houston ISD Superintendent Mike Miles held his second community engagement event of the summer Thursday night at Williams Middle School in the Acres Homes neighborhood of north Houston.
Miles said his vision for HISD is centered primarily upon improving reading proficiency outcomes through what he calls "wholesale, systemic reform" – which he said is particularly relevant following the U.S. Supreme Court ruling Thursday, striking down affirmative action in college admissions.
"The Supreme Court cut back affirmative action," said Miles. "I'm an educator... All I know is this: now, it's more important than ever for us to get equity right in the schools – in elementary, middle and high."
Miles's proposal for creating more equity involves his New Education System program, which will roll out at 28 campuses this fall. It will include heavy-duty reforms such as requiring teachers and principals to reapply for jobs at the schools, more test-based evaluation systems for teachers and principals, cameras in classrooms to aid in student discipline and providing pre-made lesson plans to teachers.
The district plans to extend the program to 150 campuses by 2030.
Williams Middle School is not an NES campus. However, the school's principal, Juanette Green, announced Thursday that the majority of those in attendance at a Williams staff information session about NES reforms on Tuesday voted in favor of adopting some of the measures and becoming "NES-aligned."
Miles revealed at last Thursday's HISD Board of Managers meeting that a number of principals in the district had expressed interest in opting in to NES reforms – though he did not give an exact number nor name specific schools. Miles is allowing principals to opt in for their schools to become "NES-aligned" or "NES-supported," on a voluntary basis. HISD has not released a list of schools considering or adopting the program, but Miles has asked principals in the district to decide by the end of this week.
Given her staff's recent vote, Green said Williams will most likely be NES-aligned this fall. She said she had not asked teachers about their reasons for voting for the program, but she plans to do so soon.
"The two systems are almost identical, except being NES-aligned is voluntary, and we're not reconstituting the school," said Miles. "Whatever staff the principal has is the staff the principal has, and the principal will stay the principal of the NES-aligned schools."
Miles said salaries will also be different at NES schools versus NES-aligned schools. While the average salary of teachers at NES schools will be $85,000 in addition to a $10,000 stipend, teachers at NES-aligned schools will maintain their same salaries. However, they will also receive a $10,000 stipend.
Principals can also opt for their schools to be NES-supported, meaning their schools will receive the same curriculum as the NES and NES-aligned schools. However, teachers at those schools will not receive stipends.
"Some principals want the curricular resources that NES schools are getting," said Miles. "That's where the term 'NES-supported' came from."
Miles's plan received more support from those in attendance than it has at the previous Board of Managers meetings. Several audience members applauded his reforms and expressed enthusiasm for the changes. However, many were still skeptical.
Norma Thomas, a former teacher and alumna of Williams Middle School, says she agrees that the system needs reform, but she's hesitant to believe that Miles can deliver on his promises.
"Historically, we've been told things that never came to pass. So yes, the problem is systemic, but you have to understand the community; our problem is not knowing," she said. "It's a nice song and dance, but I want to see where the rubber meets the road."
Thomas particularly took issue with premade lesson plans being provided to teachers in the NES and NES-aligned schools.
"It cannot be cookie-cutter. I worked under a system where curriculum specialists wrote our lesson plans," she said. "They were irrelevant and unrealistic...They don't know my students or what's happening in the classroom."
Miles said the curriculum is intentionally standardized.
"If you want to call it cookie-cutter, that's fine. It's a template for great instructional practice," he said. "We've tried autonomy. Our school district today has way too much autonomy."
Miles said he understands why some community members are skeptical, but he's optimistic about the feedback he's received at the last two meetings.
"The onus is on us to explain what the program is like and to build trust," he said. "But I've felt good the last couple of meetings that there is some excitement around change."
This was the second of ten community engagement meetings planned for this summer. The next will be on Tuesday, July 11 at Pugh Elementary School from 6 p.m. to 7:30 p.m.