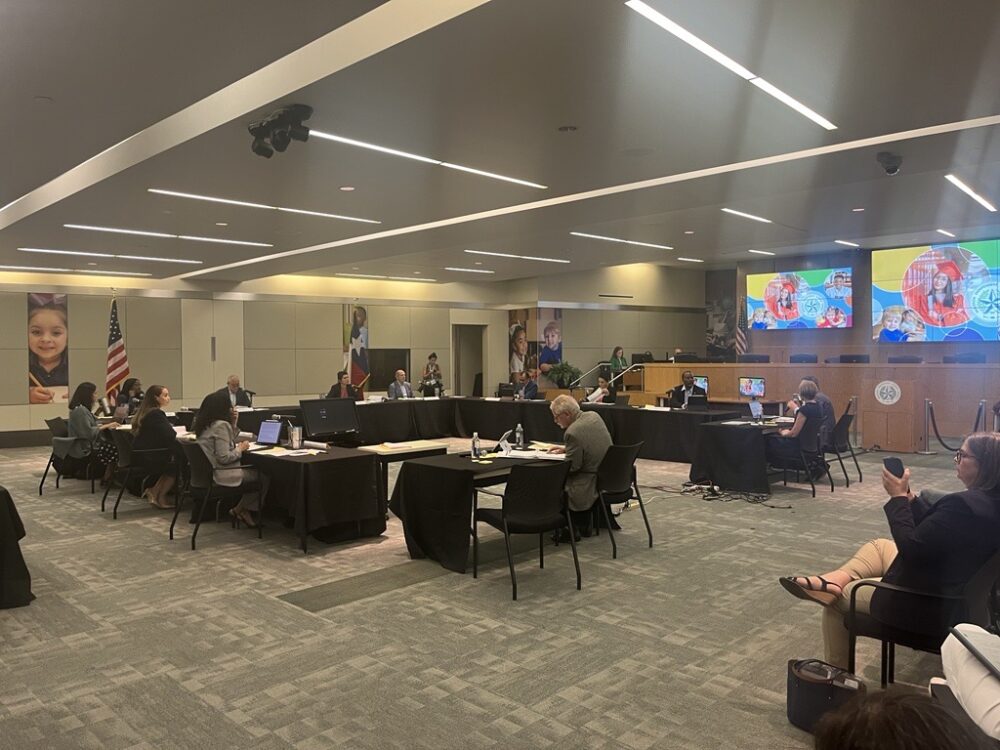 A teacher who signed up to speak at last week's Houston ISD board meeting ended up being arrested and charged with criminal trespassing before he got the chance to address the district's new state-appointed leaders.
Seating in the public school district's main boardroom, which has the capacity for hundreds of people, was limited to fewer than 50 for last Thursday's meeting, a week after protesters demonstrated during the proceeding. The June 8 meeting was the first for the nine managers appointed by the Texas Education Agency as part of a long-planned takeover of the state's largest school district, which in recent years had issues with low academic performance at certain schools as well as alleged mismanagement by elected trustees.
Most of the community members who showed up last Thursday at HISD's Hattie Mae White Educational Support Center were instructed to sit in an overflow room and participate in the board meeting virtually, prompting pushback from some who chanted, "Let us in!"
Jeremy Eugene, a 30-year-old teacher from the Houston area who had asked to speak during the meeting, ended up being arrested and charged with misdemeanor criminal trespassing, according to Harris County court records. He was released from jail on bond Friday, and his next court appearance is scheduled for Aug. 14, court records show.
"When I had signed in and gotten my sticker (as a speaker), I was under the impression that we would be in the meeting room as usual," Eugene said Wednesday. "But then in the process of the day, it could be seen that that was not the case based on what was happening to everybody else."
Eugene declined to provide additional details about what led to his arrest, citing advice from his attorney. He said he is a Missouri City resident who teaches online courses for Hallsville ISD in Northeast Texas, having previously taught in the Houston area at Aldine ISD and Fort Bend ISD.
Eugene also serves on the steering committee for Community Voices for Public Education, a local advocacy group that has voiced criticism about the state takeover. Group co-founder Ruth Kravetz defended Eugene, calling him a "gentle, wonderful human being."
"Even if he wasn't a wonderful human being, if he was a mean-spirited curmudgeon with a bad attitude, he should still be allowed to be in a public forum," Kravetz said. "We assume in a democracy that when you show up at the halls of government, which is what a board meeting is, that we will be allowed to listen in. And that's not what happened."
HISD spokesperson Joseph Sam acknowledged that Eugene signed up to speak and did not get that opportunity, adding that no one else was removed from the building or arrested last Thursday. Sam said the district could not provide additional details about what happened with Eugene, citing an ongoing investigation.
"Members of the public who could not be seated in the boardroom were seated in our overflow room," Sam wrote in an email. "The room was set to allow for a more productive discussion among board members about the district budget. The board will determine room configuration for future meetings based on the requirements of each agenda and in full compliance with the law and policy."
Kravetz, who said she has been attending HISD board meetings since the 1990s, said the boardroom has the capacity for more than 300 and that the overflow room has typically been utilized only when there is a large crowd of community members. Those in the overflow room have historically been ushered into the main room when it is their turn to speak, Kravetz said, and also when seats become available in the board room as visitors leave during the course of a meeting.
"That also didn't happen (last Thursday)," Kravetz said.
Eugene intended to express his support for HISD's magnet program and its positive impact on students, he said, adding that he is against a proposal to replace the magnet program.
"Jeremy is a teacher and respected member of Community Voices for Public Education," Kravetz said. "We are adamantly against the state takeover and believe parents, students and teachers like Jeremy have a right to be heard in a democracy."
Rebecca Noel contributed to this report.