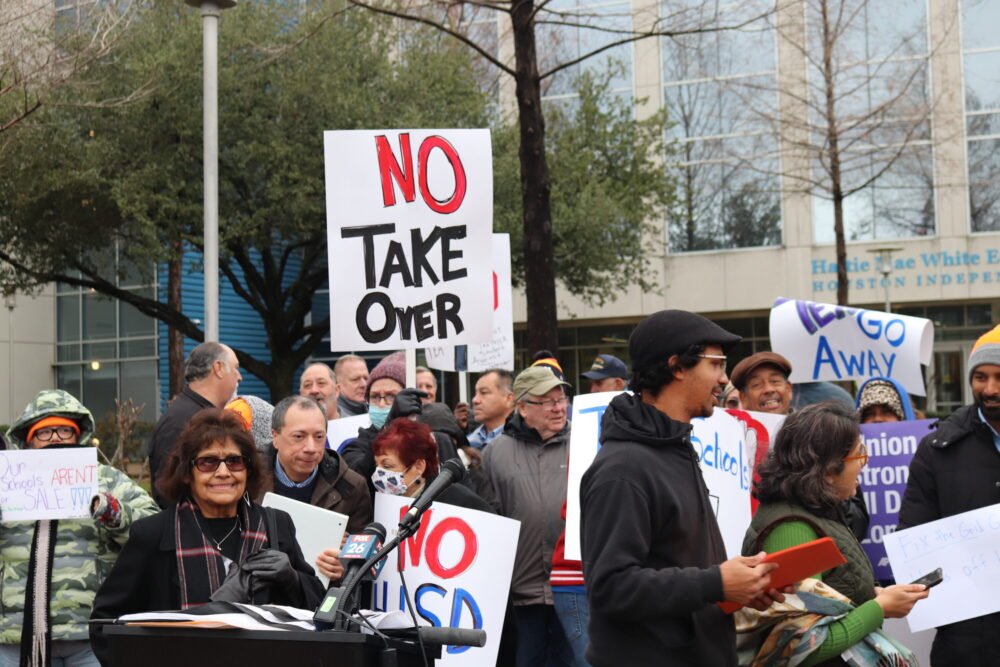 Houston Independent School District trustees voted Thursday to end litigation aimed at preventing the Texas Education Agency from seizing control of the district.
The more than three-year-long court battle reached the Texas Supreme Court in late 2022. The nine Republican justices ruled in January that the TEA could replace Houston ISD's elected school board members with state-appointed managers while the litigation proceeded in a lower court.
The litigation would have been unlikely to succeed. If the agency moves forward with the takeover, the state-appointed managers could withdraw the district from the lawsuit.
"We are now at the point where it is time for us to move forward," board president Dani Hernandez said. "It is in our students' and our employees' best interest for us to end this lawsuit between HISD and TEA, and navigate and build relationships between all parties involved so that our community's values are upheld."
RELATED: 'It feels like a dark cloud.' Houston teachers play waiting game while TEA decides HISD's fate
In a written statement issued Friday afternoon, Texas Education Commissioner Mike Morath praised the move.
"The decision made by the Houston ISD Board of Trustees helps put the focus back on what matters: the students, staff, and families of HISD," he wrote. "TEA remains committed to ensuring students in Houston receive a high-quality education that prepares them for success and will pursue a path forward that accomplishes that objective. Until the Agency makes any formal decision, I'm confident Superintendent (Millard) House and the Board will continue their work to help the students of Houston."
TEA justified the takeover in 2019 by pointing to years of failing accountability ratings at Wheatley High School, which has since received a passing grade.
The agency also alleged that board members engaged in illegal activity, like making important decisions behind closed doors. Seven of those trustees have left office or lost elections over the past four years. Trustee Elizabeth Santos is one of two board members elected before 2019 who remain in office.
"We fought for our students, parents and communities' right to democratic voice for the last five years," she said. "But we finally lost at the Supreme Court, and we don't have any procedures left to push our case. This battle is over, but our fight for democracy and public education will never be over."
The board voted 8-1 to end the lawsuit "in order to end further expenditure of district resources, as there are no further legal recourses." Trustee Kathy Blueford-Daniels was the only no vote.
Daniel Santos is vice president of the Houston Federation of Teachers, the district teachers' union. At the beginning of the board meeting, he encouraged trustees to "exhaust every option to stop the hostile TEA takedown of our community schools."
The board voted to end litigation as rumors continued to swirl that the agency will seize control of the state's largest district in a matter of days. Local and state lawmakers asserted over the past two weeks that the takeover was imminent, but their claims were attributed to unnamed sources. That changed on Thursday.
As TV station FOX 26 first reported, State Rep. Ron Reynolds now says education commissioner Mike Morath told him the takeover announcement would happen.
The lawmaker said he spoke with Morath on Wednesday.
"I didn't hear any wiggle room," Reynolds told Houston Public Media. "He felt like he had a duty to fulfill his responsibility based on the law."
State law mandates that the education commissioner take action when a school receives a series of failing accountability ratings, but there are options — close the school, appoint a conservator to improve performance or install state-appointed managers. And changes to state law in 2021 added complexity to the case.
Still, Morath told lawmakers at the Capitol and in private conversations that his options are limited.
"He said that his hands were tied," Reynolds recalled.
The Texas Education Agency did not comment on Morath's conversation with Reynolds. Since the state supreme court's decision in January, the TEA has not publicly committed to a specific timeline or decision.
Reynolds and other Democratic state lawmakers have proposed legislation to stave off the takeover, but he doesn't expect those bills to move forward.
"I'm a realist," he said. "I would love for it to pass idealistically. But realistically, with the posture of the Republicans in charge, I do not believe that we will be successful ... based upon the current climate — the voucher fights that are about to happen, and the position that my colleagues in the leadership seem to be taking on public schools."