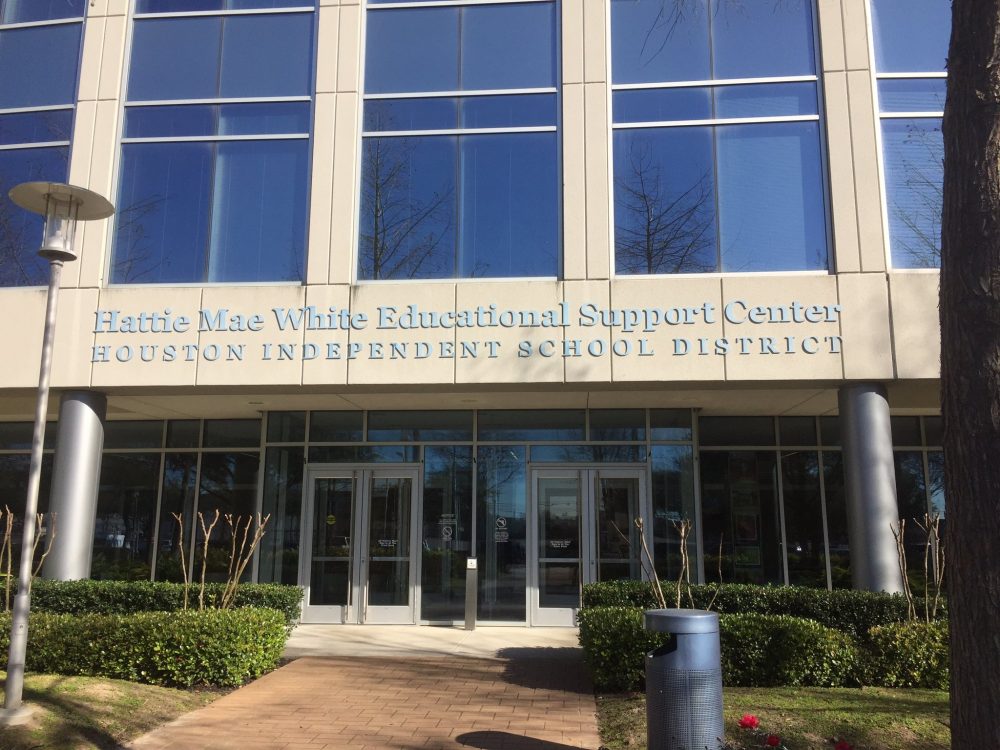 A former secretary at a Houston elementary school is suspected of starting a fire on campus in October to avoid a meeting about missing money, according to documents filed last week in a Harris County court.
Adriana Castorena-Narvaez, 49, was charged with arson on Dec. 15. A warrant for her arrest was obtained the same day, according to chief investigator Ruben Hernandez of the Houston Arson Bureau, who said Wednesday that the arson investigation took time to complete and that Castorena-Narvaez has not yet been arrested.
"There hasn't been an attempt to arrest her," Hernandez said. "This is pretty much Christmas week, so hey, we do have a heart."
No one was injured in the October fire, Hernandez said.
Castorena-Narvaez worked as a secretary at Houston ISD's Barrick Elementary School in North Houston at the time of the fire, according to a probable cause affidavit filed in court. She is no longer employed by the district, it said in a statement Wednesday to Houston Public Media.
Barrick principal Yolanda Garrido told arson investigators she suspects Castorena-Narvaez started a fire Oct. 10 in a front-office conference room because Garrido was trying to talk to her about missing money, according to the probable cause affidavit. Castorena-Narvaez was responsible for the school's finances and Garrido had been notified in September that scheduled payments to school vendors had not been made and cash collected from multiple school fundraisers this year had not been deposited into the school's account, court records show.
Hernandez said HISD's police department is investigating the financial issue, while the fire department is responsible for the arson investigation.
"HISD takes these situations very seriously," the school district said in its statement. "The investigation is ongoing."
Court records for the arson case do not list an attorney for Castorena-Narvaez, who is a Houston resident. HISD did not answer emailed questions seeking to determine how long she worked for the district and whether she worked in other roles or at other campuses.
Garrido told investigators she first tried to discuss the financial issue with Castorena-Narvaez on Sept. 16, but Castorena-Narvaez said she had a family emergency and went home, according to the probable cause affidavit. Another meeting was attempted Oct. 6, when Castorena-Narvaez said she had a medical emergency and was transported to an emergency room, Garrido told investigators.
Then on Oct. 10, the next day Castorena-Narvaez reported to work, arson investigators determined a fire was intentionally started at about 7:30 a.m. in the conference room directly across from her office, according to court documents. Investigators interviewed Castorena-Narvaez and other Barrick employees and also checked the school's clock-in log to determine who else was on campus at the time, alleging that Castorena-Narvaez was the only person near the conference room when the fire started, court records show.
"(Garrido) stated that she believes that (Castorena-Narvaez) is responsible for the missing cash and the fire," reads the probable cause affidavit.
The school employee who extinguished the fire told investigators he was alerted to it by Castorena-Narvaez, adding that he thought the fire was "weird, looked like a campfire piled up," according to court documents.
"If there was a fire in the front office before the defendant entered the front office, the fire would have caused substantially more damage than what was found when investigators conducted the initial fire investigation," reads the probable cause affidavit.