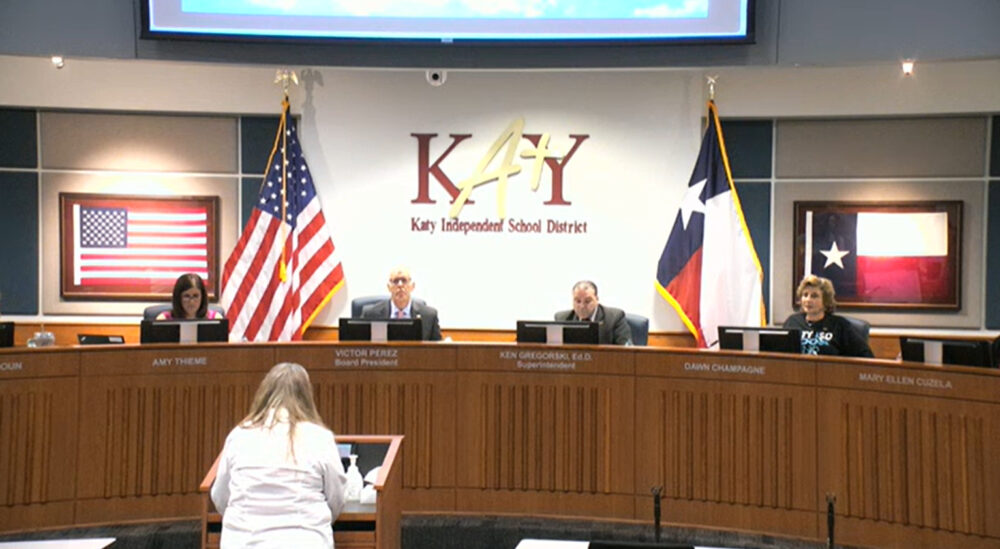 Voters served by Katy ISD and other Houston-area school districts expressed a mixture of support and opposition for a series of bond items on their Election Day ballots, in some cases approving only part of proposed bond packages.
Katy ISD, a fast-growing district west of Houston that serves more than 95,000 students, proposed a record $840.6 million bond package two years after voters approved a package totaling $676.2 million. Voters this year did not support the entire package, authorizing the two most costly propositions on the ballot while denying the two others.
Voters in Harris and Fort Bend counties, which both include Katy, approved Proposition A with 58.7% support. It authorizes nearly $723 million for four new schools, the purchase of additional school sites, renovations and expansions for 26 existing campuses, 84 safety and security upgrades, 62 building component replacements and new buses. Proposition B, which is for more than $83 million in districtwide classroom and campus technology upgrades, passed with support from 56.6% of voters.
Katy ISD's other two propositions, both related to athletic facilities, failed. Only 46.2% of voters supported Proposition C, which asked for $4.2 million in improvements to competition swimming pools in the district, and fewer than 44% of voters backed Proposition D, which sought $30 million for repairs to Rhodes Stadium as well as upgrades to campus athletic facilities.
A bond item for $22.9 million in pool and natatorium improvements also failed in Conroe ISD, which is north of Houston in Montgomery County. But voters there approved three other Conroe ISD bond propositions totaling $1.9 billion.
The bulk of that money, more than $1.8 billion, was authorized by the passage of Proposition A, which will fund eight new schools, three additions to existing schools, five campus renovations and infrastructure, technology infrastructure, safety and transportation improvements. Montgomery County voters also approved Proposition B, which authorizes $40 million for technology devices in Conroe ISD, and Proposition C, a $112.8 million bond item for agriculture barns, physical education classrooms and elementary gymnasiums.
Voters in Harris and Chambers counties overwhelmingly struck down three bond proposals for Goose Creek CISD in the Baytown area, southeast of Houston. Proposition A sought to authorize more than $342 million for a high school replacement and a high school renovation along with safety and security upgrades, athletics and transportation improvements and the demolition of an old elementary school. Proposition B asked for $24 million for a Stallworth Stadium renovation, while Proposition C requested $20 million for technology upgrades. Neither proposal garnered support from more than 43.7% of voters.
Bond propositions for Cleveland ISD, Crosby ISD, Lamar CISD and Santa Fe also were opposed by voters.
Voters in Aldine ISD in north Houston passed a trio of bond proposals totaling $1.8 billion. Proposition A authorizes more than $1.6 billion for six campus rebuilds and two school redesigns – including of Aldine and Eisenhower high schools – along with safety and security upgrades, technology infrastructure projects and transportation initiatives. Proposition B will fund more than $65.5 million in instructional technology enhancements, including devices for students and staff, while Proposition C provides more than $122 million for the construction of an education and performance center.
Two bond items for Clear Creek ISD, southeast of Houston, also passed. Voters authorized $265 million for school improvements as part of Proposition B and $37 million in instructional technology upgrades as part of Proposition C.