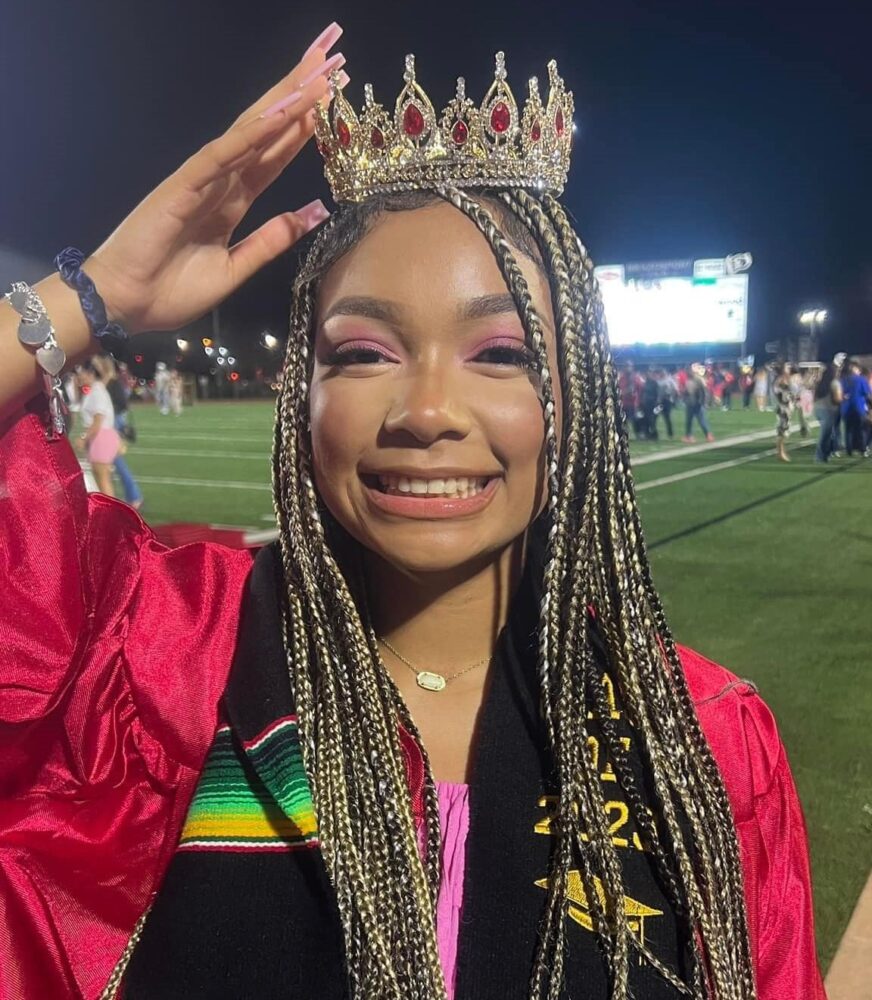 The reigning homecoming queen at a Houston-area high school will not be allowed to crown a new winner this week – because months ago she violated a dress code policy by wearing a sash at graduation that honored her Mexican heritage.
That was the explanation given by Brazosport ISD for why it did not invite Kayleigh Craddock to this year's homecoming ceremony, citing her "insubordination" at Brazosport High School's graduation in May after school staff asked her to remove the colorful stole and she refused.
The incident has drawn the ire of the League of United Latin American Citizens (LULAC), which is looking into the snub and considering taking action in response, according to Sergio Lira, the president of Greater Houston LULAC Council 4967. He called the decision by school administrators in Brazosport, which is south of Houston along the Gulf Coast, "pure nonsense" and a "flagrant act of discrimination."
"We're very, very upset about this situation," Lira said. "In particular, during Hispanic Heritage Month, it just seems to be a continuous slap in the face to our culture. And the insensitivity of the school officials to allow this or to tolerate this type of behavior, it's just unacceptable."
Craddock's mother, Cynthia Vasquez, wrote in a Facebook post last Friday that she had received a call informing her that her daughter would not be allowed to participate in the upcoming homecoming event because of the Mexican heritage stole she wore five months beforehand. According to a photo Vasquez posted, the sash is predominately black in color and features rainbow-like patterns along with patches that say "Class of 2023."
According to a video published by Houston TV station KHOU, Craddock wore the sash while she received her diploma and posed for a picture with a school administrator, seemingly without incident.
"There were plenty of kids that were out of dress code but mine wears a MEXICAN stole and there's a problem?" Vasquez wrote. "And now she can't crown the next queen? All over a MEXICAN heritage stole?!?!"
RELATED: Humble ISD superintendent apologizes to slighted Spanish National Honor Society graduates
Neither Vasquez nor Craddock immediately responded to social media messages Tuesday seeking additional comment.
Brazosport ISD confirmed in a statement Tuesday that the "unapproved sash" was at issue.
"The graduate was homecoming queen last school year, however, because of the insubordination at the graduation ceremony last May, the graduate was not invited back to participate in the crowning of this year's homecoming queen," the school district said. "It is always our intent to maintain the integrity and respect of our graduation ceremonies, and we expect our students to adhere to the established guidelines."
Lira, who previously was a high school administrator in Houston as well as an elected trustee for Houston ISD, questioned how Craddock was able to participate in her graduation ceremony if her stole had been that big of a problem. He also raised an eyebrow at the five-month time period between the alleged infraction and the punishment in response to it, saying, "If she already graduated, it almost seems like there's a vendetta there or something."
Lira said the incident also indicates that Brazosport ISD leaders might need implicit bias training and greater Latino representation. More than 56 percent of the school district's 11,000-plus students are Hispanic, according to the latest demographic data compiled by the Texas Education Agency, whereas one of the seven elected board members for Brazosport ISD is Hispanic.
"This would not happen in San Antonio or El Paso or even Houston," Lira said. "I can guarantee that, because we have more representation of folks in the school district that understand the sensitivity of the culture and traditions.
"Quit wasting time on these flagrant incidents of discrimination and nonsense," Lira added. "Let's get together and work on the important stuff, and that is giving them the best quality education."