Travis Upchurch's adult children have been regular speakers this year at Aldine ISD school board meetings, where they have asked trustees to reconsider a plan to acquire their father's property through eminent domain and use it as parking for an under-construction football stadium next door.
Now they're asking to be joined by other community members and stakeholders in their part of northeast Houston – where Upchurch's roots run as deep as the school district's.
Upchurch, a 79-year-old retired carpenter, said his grandfather once owned the land where W.W. Thorne Stadium is being rebuilt as part of a $50 million project. His family tree also includes a former Aldine ISD trustee, the first PTA president in the district and a Swedish immigrant who in 1905 wrote a letter encouraging people to move to Aldine because it had fertile soil for farming, according to his children.
Now Upchurch's family is fighting to keep him in the same home where he's lived for the last 46 years. Aldine ISD has made multiple offers to buy his 1-acre property at 1810 Aldine Meadows Rd. and threatened to invoke eminent domain if he does not accept, with trustees voting in April to approve such a proceeding.
Upchurch said he wants to "stay here until I kick the bucket," and his daughter, Tara Upchurch, described Tuesday night's school board meeting as a "last-ditch" opportunity to change the minds of school board members and ensure that can happen. She said Monday she's enlisted about 30 supporters to speak at the upcoming meeting.
"Our great-great grandfather invited people to come to Aldine to live here, and now his great-grandson is getting kicked out," Tara said. "It's just crazy."
The family does not object to selling the school district an adjacent property where Travis Upchurch's mother lived until she died in 2009, according to his children, because it has since been vacant. Aldine ISD owns all the surrounding land on that side of Aldine Meadows Road near the southwest corner of the intersection between that street and Aldine Westfield Road.
Aldine ISD initially offered to buy Upchurch's home in the spring of 2022 and submitted a subsequent offer in July of this year, the district previously told Houston Public Media. According to an email provided by Tara Upchurch, the district submitted its "final offer" earlier this month and indicated that eminent domain would be exercised if the offer is not accepted. Eminent domain is a process through which a governmental entity can acquire private property for public use while providing compensation for the land.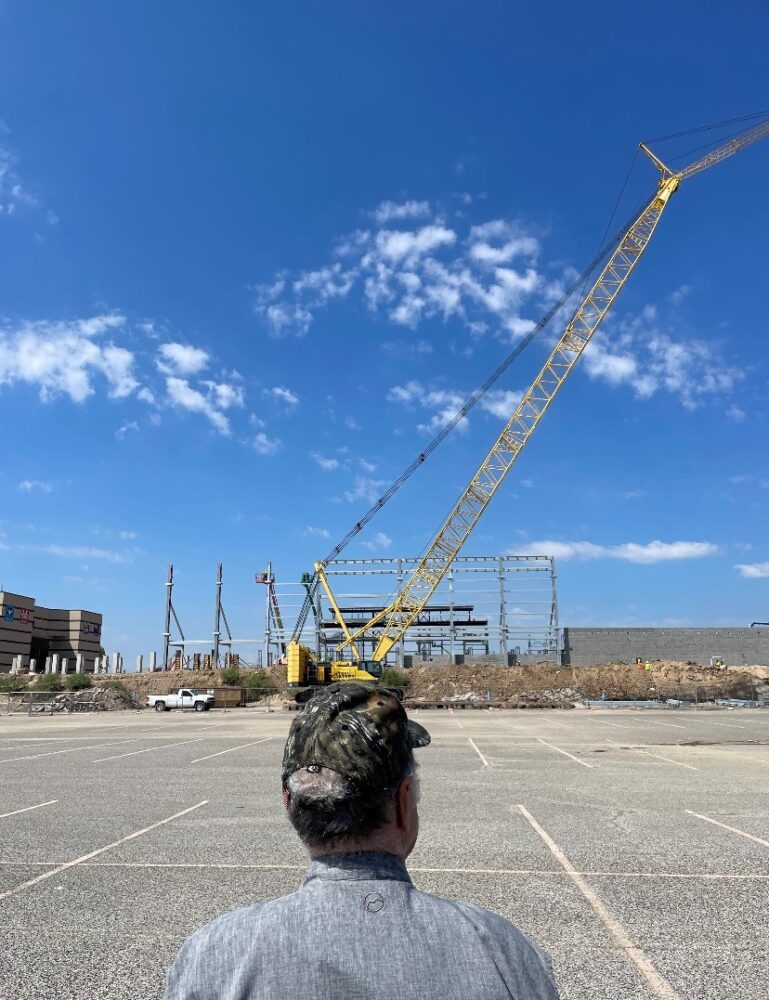 The Upchurch family met with legal counsel for the school district Monday afternoon and was told that Aldine ISD would not escalate the matter and file an eminent domain lawsuit as long as the two parties maintained an open dialogue, according to Tara, who added that they were given an informal deadline of December to work out an agreeable deal.
The family has offered to give Aldine ISD first crack at the property after Travis dies or a sale agreement in which the district would buy the land now but allow Travis to live there until he dies or is no longer physically able, Tara said. The school district has denied those possibilities, according to the email she provided that was sent Sept. 8 from a real estate professional representing Aldine ISD.
"Balancing the needs of our school district to support student safety and education while also preserving our community history requires delicate conversations," Aldine ISD said in a statement. "Negotiations continue and additional direct dialogue with the Upchurch family is underway to discuss viable options related to the family's property. We are hopeful to reach a mutually beneficial resolution very soon. No condemnation suit has been filed at this time."
Added Tara Upchurch: "We really want to work with Aldine ISD to make sure we both get what we want. At this point, we don't care about the money. It's not about the money. It's just about trying to keep our dad in his home."
None of the seven trustees for Aldine ISD responded to emails seeking comment Monday.
The school board members have expressed empathy and a willingness to work with the Upchurch family, Tara said. But they also have not gone back on their April vote to pursue eminent domain to acquire her father's longtime property, which has been in his family for more than a century.
Tara said she hopes the trustees are willing to be flexible, adding that the anxiety associated with the possibility of losing his homestead could be contributing to some recent health issues that have arisen with her father. Travis said he does not understand why Aldine ISD wants to use his land for parking, adding that he's never seen a full crowd in the stadium during all the years he's lived next to it.
"Four of them are up for re-election in two months," Tara said of the Aldine ISD board members. "I really doubt they would want this to interfere with them getting elected. It seems like a funny thing to possibly lose your seat over."