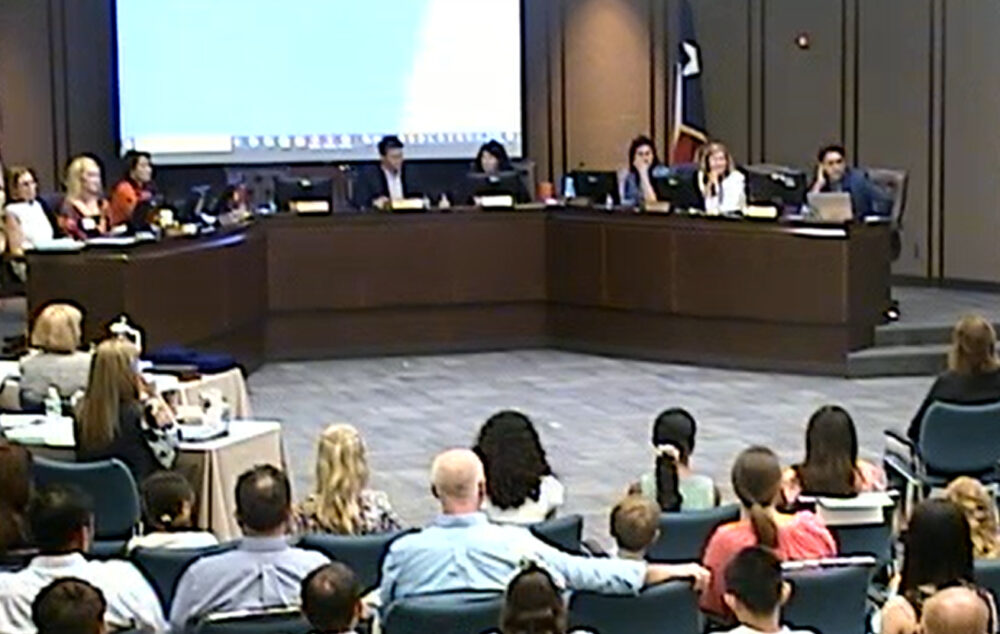 Come and take it.
That was the message Spring Branch ISD trustees sent this week to state lawmakers and the Texas Education Agency when they essentially voted against making the district's recapture payment for the 2023-24 school year. The West Houston school district is one of more than 150 across the state that are considered property-rich and required to give some of their locally generated tax revenue to property-poor districts under the state's longstanding recapture or "Robin Hood" program, which aims to balance wealth among public schools in Texas.
The seven-member board for Spring Branch ISD, which has made more than $200 million in recapture payments during the last three years, voted unanimously Monday night not to give superintendent Jennifer Blaine the authority to enter into an agreement with the state for this year's recapture payment, the amount of which has yet to be determined. The trustees cited an ongoing budget crunch and what they described as inadequate funding for public schools by state leaders, who had a nearly $33 billion budget surplus going into this year's legislative session and left money on the table that could have gone to public schools.
"We simply cannot afford to continue to send millions and millions and millions of dollars to the state, only to have them turn around and not spend it all in public education," school board vice president Lisa Alpe said during Monday's meeting. "It's kind of that time to take a stand. Given our severe budget deficit that we're looking at for 2024-25, when we kind of fall off the cliff, I think now is the time to say, 'Come and take it.'"
Other Texas school districts have taken a similar stand against making recapture payments, according to Duncan Klussmann, a former Spring Branch ISD superintendent who now is an assistant clinical professor in the University of Houston's College of Education. But he said those districts were unable to avoid having their tax revenue reduced by the state, which has multiple ways it can receive those funds.
According to information provided by the Texas Education Agency (TEA), school districts that are delinquent on their recapture payments cannot adopt new tax rates and can have taxable property detached from their district and annexed to other districts in order to level out tax revenues. Klussmann said state officials also can withhold funding from districts that do not make their required recapture payments until the balance is settled.
Statewide, recapture payments generate about 6 percent of all the money Texas spends on its public schools, according to Klussmann.
"It generates more funding to schools than the Texas Lottery," he said.
Spring Branch ISD's preliminary recapture payment for the 2022-23 school year was nearly $83 million, according to the TEA, which said this year's amount will be lower because of property tax relief legislation passed by Texas lawmakers. The deadline to make the recapture payment for the 2023-24 school year is next August, according to Spring Branch ISD.
Klussmann said the only ways for districts to ultimately avoid making their recapture payments would be a change in state law or a ruling by the Texas Supreme Court that the program is unconstitutional. But the state's highest court has previously upheld its legality, Klussmann said.
"I see it as a symbolic effort," Klussmann said of the vote by Spring Branch ISD trustees. "(The state is) going to be able to receive your recapture one way or another."
Still, trustees Minda Caesar and John Perez said Spring Branch ISD and other Texas districts are prepared to continue battling state leaders over school funding as Texas Gov. Greg Abbott and other Republican officials try to push for a statewide voucher program that would allow taxpayer money to be allocated to private schools.
Board president Chris Earnest said he thinks political interests are standing in the way of increased funding for public school districts like Spring Branch ISD, which serves more than 33,000 students across 50 campuses.
"They have heard us. They are outright refusing to listen," he said of state officials. "They have almost gotten to the point of making a sport out of criticizing and ridiculing and degrading public education. It seems like a political move to get vouchers and school choice passed."
In expressing their frustrations over school funding from the state, Spring Branch ISD trustees also discussed the impact of House Bill 3, the new Texas law that requires public schools to have at least one armed police officer or security guard on every campus in the interest of safety. The state is allocating $15,000 per school to help pay for those armed guards, which in the case of Spring Branch ISD amounts to a funding shortfall of $1.5 million, according to the district.
The trustees also voted unanimously to approve a resolution claiming a good cause exception to the new law, because they said the district has been unable to hire enough officers to meet the required standard, partly because of inadequate funding.
"This underfunding situation is unacceptable," Caesar said. "Until they're ready to give us the funding that we need, I'm not ready to give them any money."