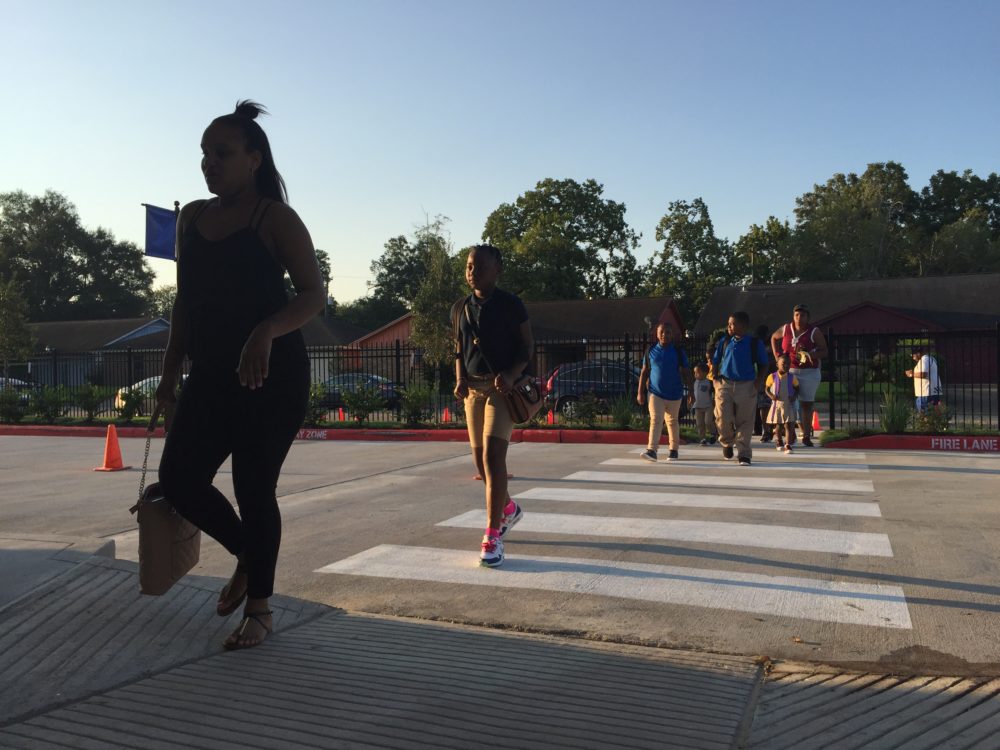 The fall semester started Monday at Houston ISD and some other school districts around the region, but it's still very much the summer.
Temperatures in Houston were expected to approach 100 degrees on Monday, with the city's daily high having reached triple digits on 27 out of the previous 28 days, according to the local National Weather Service office. That makes common outdoor activities associated with school, such as recess and competitive athletics, potentially dangerous undertakings.
Spokespeople for Houston ISD and Cypress-Fairbanks ISD, which also started classes Monday in the northwest part of the region, said campus administrators regularly monitor weather conditions and react accordingly. That could entail moving recess indoors at elementary schools or, for older students involved in school-sanctioned sports, scheduling practices for early in the morning or the evening to avoid being outdoors during the hottest part of the day.
"Please be assured that our schools will be accessing the temperature daily and will manage it accordingly to keep our students and staff safe, as their safety is always the district's top priority," HISD spokesperson Joseph Sam said.
RELATED: Houston ties record for hottest temperature ever recorded in city at 109 degrees
Three other large school districts in the Houston area – Aldine ISD, Fort Bend ISD and Katy ISD – started the new school year earlier this month and said they have guidelines in place to help prevent heat exhaustion and heat stroke, which is a life-threatening condition. Symptoms of heat-related illnesses include dizziness, headaches, heavy sweating, nausea and weakness.
In Aldine ISD, which serves north Houston, all recess periods and physical education classes are being held indoors in gymnasiums, and other outdoor activities are prohibited between the hours of 10 a.m.-4 p.m. while the prolonged summer heat wave persists. The district also is making water readily available to students and has adjusted its air-conditioning systems "so that the buildings will be as cool as possible when students and staff arrive," Aldine ISD said in a statement.
Per established weather guidelines in Fort Bend ISD, which is southwest of Houston in Fort Bend County, there is no outdoor play when the temperature or heat index – which takes humidity into account – is at least 100 degrees. Outdoor activities are limited to 30 minutes or less if the temperature or heat index is at least 90 degrees.
RELATED: Houston region sees third heat-related death of 2023
Katy ISD, which serves a suburb west of Houston, said its athletic teams limit the duration of outdoor workouts and provide regular water breaks when the weather is hot. The district also has a policy under which outdoor campus activities are discontinued when the temperature is at least 100 degrees or the heat index is at least 105.
"Likewise, staff members will hold students in air-conditioned areas until they are assembled to load a bus or for the car rider line," Katy ISD said in a statement.
Houston ISD announced last week that it was modifying the planned recess schedule for the 50-plus elementary schools that were required or chose to be part of new superintendent Mike Miles' New Education System, although the changes are to allow for more unstructured free play and are unrelated to the weather, according to the district. Per the new schedule at those schools, students in pre-kindergarten through fourth grade will have one 30-minute recess instead of two 15-minute periods, while fifth-graders also will have one 30-minute recess period per day.
The weather is expected to remain hot at least through this week, although Houston might be getting a break from the 100-plus temperatures that have plagued the region for most of the last two months. The city's forecast through Sunday calls for daily highs of 96 or 97, according to the National Weather Service.