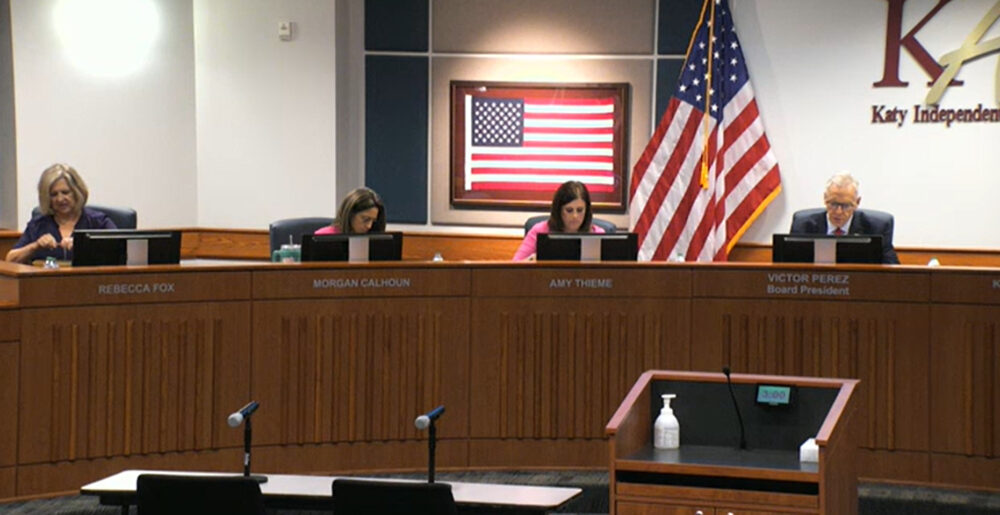 It has been three years since Bill Lacy served as a trustee for Katy ISD, but he continues to keep close tabs on the school district and its leadership. He still lives in the burgeoning suburb west of Houston, still pays taxes there and has grandchildren attending Katy ISD schools.
Lacy said he's concerned about the direction the district is taking under its current slate of trustees, and how their decisions might impact its growth as well as its reputation as a place where children can receive a quality education. A group of newly elected board members seems more concerned with social and political issues than academic performance and student outcomes, according to Lacy, who was a trustee from 2017-20 and also served on the board of directors for the Texas Association of School Boards (TASB) during that stint.
Culture wars are often waged during Katy ISD board meetings, where in recent months trustees have voted to suspend the purchase of library books, to place newly purchased books into storage until they can be reviewed for questionable content and to give themselves authority to remove existing books if they do not think they are appropriate for students. On Monday, board members had an at times heated discussion about a proposed policy related to gender fluidity that, among other things, would allow teachers to refuse students' requests to address them by their preferred pronouns and would require teachers to notify students' parents if they ask to be identified as transgender or by a pronoun that does not align with their gender at birth.
Lacy, who described himself as "definitely a conservative," said the latter matter is "not something that we should be legislating or policymaking on as trustees. The job of a trustee is oversight."
"It truly is an embarrassment, and it's terrifying," Lacy added. "I think they are politicizing public education. There should be no politics."
The three Katy community members who spoke during the public comment portion of Monday night's board meeting, including recent Cinco Ranch High School graduate Logan McLean, expressed similar sentiments. McLean said the board is "prioritizing non-issues" and alienating Katy's LGBTQ+ population, adding that trustees are leading the district of 94,000-plus students down a "backward track to become a welcoming home to hatred and hostility."
McLean and the other two speakers were especially critical of the board's four newest members – board president Victor Perez along with Morgan Calhoun, Mary Ellen Cuzela and Amy Thieme – who represent a majority on the seven-trustee board. All four were supported and/or promoted during their election campaigns by Texans for Educational Freedom, a conservative political action committee that claims public school students in the state are being indoctrinated with sexually explicit materials and concepts such as critical race theory.
RELATED: Katy school students come together as censorship of LGBTQ+ voices ramps up
"Students are not political pawns, and you are bringing politics into our education, into decisions that directly impact students and harm us, when we can't find ourselves in the libraries, when we can't find ourselves in our education," Cameron Samuels, another Katy ISD graduate, told trustees Monday. "You were elected, many of you, on a political issue. And you're not fit to serve a district of 90,000 students with bigotry."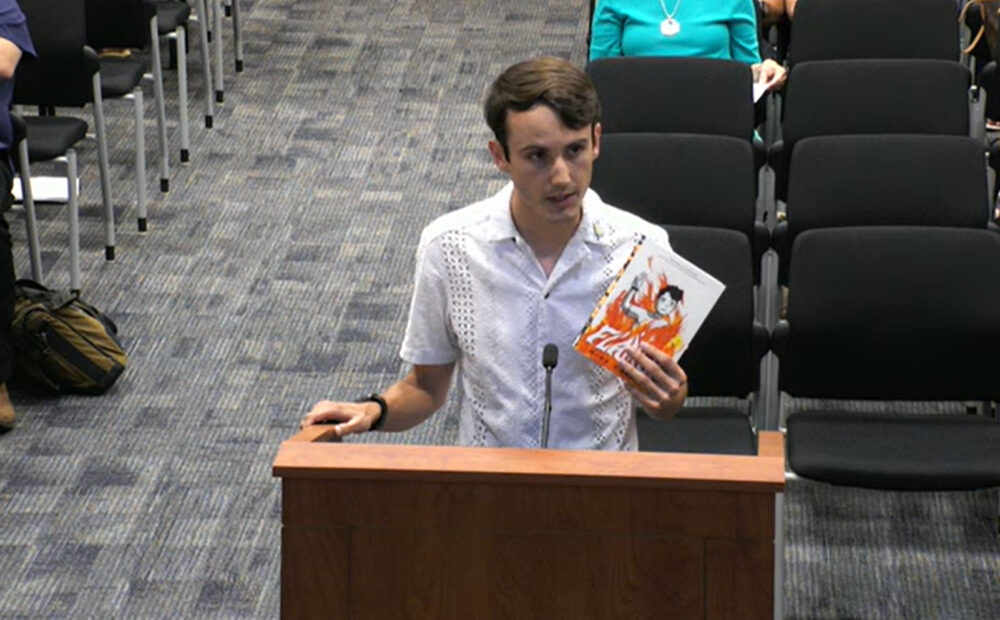 Duncan Klussmann, a former Spring Branch ISD superintendent who now is an assistant clinical professor in the University of Houston's college of education, said what's happening in Katy ISD and some other Houston-area school districts is part of a national trend. Some school boards or trustees are focusing more on ideology than on issues such as providing teachers with proper instructional materials or districtwide performance in academics, fine arts, athletics and other extracurricular activities, he said.
Drawing attention away from those latter issues can ultimately be a detriment to students' success in and out of the classroom, according to Klussmann.
"In my experience, having led a system for 11 years, systems perform the best when they decide what they're trying to achieve and then stay very focused on what they're trying to achieve," he said. "And in that case, it should be around student performance and student outcomes and are we preparing students for the future."
Bickering among board members
Perez, through a district spokesperson, declined an interview request Wednesday to speak about the direction of the Katy ISD board and claims that some of trustees' recently adopted policies are politically motivated. The spokesperson said Perez would be willing to speak about the proposed gender policy after the board takes action on it, which could happen at next Monday's board meeting.
None of the other six trustees responded to emails Wednesday seeking comment.
Rebecca Fox, who has served a total of 18 years as a board member and currently serves on the TASB board of directors, wondered during Monday's meeting, "When are we as a board going to move past politics and focus on academics?"
Cuzela and Perez disputed the notion that the proposed policy on gender fluidity was political in nature. A draft of the policy says district employees would be prohibited from providing students with information or resources on gender identity, and that students would be required to use locker room and restroom facilities and compete on athletic teams based on their biological sex.
Perez said the intent of the proposed policy is to promote parental authority in matters related to their children and to provide guidance for teachers who might feel uncomfortable delving into gender-related issues. He also said it would help protect students, prompting Fox to ask, "What are we protecting them from?"
"Well, I don't want to get into the whole trans thing, but we're protecting them," Perez responded. "Using pronouns is a way of social transitioning children. We're protecting them from that."
Perez also said, while responding to Fox's claim that the gender fluidity policy and the district's recent policies on library materials would not "make our children smarter" or better prepare them for life after high school, that Katy ISD leaders could focus on academic and social issues at the same time.
RELATED: Katy ISD trustees put $840.6 million bond package on November ballot
Fox and board member Dawn Champagne, while saying she agreed with most aspects of the proposed gender fluidity policy, both expressed concerns about the idea of forcing teachers to notify parents if their children speak to educators about gender-related issues. They said that could destroy relationships between teachers and their students, who might choose to confide in their teachers if they do not get the emotional support and guidance they need at home.
Relaying those conversations to students' parents could potentially put them in danger if their parents are abusive or hold beliefs that do recognize or respect alternative lifestyles, they said.
"I've had three friends whose children have committed suicide within the last few years, all in Katy. ... I know the general issue is they didn't feel like they had someone to talk to," Champagne said. "So I just hate for the teachers to have this burden of, they're trying to protect the child and want them to be safe, then they report it to the principal and the principal tells the parents, and now the child has lost, possibly, their only safe place."
Providing safe places is part of the responsibility of a public school district, especially in a place as culturally and ethnically diverse as Katy, according to Lacy. He also said that's what the Katy community expects out of its school district.
Along those lines, Lacy said the gender- and book-related policies being promoted by trustees are not widely supported by Katy residents, even though they voted in the current group of board members. Low voter turnout and a lack of engagement among community members might have contributed to the election results, Lacy suggested.
"They want to keep the quality of our education high, and they want to keep our home values up," Lacy said of Katy residents. "Education is why people are moving to Katy. And if our education system starts to fall or deteriorate because of teachers leaving, because of administrators leaving, because of a board that is doing anything they can to dismantle and harm the quality of our education in Katy ISD, I think that's not what the community wants."