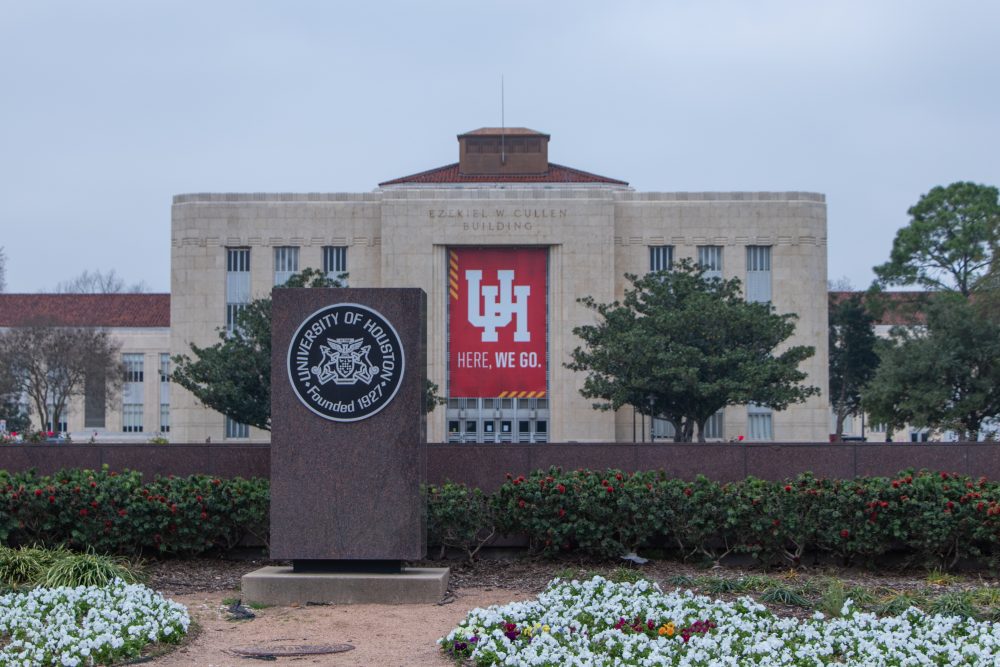 The University of Houston and other higher education institutions across Texas do not yet need to eliminate their diversity, equity and inclusion (DEI) programs, which are on the chopping block after state lawmakers passed Senate Bill 17 earlier this year. The new law is set to take effect Sept. 1, at which point public universities will risk losing critical state funding if they are found not to be in compliance.
But for ethnic minorities and LGBTQ+ students, faculty and staff at Houston's largest public university, it might seem as if the law already is in place. Signs were posted this week outside UH's Center for Diversity, Equity and Inclusion and its LGBTQ Resource Center, saying those organizations had been disbanded in accordance with SB17.
The university said in a statement Friday that the posting of those signs was "premature" and that both offices are still operating. It also said, however, that changes are coming and those departments will be reconfigured because of the law, passed by conservative state legislators who claim DEI programs are exclusive and politically charged.
"I don't know how the sign got posted. The fact that they said it was posted prematurely also adds to the frustration, to the gut punch of it," said Austin Davis Ruiz, the president of the Houston LGBTQ+ Political Caucus. "This was always something we've known was a possibility, but this makes it very tangible and very real."
Someone from my old Houston days sent me this photo and they confirmed it's real.

Looks like the LGBTQ Resource Center is now closed at @UHouston.

SB 17 bans offices and programs that promote diversity, equity and inclusion at publicly funded colleges and universities in TX. pic.twitter.com/AorJdmVTBT

— Ana Goñi-Lessan (@goni_lessan) August 10, 2023
A spokesperson for UH said the signs were posted Tuesday night and replaced Thursday afternoon, adding that the original signage was posted "without the full consultation and communication process we pride ourselves on." The university also said it is creating a system-wide policy to ensure compliance with SB17, the details of which will be presented to the UH System Board of Regents later this month.
UH added in its statement that it would share additional details in the coming weeks.
Senate Bill 17, authored by Republican state Sen. Brandon Creighton of Conroe, says DEI programs cannot be created or continued. It also prohibits the use of diversity statements on faculty applications and bans mandatory DEI training for university students and employees.
"To comply with SB17, there will be changes to UH system policies and it will necessarily impact the UH Center for Diversity, Equity and Inclusion and LGBTQ Resource Center and require a reconfiguration of departments, employees and their scope of work," the university said. "Implementation of SB17 is not final. We will continue to work with impacted units to ensure compliance while maintaining our focus on student success."
Ruiz, whose organization advocates for LGBTQ civil rights and backs pro-equity political candidates, said he suspects UH leaders would prefer to keep the aforementioned offices in place but believes their "hands are probably tied" because of the need for the funding that's connected to the impending law.
At the same time, Ruiz said UH and other universities around the state stand to lose out on revenue streams such as federal grants that are awarded for DEI initiatives. He also said he expects students that benefit from such programs to start seeking out schools outside of Texas, because bans on DEI practices likely will make those students feel uncomfortable and unsupported, which also figures to have a negative financial impact on the Texas institutions.
And while Ruiz said he hoped that DEI and LGBTQ programs on Texas campuses would not be "completely wiped out" by the new law, he suspects that will happen at UH and elsewhere.
UH said in its statement that campus leaders "value the academic, social and broader community benefits that arise from diverse campuses and our commitment to our entire university community has not changed."
The signs posted this week might have sent a different message, though.
"It's definitely saddening to see this already happening," Ruiz said. "We know that DEI offices across the state, resource centers like the LGBTQ Resource Center at UH, were going to be in jeopardy once SB17 passed. We certainly knew there would be consequences to that bill. We didn't expect to see it so soon."
Disclosure: Houston Public Media is licensed by the University of Houston. The university does not play a role in Houston Public Media's editorial decisions. Read our statement of ethics and standards here.