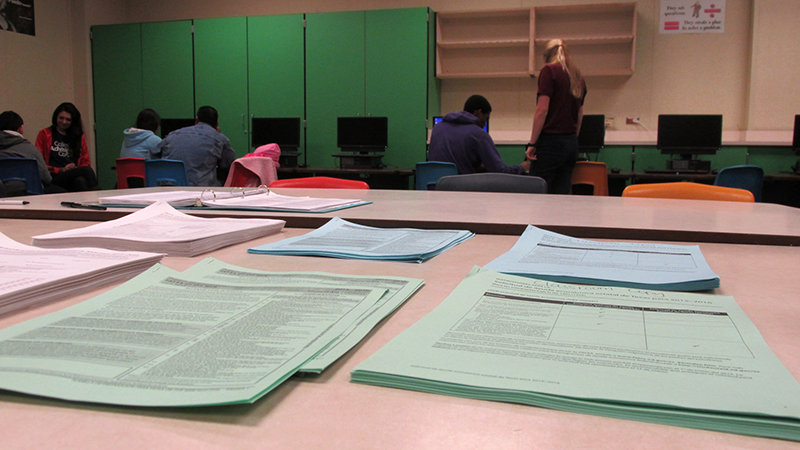 One of the Houston area's community college systems is holding a regionwide event next week to help its students, and others who are interested in earning college degrees, make higher education more accessible and affordable.
Lone Star College is holding a free financial aid session from 3-6 p.m. Tuesday, July 11, at seven of its campuses across the Houston area, where snacks and drinks will be provided and financial aid professionals will be on hand to help community members complete the Free Application for Federal Student Aid (FAFSA). Completing and submitting the application determines a student's eligibility for federal and state grant money, student loans, work-study programs and other financial resources.
The luau-themed event will be open to current and prospective students at Lone Star College as well as anyone else who is interested in furthering their education at the college or university level, according to Shannon Venezia, Lone Star College's senior associate vice chancellor for financial aid.
"We're here to help you," she said. "Want to try to remove this extra barrier between a student and their financial aid."
Venezia said some students who could qualify for financial aid do not apply because they do not realize the opportunity is available or because they think they or their families make too much money, or in some cases too little, to be eligible. According to an analysis conducted by the National College Attainment Network, the United States' high school graduating class of 2022 left nearly $3.6 billion in federal Pell grant money on the table because they were eligible but did not apply.
In Texas alone, nearly $390 million of Pell grant money was unclaimed by 2022 high school graduates.
About 30,000 of Lone Star College's 80,000 students are currently receiving financial aid, according to the school, where in-district tuition is $103 per credit hour. The cost is $230 per credit hour for out-of-district students and $290 per credit hour for out-of-state and international students.
"I definitely think that our students are leaving money on the table," Venezia said. "I would encourage any student to apply to see what they're eligible for."
The following Lone Star College campuses are participating in the July 11 financial aid event:
LSC-CyFair, CASA Room 105, 9191 Barker Cypress Rd. in Cypress
LSC-Houston North Victory, VC-Room 110, 4141 Victory Dr. in Houston
LSC-Kingwood, LIB 118/120 in the Learning Commons, 20000 Kingwood Dr. in Kingwood
LSC-Montgomery, Maverick Student Center, Room MSC-Commons, 3200 College Park Dr. in Conroe
LSC-North Harris, Student Services Building Commons, 2700 W.W. Thorne Dr. in Houston
LSC-Tomball, South Building, Room 114, 30555 Tomball Pkwy. in Tomball
LSC-University Park, Building 12, Room 223A, 20515 State Highway 249 in Houston
Students or prospective students will need to bring the following information or documents in order to apply. If they are dependent students, they also will need information about their parents or guardians.
Social Security Number or Alien Registration Number (if not a U.S. citizen)
Federal income tax returns, W-2 forms and other income records
A Federal Student Aid identification number and password to sign electronically
Bank statements, investment records and records of untaxed income, if applicable
Visit the Lone Star College website for more information.