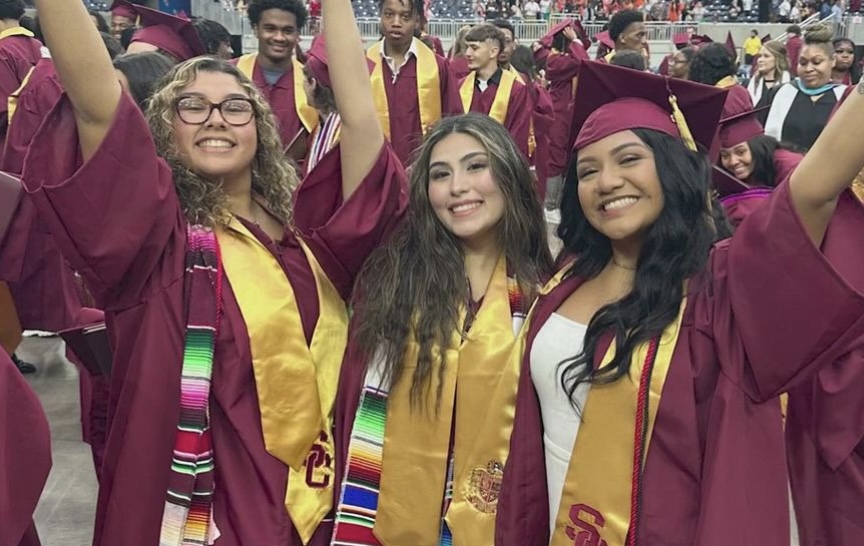 The superintendent of a Houston-area school district issued a public apology this week to a group of Spanish National Honor Society students who were not allowed to wear colorful cultural sashes at their high school graduation ceremony.
The 20 students from Humble Summer Creek High School, most of whom are Hispanic, had previously gotten approval from a campus-level administrator to wear the stoles, which feature bands of bright colors to resemble a traditional sarape. But before they walked across the stage on May 27 at NRG Stadium, an administrator with Humble ISD forced the students to remove the sashes, according to Judith Bautista, the students' Spanish teacher who recently resigned from the district.
The incident sparked criticism from Bautista, her students, Humble's Latino community and a local council of the League of United Latin American Citizens (LULAC), which called for the administrator to be fired and for increased ethnic diversity among Humble ISD leadership. Bautista, one of her students, representatives from LULAC and a few others voiced their displeasure and renewed their call for action at Tuesday's school board meeting, where they were addressed by Superintendent Elizabeth Fagen.
"We do want to say to the students that we're very sorry that you had that experience," Fagen said. "That would have never happened had there been knowledge that those had been approved by anyone. And so we feel very bad about that and want to do anything to make that right for the students and their families, and we'll continue to work with each one on what that might be."
Jamie Mount, a spokesperson for Humble ISD, previously expressed remorse about the incident and described it as a miscommunication among school district employees, adding that telling the students to remove their stoles "had nothing to with race or culture." Fagen said at Tuesday's meeting that Spanish National Honor Society students at three other Humble ISD high schools wore special cords at their graduation ceremonies without incident.
Mount said in an email Friday that the district's stance on the matter involving the Summer Creek graduates has not changed, adding that Humble ISD "has investigated and fully reviewed the situation."
Still, the speakers at Tuesday's school board meeting suggested discrimination or cultural insensitivity was at play in a district where about 38 percent of the students are Hispanic but there are no Latinos on the elected school board.
"(The incident) reminds me of many, many years ago when I myself went to elementary and high school," said an elderly community member who is Hispanic. "Back then we were swatted for speaking Spanish anywhere on campus. We were punished, usually by swatting. It saddens me that things haven't changed a whole lot."
Sergio Lira, a former Houston ISD board member who now is the president of Greater Houston LULAC Council 4967, wore one of the colorful stoles as he spoke and asked the board to adopt a new graduation policy for honors students that would prevent similar slights in the future. He also called for more diversity among district leadership.
"The solution is really simple," he said. "Have a diverse administration, Dr. Fagen, and I guarantee this would not happen."
Laila Gonzales, one of the 20 Summer Creek graduates who were impacted, also wore her Spanish National Honor Society sash while she addressed the board. She called it a "very embarrassing" ordeal for herself and her fellow graduates.
Humble ISD is offering the students the opportunity to have graduation photos and videos retaken with their stoles, according to Mount. It is unclear if any of the students have accepted that offer.
"I'm here to speak on behalf of other students and say what happened was not OK, and it should never be OK," Gonzales said.