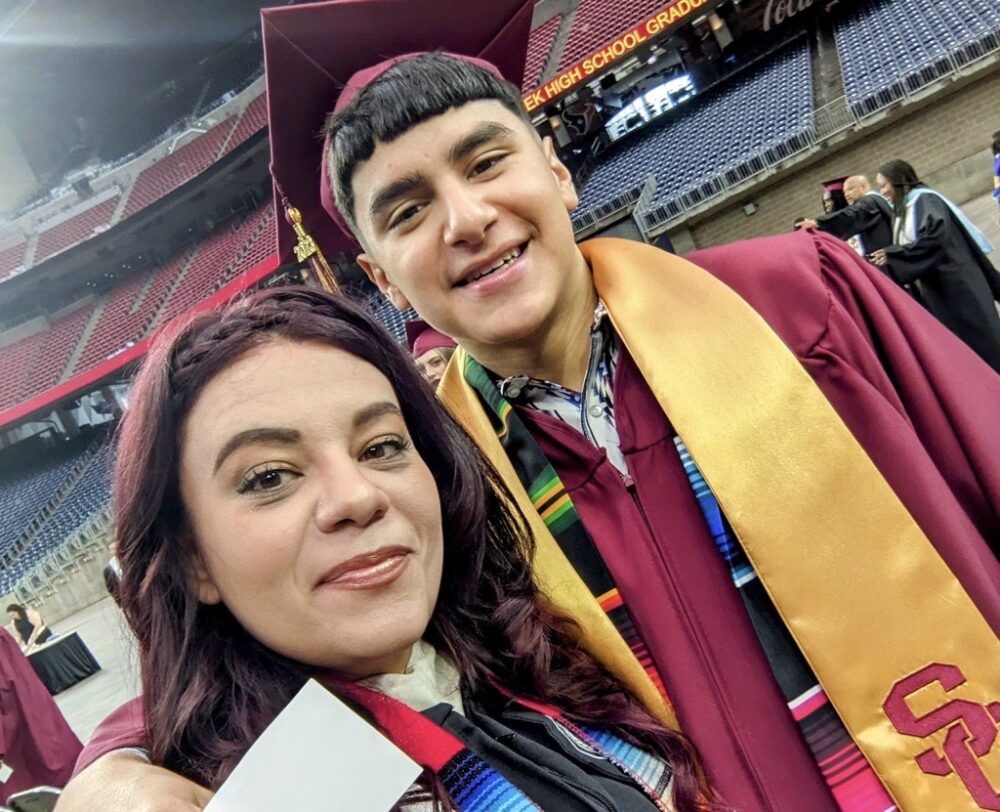 Students, parents and teachers from a Houston-area high school, along with a local council of the League of United Latin American Citizens (LULAC), are calling for accountability and more Latino representation in school district administration after a group of honor students was prevented from wearing colorful cultural sashes at their graduation ceremony.
Twenty students in the Spanish National Honor Society at Humble Summer Creek High School, who had received the graduation stoles a few weeks earlier at a Cinco de Mayo celebration on campus, were told to remove them from their robes during Saturday's graduation ceremony at NRG Stadium, according to Judith Bautista, the students' Spanish teacher who recently left Humble ISD. She said the students ended up walking across the stage without the sashes, which featured bands of bright colors to resemble a traditional sarape.
"This is just racial discrimination," Bautista said. "(The students) felt humiliated. They feel like their identity was taken away. In order to receive your diploma, you have to give up your identity, which it shouldn't be like this."
Bautista, along with some of her students and their parents, participated in a Thursday news conference outside the school to discuss the incident and what they want to see done in response. Students held handmade signs that said, "Brown Lives Matter," and, "We refuse to lose and let our culture die," with some also holding up American and Mexican flags.
Former Houston ISD trustee Sergio Lira, now the president of Greater Houston LULAC Council 4967, organized the news conference and called for the removal of Humble ISD assistant superintendent of high schools Trey Kraemer, who made the decision to not allow the stoles, according to Bautista. She said the adornments had been approved in April by school-level administrators.
Lira also said LULAC planned to file a grievance with the Humble ISD Board of Trustees and was consulting the Mexican American Legal Defense and Educational Fund to see if any legal action is warranted related to the students' rights under the First Amendment of the U.S. Constitution.
"This is a flagrant, blatant example of deliberately singling out Latino students to remove such an honorable sash," Lira said. "In this time and age of 2023, for God's sake, folks that are not culturally sensitive just really chap my hide. My community is upset."
Jamie Mount, a spokesperson for Humble ISD, said the students should have been allowed to wear their stoles and that district administrators "feel terrible" that they were not. She called it a "communication error," saying the campus administrator who approved the sashes did not relay that information to district-level administrators before the graduation ceremony.
Mount said the Spanish National Honor Society at Summer Creek includes students from different ethnic groups, adding that Hispanic students were not singled out in this case. Bautista said other graduating students wore themed stoles as they walked across the stage, including one that resembled a Puerto Rican flag and others that represented African-American culture.
"What occurred had nothing to do with race or culture," Mount said. "It was human error, an honest mistake. Many items were taken away, such as flags of colleges and sunglasses, so in no way was this group singled out."
Bautista said Kraemer was apologetic after the graduation ceremony, saying he was not aware the stoles had been approved, and offered to make amends by setting up a subsequent photo shoot for the students in the Spanish National Honor Society. Mount said Thursday that Humble ISD was reaching out to the impacted students and their families to arrange to have pictures taken with the sashes so those images could be edited into Summer Creek's graduation video.
The students and their families are generally not receptive to that idea, according to Bautista, who said they feel like it's too late.
"That's taking away a moment the kids had," said Genesis Hernandez, a Spanish National Honor Society student who recently completed her sophomore year at Summer Creek. "It's a special moment, a once-in-a-lifetime opportunity."
Lira, with LULAC, said an incident like this might not have happened if Humble ISD had more Latinos in positions of leadership. None of the seven members of the district's elected school board are Hispanic, he said, whereas nearly 38 percent of the school district's students are Hispanic, according to demographic information on the Humble ISD website. Hispanics make up nearly 35 percent of the student population at Summer Creek, with African Americans being the largest ethnic group within both the school and the district at large.
Mount said diversity is "very important to us, part of meeting the needs of all the students."
"We need more Latino leaders in all the school districts and all the school boards that make these issues a priority and folks are not treated as second-class citizens," Lira said. "Others may be sensitive to that. They may like Cinco de Mayo, margaritas and flags and parties. But when it comes to policy and decisions, we need folks that look like us, that represent our community. It really matters."