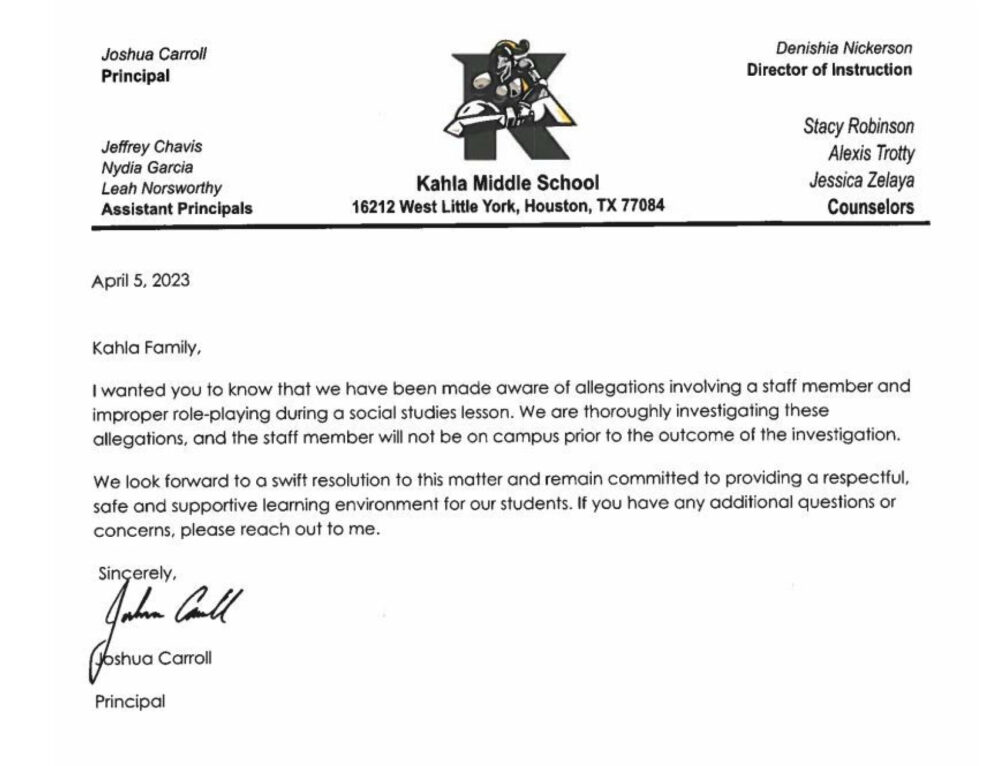 A Houston-area middle school teacher is under investigation and on leave for allegedly using a Black student to illustrate a lesson about slavery and making insensitive comments about the Confederate flag.
Tori Ards, the mother of the eighth-grade student at Kahla Middle School in Northwest Houston, along with local civil rights activists, called for the female teacher to be fired during a Wednesday news conference outside the Cypress-Fairbanks ISD campus. The teacher will not report to the school while the school district investigates, according to a letter sent to parents by Kahla principal Joshua Carroll, which was provided by Cy-Fair ISD.
Local activist Quanell X said Ards' daughter is the only Black student in her class and claimed the teacher described the Confederate flag last week as having nothing to do with slavery and that it's a "good flag." Then on Monday, the teacher allegedly singled out the student during a classroom discussion about slavery.
"(The teacher) went on to further intimidate this young woman by using the analogy with (Ards') daughter about a slave auction, using the analogy with her daughter about how she could be captured, how the teacher could take her to the South and sell her," Quanell X said.
Cy-Fair ISD, while providing the letter written by Carroll, did not directly address emailed questions seeking more information about the accused teacher, the allegations made against the teacher and the merits of those allegations.
"I wanted you to know that we have been made aware of allegations involving a staff member about improper role-playing during a social studies lesion," Carroll wrote. "We are thoroughly investigating these allegations, and the staff member will not be on campus prior to the outcome of the investigation. We look forward to a swift resolution of this matter and remain committed to providing a respectful, safe and supportive learning environment for our students."
Ards said her daughter has been "tremendously" affected, calling it a "very emotionally charged situation" while adding that the teacher was "essentially bullying" her. The eighth-grader is a student-athlete, takes gifted-and-talented courses and has not had any disciplinary problems, according to her mother.
"You don't need to be nowhere in nobody's classroom with those types of ideologies, absolutely not," said Candice Matthews, another local activist. "We put our foot down on white supremacy. We put our foot down on trying to damage our children."