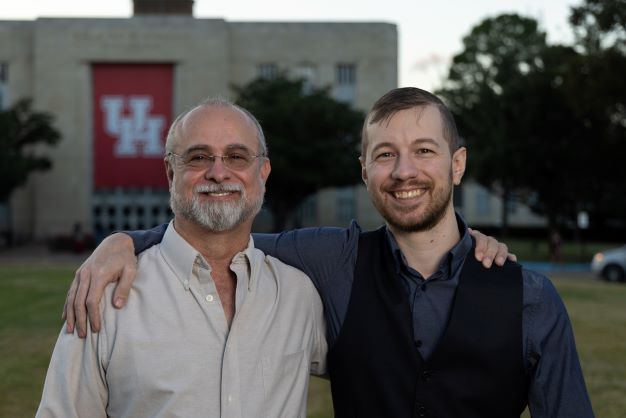 A father and his son will both receive their bachelor's degrees during this year's fall commencement at the University of Houston.
Levi Cook will walk the stage on Friday to receive his Bachelor of Business Administration in Supply Chain Management. The next day, he'll be in the audience watching his father, 58-year-old Ross Cook, receive his Bachelor of Science in Technology and Leadership Innovation Management.
"Kind of surreal," Levi said. "It's nice that it's finally happening."
Ross began his journey in higher education at Lone Star College Montgomery in the 1980s before enlisting in the U.S. Navy, where he developed skills as an auxiliary mechanical subsystems technician.
After a few years of service, he returned to Houston and re-enrolled at Lone Star as he continued to work and start a family. After taking a break from academics, Ross enrolled at UH in 2020.
"At my age, it's pretty exciting," Ross said. "It's been a long time and it's been an interesting run."
Following in his father's footsteps, Levi also attended Lone Star for his core classes and enlisted in the U.S. Air Force, serving for about seven years before enrolling at UH alongside his father.
"It was good because we were able to support each other," Ross said. "It's good to have somebody that knows what you're going through and is kind of in the same boat."
The father-son duo are now looking forward to what life has to offer now that they've both earned their degrees. Levi said he'd like to work in the supply chain industry, while Ross said he wanted to focus on project management or environmental social governance.
"Sky is really the limit on what's out there and what's available," Levi said.
"There may be some opportunities for someone like me," Ross added. "Ideally, I'm looking for a company that I can make a real contribution to."
Disclosure: Houston Public Media is a service of the University of Houston.