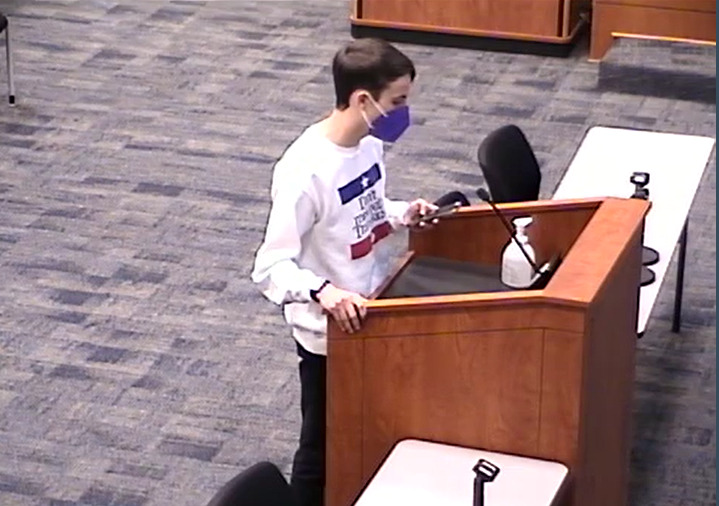 Katy ISD has unblocked certain websites containing LGBTQ mental health and educational resources on its districtwide network after a group of students collected nearly 1,300 signatures for a petition calling on the removal of strict internet filters.
But other websites remained banned under categories named "Alternative Sexual Lifestyles (GLBT)" and "Human Sexuality," such as the Trevor Project, a suicide prevention group that provides crisis support services
"I implore you to unblock the Trevor Project and add an agenda item for next month's board meeting to update the non-discrimination policy to include protections for the LGBTQ community," said Cameron Samuels, a senior at Seven Lakes High School, at a Board of Trustees meeting on Monday.
A video shared with Houston Public Media shows a student able to access previously banned websites like The Montrose Center and The Human Rights Campaign. But other such sites remained inaccessible due to the filters.
Samuels, a student leading the effort to lift the network bans, quoted several of their Katy ISD peers unable to speak publicly or reveal their LGBTQ identity to the greater community.
"When going through severe depressive episodes and periods of self harm, their resources were of tremendous help to me," Samuels quoted. "The Trevor Project can save valuable human lives by providing a safe space for us. These internet prohibitions are not representative of the Katy ISD student body."
In a statement, the district defended its policy toward The Trevor Project's website by pointing out a possible violation of the Child Internet Protection Act, a piece of federal legislation that requires schools to block access to harmful images and to ensure the safety of minors while using chat rooms.
"The Trevor Project website has a community space to 'get advice and support within an international community for LGBTQ young people ages 13-24' which is available to anyone who chooses to 'join now,'" the statement reads. "Minors communicating with adults, unmonitored, online is an area of concern for communication and chat rooms as outlined in CIPA."