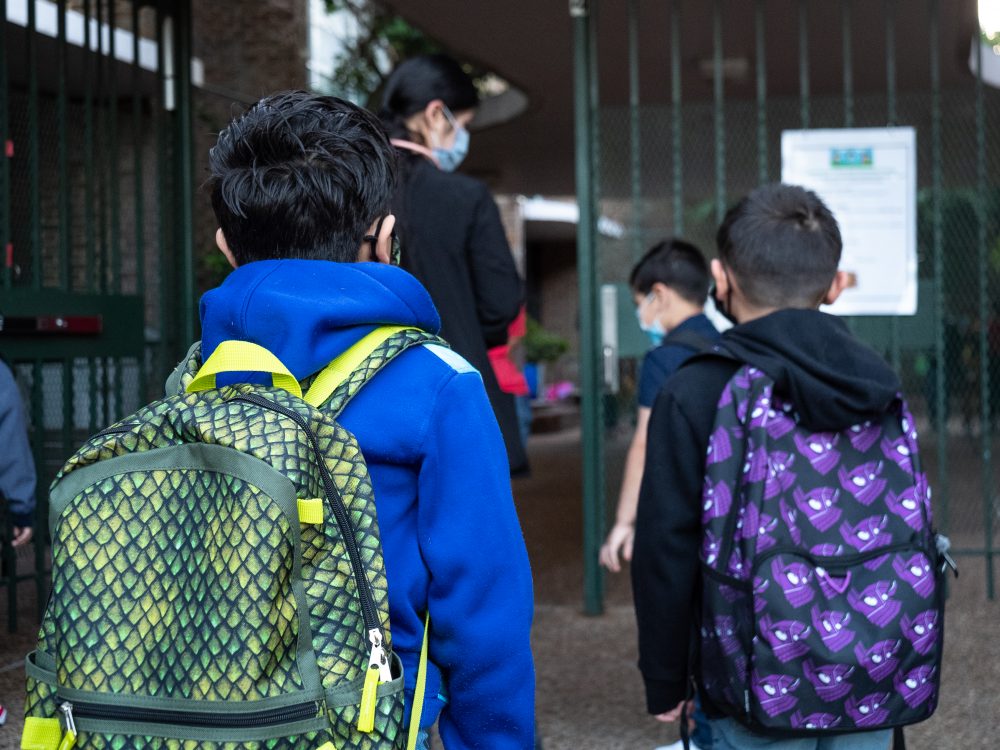 Updated 7:45 a.m. CT Tuesday
Houston ISD, the largest school district in the state, reported 152 total active COVID-19 cases after the first day of school, 79 of which were among students.
Thirty-six percent of those students were in elementary school buildings, according to the district's COVID-19 dashboard.
HISD students returned to school Monday with a mask mandate but few options for virtual learning amid record numbers of pediatric patients in Texas hospitals.
Parents of HISD students watched the return to in-person classes closely.
Jasmine Nash, who dropped her two kids off at Blackshear Elementary on Monday to start Pre-K and third grade, said she's looking forward to seeing her kids learn in school, but she's still a little anxious.
"We can't say that we're 100% sure that we know that everything is going to be OK, but we still trust God and we trust in the process and whatever that's going on," Nash said.
Even some fully vaccinated students were anxious — like Lyric Williams, who started seventh grade at Lanier Middle School.
Lyric said she was happy the district instituted the mask mandate, and wanted to wear her mask to stay safe.
But while she was excited to return, she was also worried for herself and her friends.
"I feel like it's not safe, because they're just putting us in a huge building with a whole bunch of kids," she said. "And I mean like, how are you supposed to know? Because just because they don't have a fever doesn't mean they don't have COVID."
In an interview with KHOU on Friday, HISD Superintendent Millard House II said the schools will be fuller this year than the last as the district transitions back to a more robust in-person learning experience.
"We're asking as many of our kids as possible to get back to buildings and get back to some normalcy," House told the station. "I think what's different from last year is that we've learned in public education how to live through a pandemic."
HISD has been looking for ways to expand virtual learning in the past month. All 8,000 virtual learning slots at Texas Connections Academy Houston — an HISD campus charter — were full just two weeks ago, but House told Houston Matters he was attempting to add up to 2,000 more. There are more than 196,000 students in the district.
Last week, House announced another virtual learning option specifically for kids under 12 with an immunocompromised system. The virtual academy is set to begin on Aug. 30.
At a Monday morning press conference, House said the district does not currently have a COVID-19 case threshold that would need to be surpassed in order to shutdown a school. He explained that every school was different from one another, so each situation would be reviewed on a case-by-case basis.
"We will contact trace, and take a close look at who's been exposed or potentially been exposed," he said. "That means we may close down a portion of a classroom. That means we may shutdown a grade level. It just depends in that particular situation."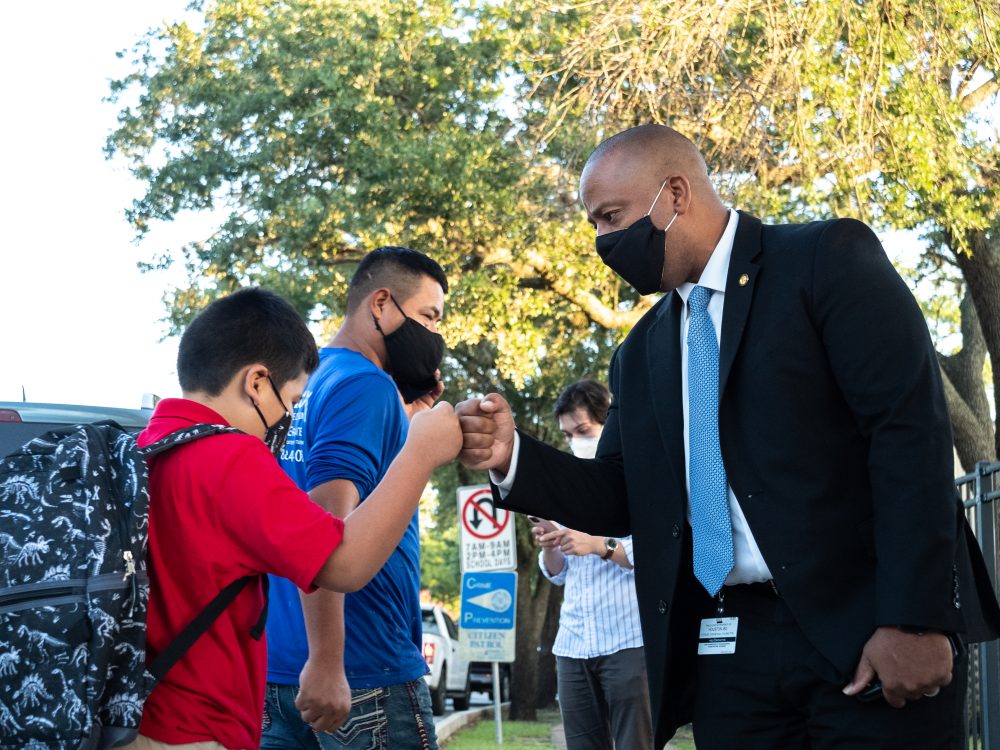 House enacted a district-wide mask mandate earlier this month, in defiance of an order from Gov. Greg Abbott banning such mandates.
Meanwhile, thousands of active cases have already been reported across various districts that have started class, many of which don't have a mask mandate in place.
Conroe ISD, which has declined to issue a mandate, leads area districts with 1,574 active cases as of Monday morning, prompting district officials to raise its threat level. Fort Bend ISD, which has not instituted a mandate despite a mask order from County Judge KP George, is at 665 cases as of Monday morning.
The state health department reported 235 pediatric COVID-19 patients in Texas hospitals on Friday. Just under 40% of the ICU beds in Harris County are filled with COVID-19 patients, and hospital admissions have more than tripled over the last month.
Texas Medical Center executives issued an open letter Friday recommending COVID-19 precautions in schools this year, including mandating masks.
"Even in the midst of the pandemic — and as the delta variant surges — we have tools to provide a relatively safe school environment with an acceptable level of risk," the executives wrote. "However, creating safe schools will not occur by luck. It will require a thoughtful, unified collaboration between schools, parents and our community."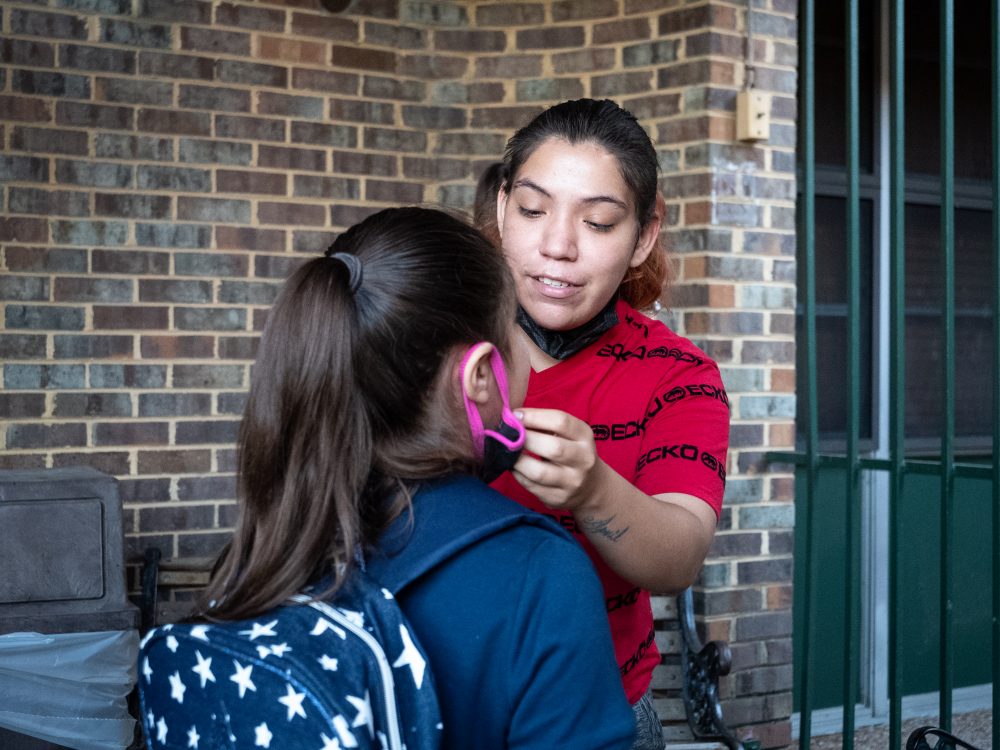 Bianca Cavazos, a parent at Benbrook Elementary School in northwest Houston, said she doesn't think a mask mandate is enough, and wanted more virtual learning options for her 6-year-old daughter Jasmine.
For now, she's nervous and says she's keeping an eye on how the schools are dealing with the pandemic.
"I'm going to have have her in school for a week and see how the cases are with HISD and this school specifically," Cavazos said. "If they're high, I'm most likely going to unenroll her and just homeschool her because I can't afford her getting sick or anything happening to her, and I know a lot of other parents can't either."
But for some kids, the opportunity to see their friends again is a welcome one. David Loston, who started first grade on Monday at Blackshear Elementary, said he was excited to be back after a year at home.
"Since COVID started I had to be virtual," David said. "But now I have to go in person, and it's super cool."
Correction: A previous version of this story misrepresented HISD's virtual learning options. HISD partner Texas Connections Academy Houston and HISD's virtual academy are two separate options with different eligibility requirements.