This school year has been incredibly disruptive for Wayne, who teaches U.S. history at a charter school in North Houston.
"Students are having to learn so much. Even just to log in to school," said Wayne, who requested to be identified by his middle name. "Teachers are having to learn their profession, basically, in order to reach students."
Most of Wayne's students, about 60, are learning remotely. Only around a dozen attend class in-person because of COVID-19.
"Students have family members that are getting sick. Students are getting sick. Teachers are getting sick. And it's just been incredibly disruptive, up and down," he said.
But this week, many of his students will have to come back to campus to take an end-of-course exam for their history class. It's part of the state-mandated testing, known as the STAAR.
The two-week testing window starts Tuesday, and students are required to take the test — whether online or on paper — at a testing site supervised by a trained test administrator.
Wayne said the tests will tell educators and state policymakers what most already know: Students are struggling.
"I don't know why they need this to be verified through testing," he said. "I mean, we're in the middle of a crisis. And the crisis is continuing and intensifying."
The pandemic has upended school as most kids and teachers know it in Texas. But one part of the school year could proceed as normal: standardized testing, also known as STAAR.
Many educators, advocates and nearly half of the Texas House want the Texas Education Agency to cancel the exams — or at least reduce their high stakes.
At the very least, Wayne argued, the TEA should let students take these exams remotely, for their safety. The Texas State Teachers Assocation said last week that ordering students back on campus for end-of-course exams during a pandemic is "dangerous."
Others have called for stronger action.
"I think we prefer that we don't do it at all," said state Rep. Diego Bernal, a Democrat from San Antonio. "I think even the mechanics of administering the exam right now can cause a fair amount of anxiety and dread from both educators and students."
Bernal recently told the Texas Standard why he and a bipartisan group of nearly 70 lawmakers wrote to the TEA, asking the state to cancel this year's STAAR exams.
"In the event they don't want to do that, if they're going to administer the exam, (the TEA should) only use it as a diagnostic, meaning use it to chart the path to help students figure out where they're at, where they should go, what the rest of the school year should look like in terms of their learning," Bernal said. "And make sure that teachers, classrooms, campuses and districts aren't graded on the results of the exam."
Students and educators, Bernal said, just need a break for their mental health.
This AM, I sent a bipartisan letter to the TEA requesting that TX seek the federal waivers necessary to cancel the STAAR test. At most, STAAR should only be used as a diagnostic tool, as opposed to determine sanctions under the A-F accountability system. #txlege pic.twitter.com/q6zs6ZZCaB

— Diego Bernal (@DiegoBernalTX) November 18, 2020
On top of state exams, students are also stressed about taking their final exams in person.
Take Ava Speros. She's 18 years old and a senior at Memorial High School in the Spring Branch Independent School District. She's taken virtual classes for almost the entire year, except for two days at the start of the year on campus, when she quickly withdrew.
She said she dreads going back to campus for finals next week.
"It's really, really scary to think that I don't even have a choice," she said.
Ava said that she'd prefer to take her finals online, or in a bigger space where she can socially distance, like the library. She said she's seen pictures of crowded hallways and kids not wearing their masks at her school. And she's pleaded with the Spring Branch school board to change their policy.
"I think the most upsetting thing is that the district doesn't seem to want to listen to the kids in the families in the district," she said. "I wish they were more flexible because these pandemic times are the times which flexibility is, like, the most needed thing."
Flexibility from the Texas Education Agency could mean just using the STAAR scores as information and skip giving schools A-F letter grades this year.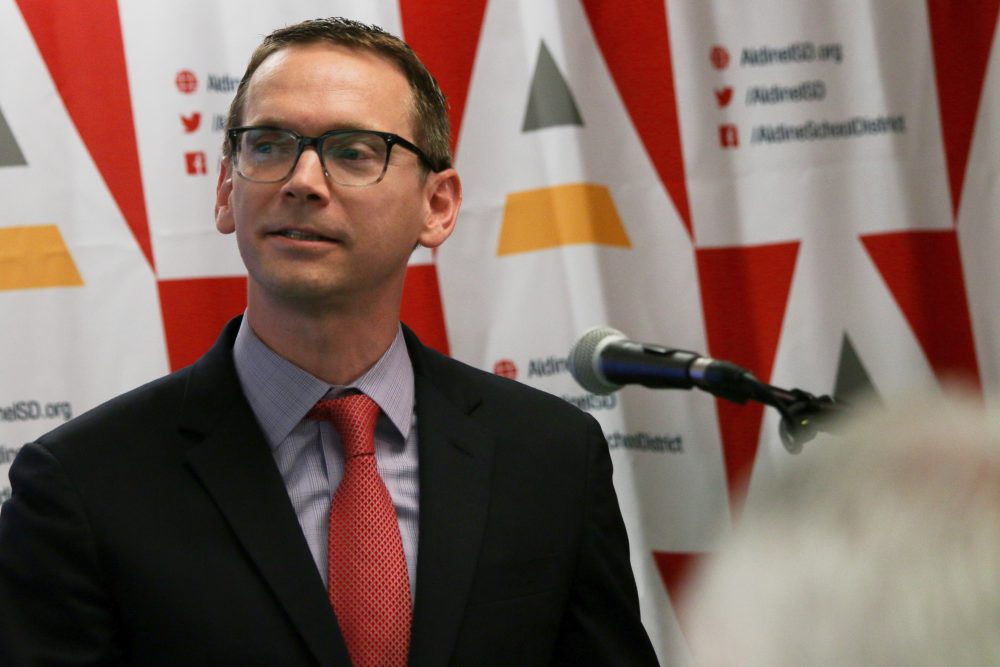 That's been proposed by business leaders, some superintendents — such as Aldine's LaTonya M. Goffney — and nonprofits, including Good Reason Houston. In a letter to the state's education commissioner, they argued for the accountability system to be put "on pause." Some of the reason: the uneven access to digital devices and high-quality internet for many Texas students, the varying concerns from parents over the safety of in-person learning, and "urgent social-emotional needs will make it almost impossible to assign A-F ratings in a fair and equitable way," they wrote.
Still, the group argued that testing — without accountability measures — will help them prepare to close learning gaps for next school year.
"For us, we think, particularly in a pandemic, the more information we have the better, because it gives us insight about how best to respond," said Elliott Witney, chief program officer for Good Reason Houston.
So far, Texas Education Commissioner Mike Morath has told the State Board of Education he's considering asking for a federal waiver for how many students are required to participate in the spring, when the bulk of testing happens. He also said he's gathering input from some advisory groups, but didn't commit to canceling the exams.
Morath told the state board that a school accountability system should "be a fair representation of management effort, not capturing stuff that is outside of management's control."
"I think there's a number of options that we are considering relating to making those kinds of adjustments so it still remains appropriate and accurate for this year," Morath said.
That still means for the next two weeks, testing will continue in person in Texas schools.