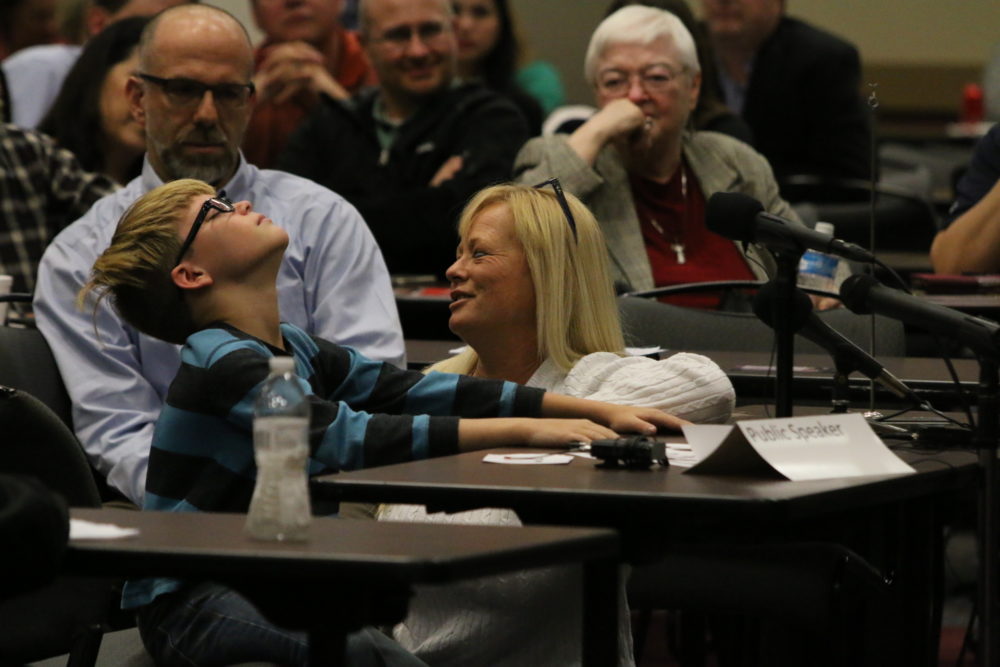 Updated 9:24 am. CT Friday
The U.S. Department of Education has asked Texas education administrators for proof that it's making progress to provide special education to all students with disabilities.
The request comes nearly three years after the feds slammed Texas for failing to provide services to all eligible children.
For years, the Texas Education Agency had an arbitrary cap on how many children could receive special education, set at 8.5% of a district's total enrollment.
That cap came to light thanks to a Houston Chronicle investigation, and the feds ordered the state to fix it back in 2018. Since then, federal officials have visited local Texas districts, including Houston and Spring Branch, and interviewed education administrators.
But in an Oct. 19 letter to Commissioner Mike Morath, federal officials say they couldn't verify the Texas Education Agency had followed through on its entire corrective action plan, and said it "welcomes TEA's submission of additional information and documentation that support the correction of any identified noncompliance."
Among those areas identified:
Children who should have been evaluated for special services and were later identified have not been offered make-up services, as TEA promised;
The state's special ed guide for parents needs multiple revisions due to factual errors. Under the corrective action plan, Texas schools are supposed to improve outreach to families; and
It's not clear if TEA has a "fully operational and effective monitoring system" even though the agency has said it will restructure it and has hired more additional staff, according to the letter.
"It sadly means that we're still in the same place where we were before with the state policy limiting enrollment in special ed. That is, kids aren't getting the help they need," said Steven Aleman, a senior policy specialist with Disability Rights Texas.
"And well, yes, on paper, the cap doesn't exist. Unfortunately, it seems in many places, the same environment is still there," Aleman said. "There's no information for families. There's no makeup services being offered. And the state's plan to make things better is lacking."
Read the letter from the U.S. Department of Education. Story continues below:
Aleman said he hoped the latest notice from the U.S. Department of Education would put special ed as a top priority for the next Texas Legislature, which reconvenes in January. In 2019, state lawmakers ordered a review of the state's special ed plan.
"The federal report is hopefully going to be an important spark for both TEA to step up its game, as well as for the state lawmakers when they gather in January, to know that they have more work to do in their oversight responsibilities," he said.
In a statement, the TEA said that the agency has been "diligently implementing our strategic plan for special education and the activities from our Corrective Action Response to improve special education services in Texas."
It maintained that it's addressed "every point" of that corrective plan and "went significantly beyond what was required."
TEA also said that it's been collaborating closely with the U.S. Department of Education, and in a Oct. 5 letter, it detailed improvements in special education, asking federal authorities for a "close out of the corrective action and that Texas be returned to a status of "'compliant.'"
In that Oct. 5 letter, TEA cited increased enrollment in special education, results-driven monitoring, and increased staff.
"When it comes to special education services for Texas students, TEA is continuously working with local education agencies to close the gap between unidentified need and ensuring our students have all the supports they require," TEA wrote in a statement to Houston Public Media.
"Our agency is responding to OSEP's most recent request. We're confident in the progress we've made on behalf of our state's students served by special education."
Read the letter from the Texas Education Agency. Story continues below:
The findings by federal officials echo what Houston Public Media and the Houston Chronicle reported last year: many Texas families were still struggling to access special ed services despite the official end of the state's cap.
At the time, the state's deputy education commissioner of special populations, Matt Montaño, said that he believed TEA had met all the requirements of its corrective action plan and that he expected the feds to agree.
"If you think about Texas as being a large battleship, I do believe we've turned it," Montaño said in a 2019 interview. "I do believe we turned it in the right direction and we're getting the momentum going in the right direction."
As evidence, Montaño pointed to a 56% jump in special ed evaluations, more funding from state lawmakers and more communication with districts.