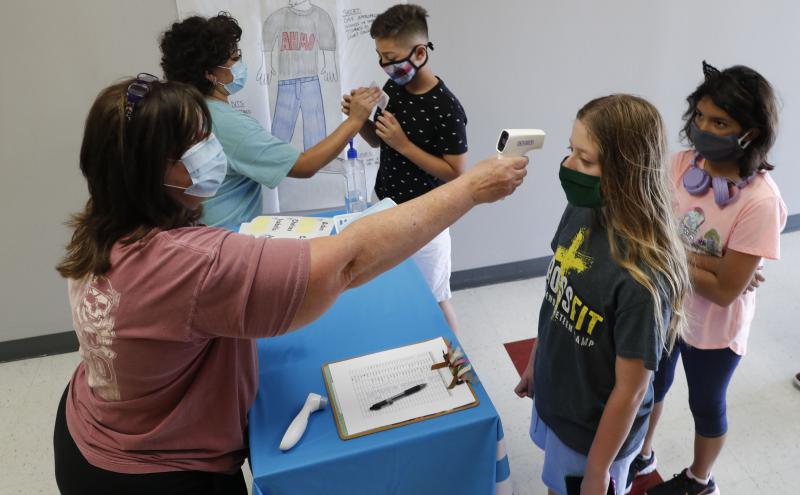 Back-to-school hasn't been easy for many Houston-area families or their teachers. There've been technology hiccups, students who haven't logged on at all and hundreds of teachers reporting safety concerns to their union.
The president of the Texas State Teachers Association, Ovidia Molina, spoke to Houston Public Media about what her group is hearing from its members.
This interview has been edited for clarity and length.
On back-to-school:
Every year with back-to-school, there's some sort of excitement and anxiety about it. But this year, it has been filled with anxiety and fear. And the reality is that this year, it really hit us in the face. Because our members are in the classroom teaching, but also doing other jobs in the school district. We have bus drivers, custodians, secretaries, you name it, you work for public school, you're one of our members. And so the return to the campuses was filled with a lot of fear, because we knew that we were doing so during the middle of a pandemic.
On the results from a recent survey of members:
We had around 664 members who have responded in 135 different school districts around the state. And a lot of the concerns were socially distancing our students, how are we going to do that? We also have old buildings that have ventilation that is old, and this disease is airborne. So we need to make sure that that is brought up to code and, making sure that it's not one of the things that's also helping to make us sick.
Inadequate policies for sick leave. Most of the time, school districts give between 10 and 11 days for sick leave throughout the year. Well, with COVID, you're being asked to quarantine for 14 days, or you have to take longer.
The proper protective equipment. Now our governor said that our students were going to have X number of masks. Well, we calculated it. And that would only be two weeks if our students are returned. And what we got as a response was like, "Oh, we don't think they're all going to return." But we need to plan for a full supply.
On districts that stood out in Greater Houston:
So I think because of its size Cy-Fair was one of the areas that had a lot of responses. And their responses had to do with with the same issues that we saw as our top three — the social distancing, the protective supplies, the sick leave policies. And the fact that our employees have asked the district and we're told that they could stay remote and then not having that happen. In Alief, in particular, we've heard a lot about the accommodations, where we've had several people or the majority, if not all of the people, that have turned in requests to work remotely denied. But our parents are being given the option of keeping their students home because they don't feel it's safe to return to in-person (instruction). And our educators are now not being given the same respect.
On any recourse for educators in Texas if they have COVID-related safety concerns:
We have a help center. So we are making sure that our members know that we have the help desk available for them. It pushes us also to send the message to our members and to our communities to please vote education first. We need to have people in place that are going to be listening to us at the local level, in the school districts, at the state level. And so we're talking about that.