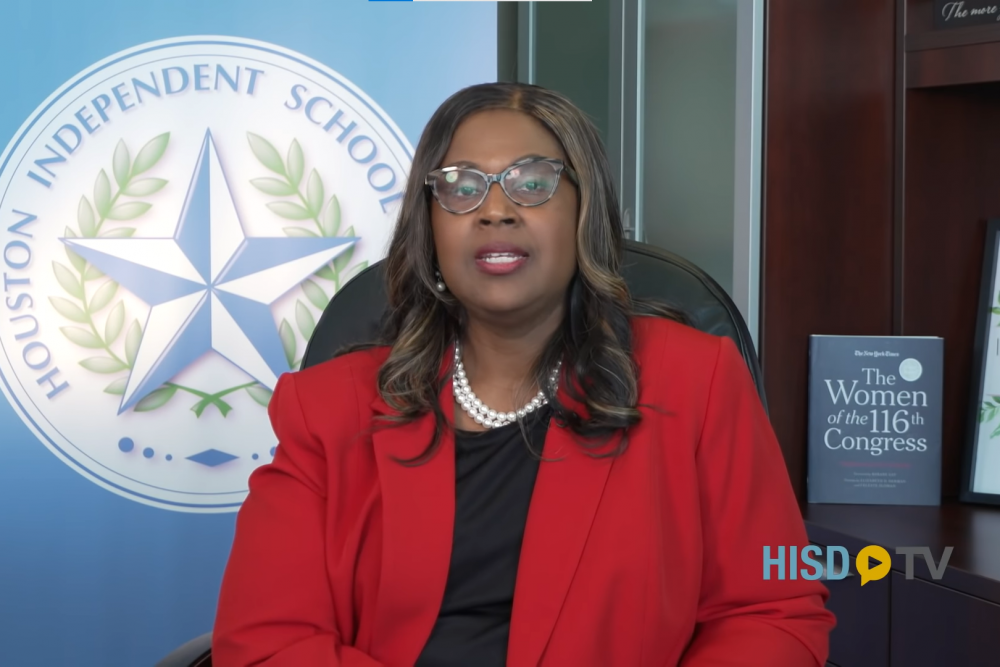 The Houston Independent School District will delay the start of its school year until after Labor Day and begin classes with virtual instruction until at least October, the interim superintendent announced Wednesday.
All students will begin the 2020-2021 school year with online-only classes on Sept. 8, which will continue for six weeks through at least Oct. 16.
But that date is subject to change based on health recommendations amid the spread of COVID-19, said interim HISD Superintendent Dr. Grenita Lathan.
"Despite the challenges we all face due to the COVID-19 pandemic, safety, flexibility, and the academic success of all of our students remain at the forefront of our decision-making," Lathan said in a video released with the announcement.
At a press conference Wednesday, Lathan said that "a slowing of the virus, reduction in the number of positive cases across our city, and guidance we receive from our health department and city," will contribute to the decision of when classes can resume in person.
Parents in the district will also have the choice to opt out of in-person classes for their children, either for the entire fall semester or for the full academic year. Instead, those students will complete the rest of the semester or year online.
While Lathan said the goal was to provide equipment to those who need it, the interim superintendent would not commit to a guarantee on Wednesday.
"To the best of our ability, we have shipments rolling in, we are deploying that equipment," Lathan said.
Starting Aug. 24, parents will begin to recieve phone calls from district asking them to indicate their preference for face-to-face or online learning, Lathan said at a press conference Wednesday.
Students who do attend face-to-face classes, as well as all HISD employees, will go through a screening process before entering any HISD buildings, and will be required to wear face coverings, to practice social distancing, and to wash hands often, Lathan said.
The HISD academics team has developed a plan that will expand on the current HISD at-home curriculum, and as the district gets additional guidance, there may be changes to the plan, she said.
Students who attend special education classes will receive additional accommodations.
Attendance at both in-person and virtual classes will be mandatory for all students.
All nurses, food service employees, special education staff and custodial staff will be mandated to wear gloves, she added.
More Sylvester Turner on Wednesday praised the district's plan.
This afternoon, I spoke with superintendents of our area school district. I applaud them for taking the precautions to ensure our children return to school in a safe manner.

The majority of the school districts are beginning the school year virtually. #COVID19

— Sylvester Turner (@SylvesterTurner) July 15, 2020
The news comes two days after Houston teachers and school staff unions urged HISD leaders to begin the year with virtual instruction amid the COVID-19 pandemic.
The unions recommended phasing in face-to-face in-school instruction only after a consecutive two-week decline in COVID-19 cases.
Gov. Greg Abbott had previously announced that schools must reopen for the new academic year with five days of in-person instruction per week.
Other districts, including Katy ISD, have already put plans in place largely adhering to the governor's guidelines.
But the move by HISD, the state's largest district, marks a departure from those guidelines. And TEA officials confirmed Wednesday that districts would continue to receive funding if ordered by local health officials to remain closed with remote instruction.
Lathan said the safety measures were the result of consistent growth in the number of confirmed coronavirus cases in Houston.
"Even when we're not in the middle of a pandemic, it's that worry," she said. "It's that worry of any misstep. There could be grave consequences for that."
Additional reporting by Paul DeBenedetto.