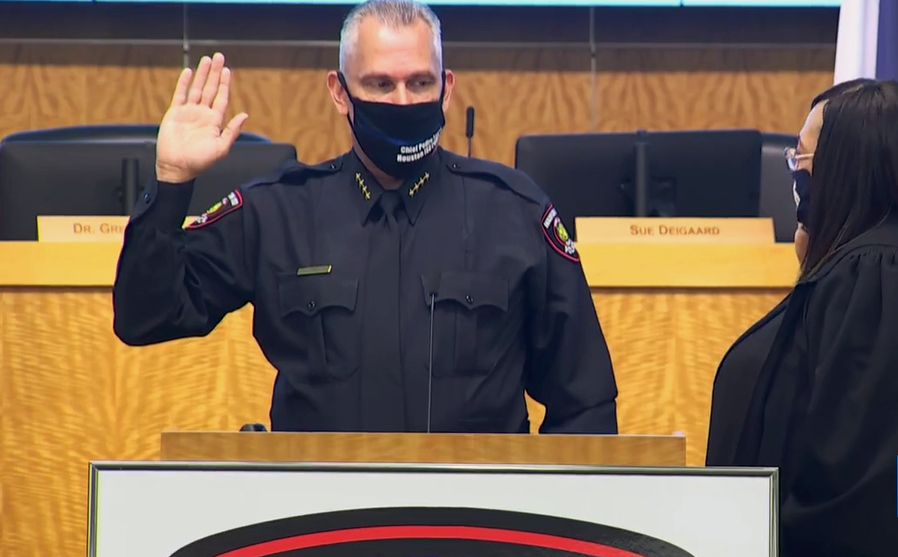 Updated 1:10 p.m. Monday with a statement from HISD
Even before George Floyd died after being handcuffed and restrained by Minneapolis police, advocates were trying to reduce the police presence in Houston schools.
Now Floyd's death magnifies the danger of over-policing for students of color and children with disabilities, according to a letter sent to Houston school district administrators.
A coalition of social justice groups, including attorneys, educators and youth involved in the juvenile justice system, are urging the Houston Independent School District to divest from school policing. Instead, they argue that money should put more mental health counselors and social workers in schools.
"Police on campus are more of a band-aid to control a situation. But it still doesn't get to the root of the problem, which is, are we meeting this child's needs and getting the child what they need to meet those needs?" said Karmel Willis, an attorney with Disability Rights Texas.
The demand in Houston echoes calls around the country for cities and governments to defund police departments. In Minneapolis, where a policeman lodged his knee on Floyd's neck for nearly nine minutes, the school board has already voted to sever ties with the embattled department, and the city council there has voted to disband the police. In Portland, the superintendent has reversed course on the presence of officers on campus and wants to end the district's relationship with city police.
Those calls are echoed in Houston, where Floyd was a star student athlete and graduated from Jack Yates High School. HISD, the state's largest school system and the seventh largest in the country, doesn't have a contract — it runs its own police department, with its own police chief and more than 200 officers, which cost nearly $10 million in the 2019-2020 budget. Divesting from school policing would mean dismantling the entire department. But advocates say their demand is feasible and not just a political or policy statement.
"They have tear gas, rubber bullets, battering rams," said Sarah Guidry, director of the Earl Carl Institute at Texas Southern University. "They started getting this equipment, as if they were going to war. And if that's your philosophy — 'we're ready to go to war' — then it's going to be easier for you to go to war as opposed to helping somebody."
COPS AND COUNSELORS
The Houston district's police force is nationally accredited and responds to more than 80,000 calls a year and covers more than 300 square miles in greater Houston, according to its website. Some officers are assigned to middle schools.
In May, the department welcomed a new police chief, Pedro "Pete" Lopez, Jr., a 32-year law enforcement veteran, with most of his tenure at the Houston Police Department.
"Our HISD police officers play a key role in not only the safety of our students, but their academic achievement as well," interim Superintendent Grenita Lathan told HISD staff in a message during National Police Week. "Each day, I see first hand their efforts to create safe and healthy learning environments by building meaningful relationships with students and staff."
Meanwhile, HISD's counseling team doesn't meet the recommended national staffing ratios. The district has one counselor for every 1,100 students. According to 2018 data, HISD had just over 190 counselors and a few dozen social workers.
HISD said in a statement Monday that its leaders need time to "thoroughly examine this proposal."
"We will carefully consider the best options that serve our students, staff, parents and community," HISD said in an email.
DISPARITIES
What's particularly troubling to advocates is that certain students get referred to law enforcement at disproportionately higher rates than others: students of color and children with disabilities.
After the Parkland and Santa Fe school shootings in 2018, black students in Texas were referred for offenses such as terroristic threats and exhibition of firearms at twice the rate of all other students, according to a data analysis by Texas Appleseed, a public interest justice center.
Federal education statistics show that students with disabilities count for only 12% of public school students, but make up 28% of students referred to the criminal justice system.
"So many times it's thought that having police on campus makes everyone feel safer, but many times it doesn't. Children of color — black and brown children — and children who have disabilities many times actually feel more unsafe," Willis said.
Advocates argue that schools can better serve students without police and with more social supports. If there's a discipline problem, they can address it without law enforcement. And if there's a true emergency, schools can call the local police department, Guidry said.
Guidry said she's seen good students get caught up in the criminal justice system for minor offenses: a teenage girl skipping school to take care of her baby, a straight-A using a counterfeit bill by mistake to buy lunch.
"We know that there's the same type of bias and the same type of overreaction to children of color, that there are to adult African American men and women who have died at the hands of the police or who have been treated cruelly and brutally," Guidry said.