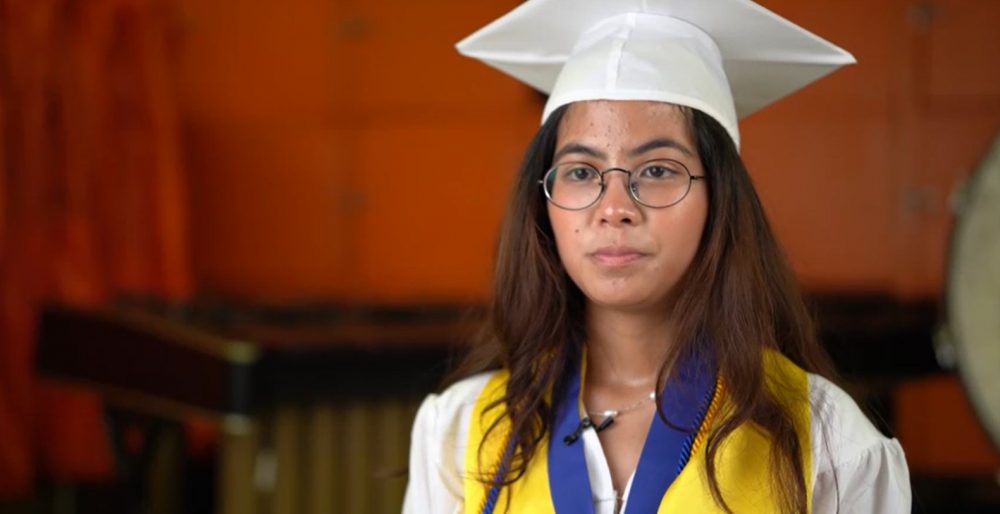 The first time Gia Cabacungan ever pulled up to a drive-in movie theater was for her high school graduation.
Cabacungan was one of 129 seniors who graduated from St. Pius X Catholic School at a commencement ceremony broadcast on the big screen at the Showboat Drive-In in Hockley, about 30 miles northwest of Houston.
One by one they received their diplomas at the concession stand in a socially distant ceremony while their loved ones watched from their parked cars.
"I'm just glad that my class, we can all gather for the last time," Cabacungan said in an interview ahead of the event. "Even though we can't really see each other and throw our caps together, I'm just glad we'll all be there because (we'll) all be going our separate ways after this."
Like the rest of the state and much of the rest of the country, high schools across Greater Houston have had to find new ways to honor the Class of 2020 amid the threat of the coronavirus. After Gov. Greg Abbott banned indoor graduation ceremonies, some Houston-area school districts like Cy-Fair and Spring Branch have opted to hold outdoor ceremonies, while the Houston Independent School District has decided to hold completely virtual graduations for its high schools, with recorded messages and a personalized slide for every senior.
And now the pandemic has revived one of the most popular forms of entertainment from the 1950s as a way to safely hold commencements.
At St. Pius X, located in North Houston, Principal Carmen Garrett Armistead said they got the idea for the drive-in ceremony from news reports about the approach at other schools. She said some of the parents asked about it, and the more they explored, the more it made sense.
"
I think that we're saying tradition counts, we're taking you back, we're adapting into a different venue, but our mission and those things that make us special stay the same," she said.
To maintain safety standards, St. Pius X designated parking spaces for each graduate and their household. They were allowed to invite one more car with guests, though they had to be all from the same household. Everyone wore masks, though graduates could take theirs off for their senior photo.
Garrett Armistead said the school was determined to do something special to honor the seniors. With the drive-in theater, she said they could hold an event in which all seniors could participate and keep their original graduation date.
While many schools have postponed commencements to later in the summer, Garrett Armistead said keeping the original date was important to give families a sense of normalcy. She worried the longer they postponed graduation, the further away from high school students might feel and move on with their plans.
"As a family, we felt they deserved the attention and they deserved that kind of pomp and circumstance that goes along with graduation from high school," she said.
Cabacungan, the school's valedictorian, said her class had a rough go of it: Hurricane Harvey their sophomore year, then another flood from Tropical Storm Imelda last year, and now, COVID-19.
"Despite all of that, we managed to push through and even grow stronger as a community and as individuals," said Cabacungan, who plans to attend the University of Texas at Austin in the fall.
As the Class of 2020 finds their way in the world, they'll find college life very different, and a bleak job market due to the coronavirus. But their principal gave them a simple message.
"You got this," she said. "We've prepared you. Your parents have prepared you since birth. You've got this."