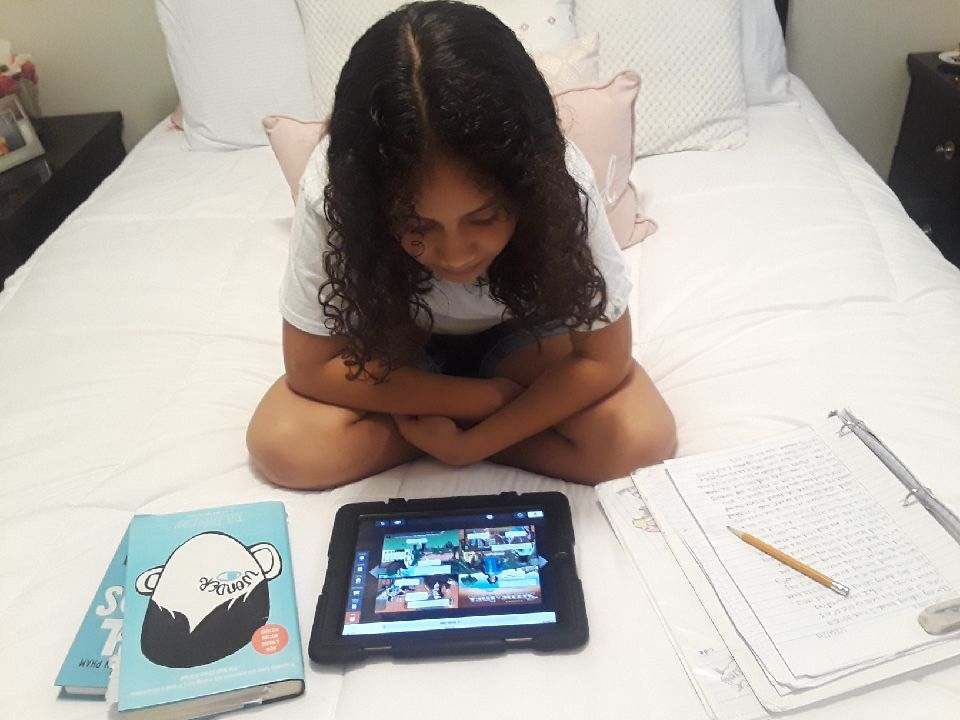 From her home in Aldine, bilingual teacher Rachel Clarke starts the week by making a special video for her fifth graders.
"Hi, students, hola alumnos, this is Miss Clarke," she begins.

All 50 are learning English in the Aldine Independent School District. As the week goes on, she sends videos with personalized feedback to students within 24 hours of them turning in an assignment.
In one video, Clarke tells a student named Genesis she misses her a ton and is proud of all her reading — four books in one week.
Clarke's spent 20 years in the classroom. Now teaching remotely from home, she's found these videos to be essential. And she's learned some things.
"It seems like the more personalized I can make it, the better," Clarke said in an interview. "Also, that I absolutely need to get over whatever I look like on camera. Because it doesn't really matter. You know, it doesn't matter if my grays are showing or any of those other things. Kids need to see me."
Texas students are wrapping up an unprecedented school year. Since COVID-19 sent everyone home to learn remotely, teachers have tried creative solutions to bridge the physical distance and some gaps in technology.
Another instructor in Clarke's district set up a special Instagram account for middle schoolers. Sometimes, high school teachers will ask classmates to check in on their peers.
In Spring Branch, teacher Kristi Dina set up a carport classroom to coach a group of neighborhood kids in third grade math — on top of her regular teaching job, with about 30 students. Dina said the idea popped up because she was having trouble with her own son with math and realized he had about half a dozen classmates in the neighborhood. Once a week this spring, they gathered in her carport — socially distant — to review word problems.
"I think that's what everybody's missing the most, is that conversation that you have in talking back and forth. And that's what they loved," Dina said.
Plus, she said the kids were thrilled to see their friends, and had surprise Zoom visits from other instructors. For breaks, they rode their bikes around the block.
Social worker Martha Montoya-Sanchez found old-school phone calls the best way to connect with her 60 students and their families. She'd often spend 40 minutes to an hour on the phone with them. She's a student support manager with the nonprofit Communities in Schools, and based at Woodview Elementary in Spring Branch.
"We kind of start with just, 'How are you doing?'" said Montoya-Sanchez. "They're just kind of talking through how worried they are with job insecurity, with food insecurity."
She and her fellow social worker at Woodview Elementary have tried to promote well-being for their families with recorded dance lessons and guided coloring sessions to help students and their parents deal with difficult emotions.
"We're hoping that this gives hope. You know, this is a way that I can take what I don't understand and express it through coloring," Montoya-Sanchez said.
But some Texas students are still falling off the radar, said Duncan Klussmann, a retired superintendent who teaches educational leadership at the University of Houston.
"Our educators have done an incredible job in a very short time of shifting an entire system," Klussman said. "But the reality is we're still missing a lot of students, too. I've talked to school leaders who, in some cases, have not been able to connect or identify with a third of their students."
It's a struggle for schools across Texas. San Antonio ISD lost contact with several thousand elementary students early on. And Houston ISD is still trying to get in touch with more than 10,000 children — 5% of its entire student population.
In the Aldine Independent School District, where Rachel Clarke teaches, almost 90% of children are economically disadvantaged.
Clarke said only half of her class is turning in assignments. And that's OK, she said, because she knows many families are stressed out about basic needs.
"It's just, you know, learning isn't a focus," Clarke said. "And I'm not judging parents for that."
Instead, she's tried to meet families where they're at, and it's worked. Except for one little boy. Even before the pandemic, she was having trouble reaching his mom. Clarke had planned to visit his home after spring break.
But then, they never returned to the classroom after the vacation.
"There is a part of me sometimes in the back of my head that's like, 'if I had just done that home visit, maybe I could get that kid, too,'" Clarke said.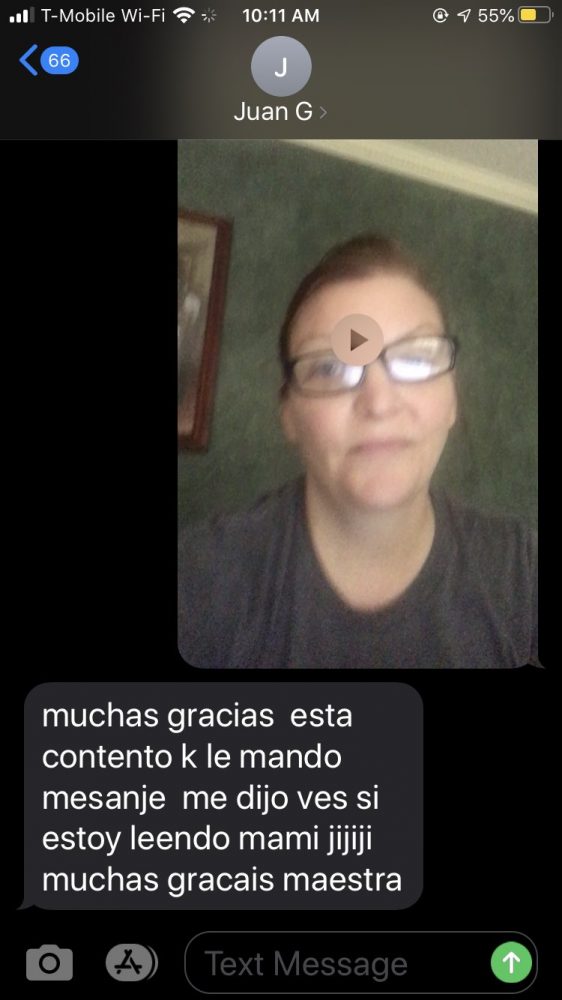 At first, Aldine ISD staff could only reach about 73% of their nearly 70,000 students. Sheleah Reed, chief communications officer with Aldine ISD, said in most instances, the district's contact information for the family wasn't up to date.
"Completely (social distancing) means you don't see a student. So you can't tell a student, 'Hey, tell your mom to call me or, you know, Can you give me your new phone number?'" she explained.
But, week by week, Reed said that they've tracked down more kids. They're up to 95%. And it's largely been thanks to educators on the ground: teachers, coaches and extracurricular staff members.
Reed says over months in the classrooms, teachers built relationships with kids and knew where to look.
"Teachers have relationships with students. District administrators don't. Sometimes principals don't," Reed said. "So by using people who have relationships with students and families, you're getting as close to them as possible."
The Aldine school district's checking in on families to see if they need any extra help heading into summer. Clarke, the bilingual teacher in Aldine, finally contacted her missing fifth grader after some detective work, alongside a counselor.
"We found an uncle whose child also goes to school here. And then they were able to get us in contact with mom with the updated phone," she said. "So I'm very excited. I know all of my kids are are OK."