This spring, Elizabeth Ogolo planned to find out where she was accepted into college surrounded by friends and teachers on "Decision Day" at Elsik High School in Alief. It's a tradition, and Ogolo had a lot up in the air with applications to seven schools, including the University of Texas at Austin and Stanford.
Instead, she opened the letters at home, alone.
"I guess it just wasn't the same because my mom was working and I was just by myself," Ogolo said.
That sums up much of her final months as a high school senior. The prom at the Hotel Marriott in Sugar Land she helped organize as senior class president: canceled. The mental health awareness she planned for campus: derailed. And online learning? She's doing her assignments but feels disconnected from her teachers.
The most excitement she gets is when she joins her mom in the car to make her DoorDash deliveries.
"A lot of seniors right now probably feel really neglected and they can't quite say what they're feeling because of all that's going on right now. Nobody wants to seem ungrateful and nobody wants to seem like a complainer," Ogolo said. "But there's a lot of seniors out there who, like me, might have been really looking forward to something because they hadn't had a good experience up until the coming month or the end of their senior year."
Social media efforts, however, are popping up in Houston and around the country to give seniors like Ogolo a boost. Earlier, there was a campaign for people to post their vintage prom pictures on Facebook in solidarity with the Class of 2020. And the latest involves a virtual "adoption."
Volunteers started the "Adopt a 2020 Senior Houston Texas Edition" after they were inspired by a similar group in Louisiana. People who sponsor a graduate can show them support with gift cards or words of encouragement. There are other "senior adoption" groups for the north part of greater Houston and one for high school graduates across Texas.
Ogolo, 17, said the motivational messages have kept her head up.
​"I've just been inundated with love and support," she said. "It's really, really incredible."
The Houston group's founders, Jacqueline Weber Nelson and Ruby Hicks-Hughes, don't have graduating seniors in their families, but are involved in a community service fraternity.
"We're trying to just give a positive impact to (seniors) during this time when it would normally be their happiest time of their lives," Weber Nelson said, "graduating and going to prom and transitioning from, you know, childhood… to adulthood out in the community."
Sponsors are encouraged to give seniors gift cards, gas cards, cash to set up dorm rooms and words of encouragement. More than 60 seniors from around the greater Houston area have posted stories and photos to her group in the hopes of being sponsored. They include students from Katy, Spring Branch, Houston and Alief. They're student athletes, dancers, rodeo participants and many honors students.
Hicks-Hughes said they wanted to continue to do some kind of community service during the pandemic.
"It was a means of reaching out and doing something, being involved, being able to put a little joy in someone else's life even during this COVID pandemic that we're going through," she said.
Hicks-Hughes, who's disabled and retired, said she remembered her own senior year and feeling excited about graduation and the next step in her life.
"You know, all those precious moments that I was able to experience," Hicks-Hughes recounted."I realized that they won't have that and their last memory of their senior year is going to be COVID-19. And for me, that was really sad."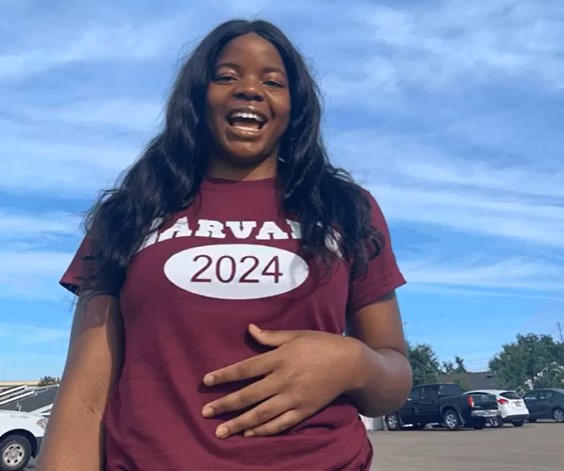 Ogolo, who's a first generation Nigerian-American student and lives with her mom and sister, said that even before the pandemic, she had several ups and downs in high school. One was tearing her ACL which she said strengthened her resolve to become an orthopedic surgeon.
So the virtual adoption has lifted her spirits.
And as for all of those college acceptance letters: She picked Harvard University. And she just hopes the worst of the pandemic is over by the time she heads to Boston in the fall.
"I'm hoping that college is just going to be really exciting, and it's going to put me in a great mindspace to grow intellectually as well as socially," she said.