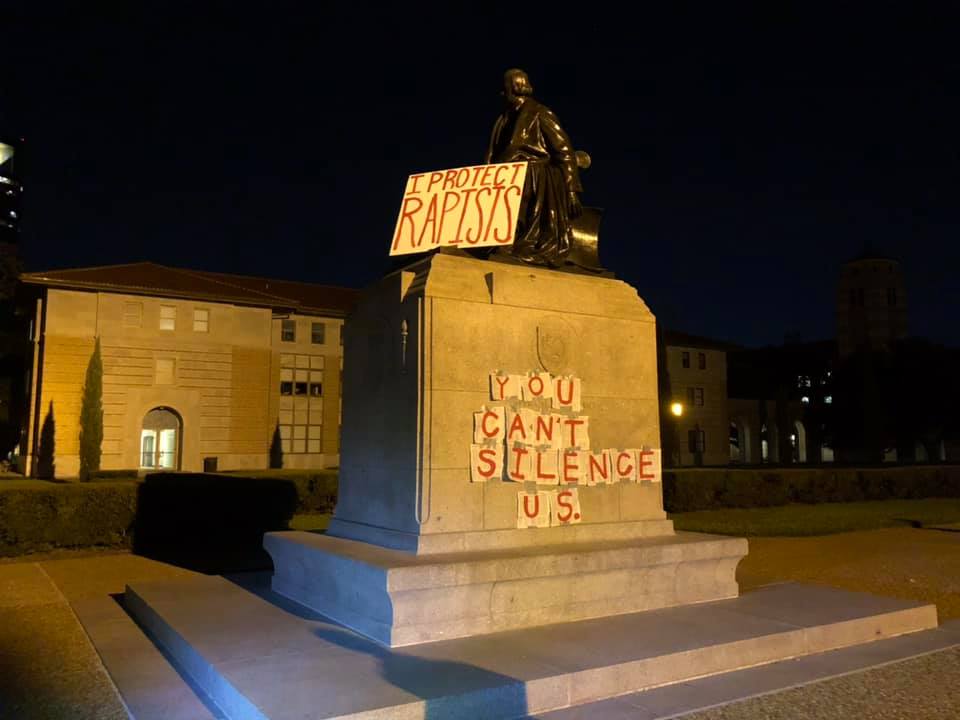 Dozens of Rice University students and alumni have come forward with their experiences of sexual misconduct on campus, less than a week after a graduate published her account of how the school allowed her alleged attacker to graduate despite a student judicial committee finding her allegations credible.
In response to the anonymous graduate's opinion piece, Rice Thresher editors Christina Tan and Anna Ta put out a call online to Rice students and alumni, asking survivors to share additional personal experiences of sexual misconduct on campus. Tan said they expected about 10 responses, but within two days, they heard from 58 people. They said most were current students.
From the responses they received, it appeared that fewer than 20% of the incidents had been reported to Rice, and most of those who did report alleged sexual misconduct said they were unhappy with how the university handled the case, Tan said.
The responses submitted to the Rice Thresher are adding more voices to the discussion among both students and university officials about how the school should respond to reported sexual misconduct cases on campus. University officials have apologized for how they handled the incident described by the anonymous graduate, and they've promised to reevaluate their policies moving forward.
"The reports of the survivors and the Thresher's publication of these accounts are an impactful service to the Rice community," Rice University President David Leebron told Houston Public Media in a statement. "Because of the constraints of confidentiality, the university itself cannot disclose accounts like these that help educate our community about the challenges we face in both preventing sexual assaults and resolving claims of sexual assault."
The anonymous piece published last week was shared widely on social media, prompting protests from students. Some protesters covered the statue of the school's namesake, William Marsh Rice, with printed copies of the piece, leaving signs on the statue that warned "I protect rapists," "pay attention," and "you can't silence us."
University administrators responded, calling their decision to award the degree a mistake. They said they would change the school's policy to prevent the situation from happening again.
Thresher editors Tan and Ta said it was commendable that the university called its decision a mistake. Both said they were stunned by the strong response to the opinion piece on campus.
"There was a huge outpouring from the student body, the likes that we have never seen before in our four years here. Rice is a pretty quiet campus. People don't really protest," Tan said. "It was just huge, and so we realized that we had to scale up our coverage significantly to match that."
They said in some responses they received, alleged perpetrators were involved in trusted programs within the Rice community, like freshman orientation and Rice Emergency Medical Services.
"Those are the structures I think at Rice are so looked upon as so positive and beneficial to the community that it was really hard to read that some people didn't get that experience," Tan said.
Tan and Ta said going through the responses was an emotional process.
"We got a number of submissions where me and Christina personally knew the people or we knew their predators," Ta said. "It made walking around campus feel entirely differently."
Since the newspaper initiated the survey, school administrators have apologized again and reiterated that they will review their policies. Dean of Undergraduates Bridget Gorman said she was responsible for the incident described in the anonymous opinion piece — in which the alleged attacker was awarded a degree despite sanctions — shifting blame away from the university's Student Judicial Programs office.
"To be clear, it happened because of my decision," Gorman said, adding that the school will be going through a "detailed and thoughtful review" of their policies.
Tan said the dean's letter could have been intended to restore confidence in the university's sexual misconduct reporting process.
"People might be less inclined to go through the administration to find justice because they don't trust them or they're worried they're going to mess up. So for her to take action and say this is all her fault, maybe that would change things," she said.
Tan and Ta said they will be watching closely as the school reviews its policies.
"There has been a lot of student movement asking the administration to be more transparent," Tan said. "For example, our peer institutions like Yale, they publish semi-annual reports that detail every assault on campus — what they did about it, and the number of reports. We have nothing like that at Rice."
The school offers a mandatory seminar on sexuality and consent during orientation week for new students.
"So people are kind of saying, 'Well, we have all these things and yet there's still assault. So now what? Now what can we do better?'" Tan said.
Both editors suspect that the anonymous opinion piece in the Thresher got so much attention — compared to other pieces about sexual assault they've published in the past — because it demanded a specific policy change.
"It's really easy to talk about what the administration is or isn't doing. I think it's a lot harder to look at yourself and your friends," Ta said. "So even though there have been three letters from higher-ups in the administration, I would just urge that students not pick apart those letters and question motivations, but rather, really take it to heart and think about the ways that they can prevent interpersonal violence."