The Houston Independent School District moved closer to a state takeover of its elected board, following the release of school ratings Thursday. One long struggling high school failed to pass for the seventh time in a row, even as other low-performing campuses improved and the district as a whole earned a high 'B' from the state.
The release of school ratings from the Texas Education Agency routinely carries high stakes — but especially so this year in Houston.
A state law known as House Bill 1842 triggers a state takeover or school closures if a campus fails state standards for five years or more. The threat has loomed over Houston, the state's largest school district, for two years. This past school year, HISD had four schools on the must-improve list: Highland Heights Elementary, Henry Middle School and Kashmere and Wheatley high schools.
One of them, Kashmere High, earned a C this year. It marks the first passing grade for the historically black school in a decade and breaks its record as the longest-running school on the state's failing list. A celebration of the passing grade — under the moniker #KashmereOut2019 — drew a packed crowd of state lawmakers, school board members, community members, teachers and students to Kashmere's campus Thursday.
"It's been a long time coming, but a change has come to HISD. And a change has come to Kashmere High School," declared HISD's Interim Superintendent Grenita Lathan. "It is not how you start the race — it's how you finish the race."
Yet the increasing likelihood of a state takeover dampened the mood for others in HISD.
That's because three other long-struggling schools in Houston fared worse: Highland Heights Elementary earned a D, Henry Middle a D, and Wheatley High made an F for the 2018-19 school year, its seventh failing grade in a row. A D grade still puts a school at risk of sanctions if it doesn't continue to improve.
Overall, Houston ISD earned a B grade for its 280 schools.
More context on how @HoustonISD performed -> Of 271 #HISD schools rated:
21%got an A
29%got a B
32%got a C
11%got a D
8%got an F

— Laura Isensee (@lauraisensee) August 15, 2019
Many at Kashmere's celebration applauded the principal, Reginald Bush, for his leadership and drive. He previously led Kashmere Gardens Elementary's turnaround.
"This is not a testing facility. This is not where we prepare kids to go and meet some low expectations that the state may have. But this is a facility where we prepare young people for life," Bush said.
Full house @KashmereHigh to celebrate the school's first passing grade in a decade. Stay tuned for comments from @HISDSupe and @SylvesterTurner pic.twitter.com/U9Fii5oRPj

— Laura Isensee (@lauraisensee) August 15, 2019
Lathan blamed Wheatley's failing score on a technicality, comparing state rules to technical baseball rules. But she told reporters that she doesn't plan to appeal the rating, saying they stand by Wheatley and pledging to pass next year.
"At this point, we don't see we have any extenuating circumstances where we would need to appeal. However, we will still go back and look at it," Lathan said.
The likelihood of a state takeover
The new grades give Texas Education Commissioner Mike Morath another factor to consider as he weighs the possibility of removing the HISD nine-member board of trustees and installing an outside board of managers instead.
Morath visited Greater Houston as part of a statewide tour to promote the state's new A-F grades for all schools. However, after praising the Aldine Independent School District for its progress, Morath hustled out of an elementary school library with Lt. Gov. Dan Patrick and refused to answer any questions from reporters.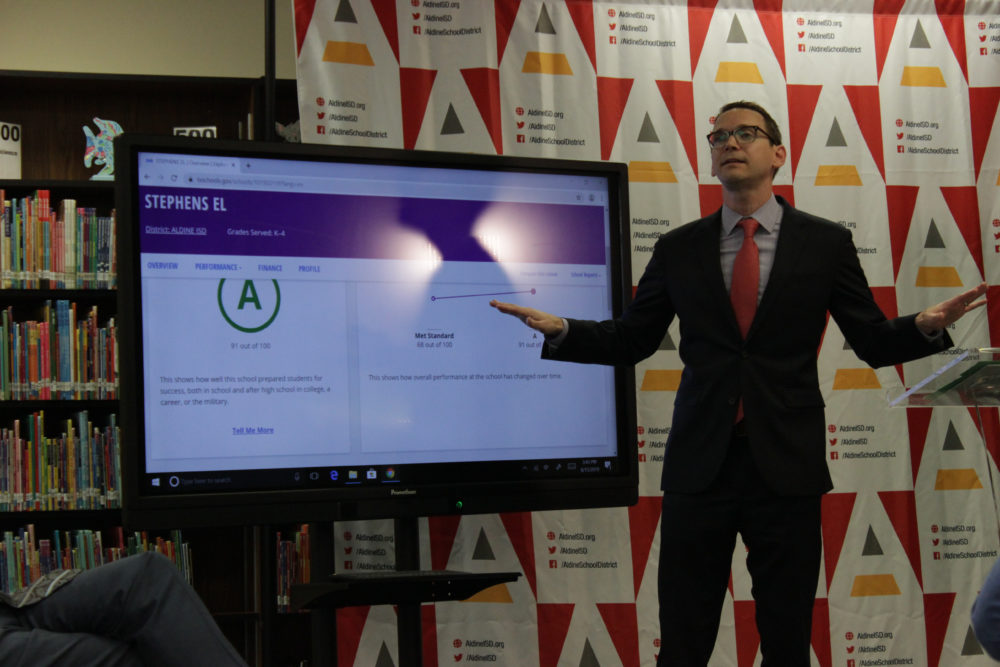 Other key Republican lawmakers at the event said that they believe a state takeover is "inevitable."
"I said in October 2018 that I thought a board of governors was inevitable due to what I was seeing with the behavior of the board. And, unfortunately, that has just continued to stay bad to worse," said Sen. Paul Bettencourt, who chairs the education committe in the Texas Senate.
"The fact that now that there is another 'Improvement Required' school that has failed tells me this is the time; I believe it's going to happen in the fall."
Already, state investigators have recommended the Commissioner take over the district after they finished their preliminary special investigation into multiple allegations against the Houston board. Investigators found that board members allegedly met privately and broke the Texas Open Meetings Act; exceeded their governance authority; and violated rules on vendor contracts. They recommended installing outside managers, appointing a conservator and downgrading Houston's accreditation.
State Rep. Dan Huberty, R-Humble, said that any state takeover wouldn't happen immediately because there is a process to follow. The next step for investigators is to weigh HISD's response to its scathing report.
However, Huberty criticized HISD board members for not taking advantage of extra money and options available to them, such as partnering with outside charter groups or nonprofits.
"That's what's frustrating for us — We have the tools, resources and we'll give them the money. All you got to do is tell us how you're going to get there. And they're not even willing to do that. So for me, we've given them every opportunity to be successful and they continue to choose not to," said Huberty, who chairs the public education committee in the Texas House.
Still, some community members maintain a takeover isn't a sure thing. Ruth Kravetz, with the advocacy group Community Voices for Public Education, said that HISD residents have the right to vote out board members if they don't like the job they're doing — instead of losing local control to outside managers.
"I do not believe it's a foregone conclusion and I would quote [Texas Education Agency's special advisor to the commissioner] AJ Crabill in his public meetings and private comments: an appointed board while possible is not inevitable. And there is a lot of due process left to go through," she said. "People said it was inevitable last year. And yet here we are in this."
A new grading system
This year marks the first time the Texas Education Agency is issuing A to F letter grades to all public and charter schools. Last year, it phased in the new report cards for districts.
It's fueled a years-long debate over the best way to grade Texas schools. Proponents of the new system say the A-F report cards give parents more information about how their children's school or district is doing, compared to the state's previous pass/fail system.
Critics, including many Texas school superintendents and educators, believe that the letter grade is oversimplified and shames lower-performing schools without taking into account other factors, like poverty, that can affect children's learning.
Still, Morath pointed to a school in Aldine, Stephens Elementary, which shot up from a would-be D rating last year to an A, as proof that it works. He called the reports cards the "fairest" rating system yet in Texas.
Parents and teachers can check out their school or district's grade at www.txschools.org.