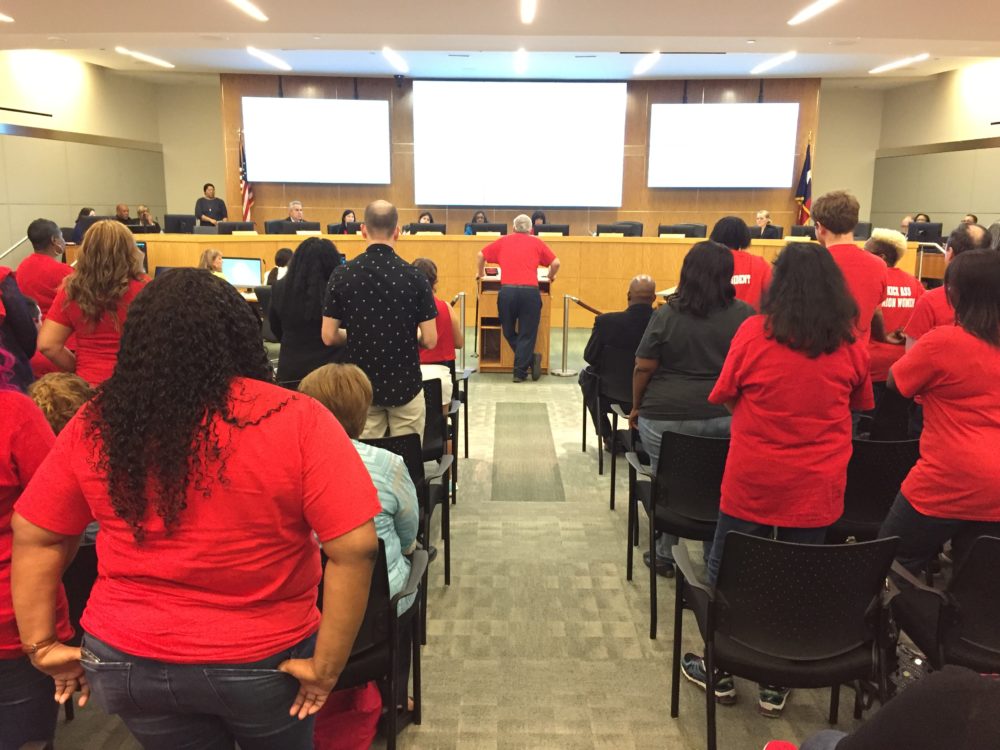 Teachers, cafeteria workers and bus drivers will all get raises next year in the Houston Independent School District, according to the $2 billion spending plan approved by the HISD school board Thursday night.
The budget raises the minimum wage for HISD hourly employees, such as cafeteria workers, to $14 an hour, up from $12. That was a major sticking point in the budget process and educators came for a showdown. They wore bright red T-shirts and packed the HISD board auditorium. Joining them were ministers and faith leaders. They all urged the Houston school board to pass what they call a living wage.
Activist Larry McKinzie used his one minute of speaking time to lead the crowd in a chant. "What do we want? We want 5 and 15. When do we want it? Now!" he said.
The HISD board ultimately agreed that it was time to increase the minimum wage, so that cafeteria workers and other support staff will earn an extra $2 an hour. The board approved the plan in a 5-1 vote, with Trustee Sue Deigaard casting the sole no vote. Absent were trustees Wanda Adams, Jolanda Jones and Rhonda Skillern-Jones.
The budget also includes raises for teachers of between 3.5 and 8 percent; one-time bonuses of $1,000 and extra vacation for administrators making over $75,000 instead of permanent raises; more money for bilingual education; and directing about $24 million in new state funding for compensatory education to flow into campus budgets.
"It's very obvious that the current system is not working and we need to definitely address this income inequity. We need to put the funds towards the working class," said Trustee Sergio Lira.
The new minimum wage will cost about $17 million and the board outlined a series of cuts to departments in central administration. However, HISD may dip into its savings in order to balance the budget without enacting layoffs.
The state's new school finance law requires all Texas districts to invest a certain amount in compensation, but different districts have divided that up differently.