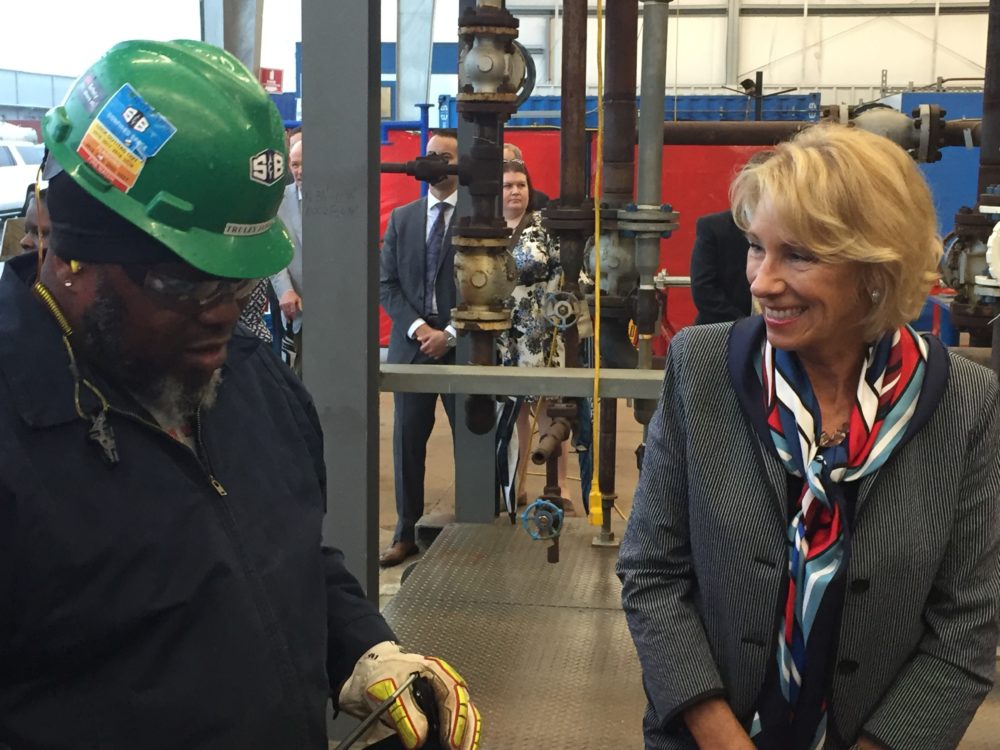 On the first stop of a two-day Texas tour, U.S. Education Secretary Betsy DeVos visited a construction training program east of Houston in Baytown Wednesday.
There, DeVos got a quick lesson in welding and pipe-fitting from apprentices at S&B Engineers and Constructors.
Several workers — including military veterans and single moms — told DeVos that they've gotten a fresh start since they've been able to learn a high-demand trade and earn money at the same time. DeVos told reporters that the United States needs more of this kind of training and the federal government shouldn't stand in the way.
"Public-private partnerships really at the regional and city level seem to be the most promising, because every area is different and has different needs and different opportunities," she said.
DeVos said that Texas has taken a big step forward on that front. This past legislative session, state lawmakers passed a new grant program that could reimburse companies up to $10,000 dollars for every apprentice they train. The measure — known as House Bill 2784 — has been sent to the Texas governor's desk.
For a couple of years, the Trump Administration has pushed apprenticeship programs and more vocational education as alternate pathways toward a successful career, instead of a four-year college degree. And even before that, Texas lawmakers revamped high school graduation requirements and required students as early as middle school to think about their future careers, including jobs that don't require a college degree.
At S&B Engineers and Constructors, several workers said the opportunity to learn a well-paying trade changed their lives, like single mom Stacia Brightmon. She graduated from Texas Southern University with a degree in finance, but said she struggled to find a job without related experience.
Brightmon said she bounced from different jobs, but struggled to make ends meet for her and her two boys, and even ended up homeless. Then via an email, she discovered the apprenticeship program in Baytown. She graduated last year and went from making $16 an hour to $28 an hour, and was recently promoted to monitor safety and compliance.
"This program has been a godsend to my family and I. You know, I actually have a college degree and couldn't find a job. I was always getting caught in that, 'Well, you have the degree but you don't have the experience' and you kind of can't get the experience if no one will give you a chance," Brightmon said.
DeVos told reporters that the United States needs to take a new approach to apprenticeship programs for both blue collar and white collar jobs.
The education secretary also visited NASA's Johnson Space Center where she chatted with astronauts via video and met with NASA leaders.
DeVos will continue her Texas trip Thursday when she is scheduled to have a fireside chat with young conservatives in Dallas.