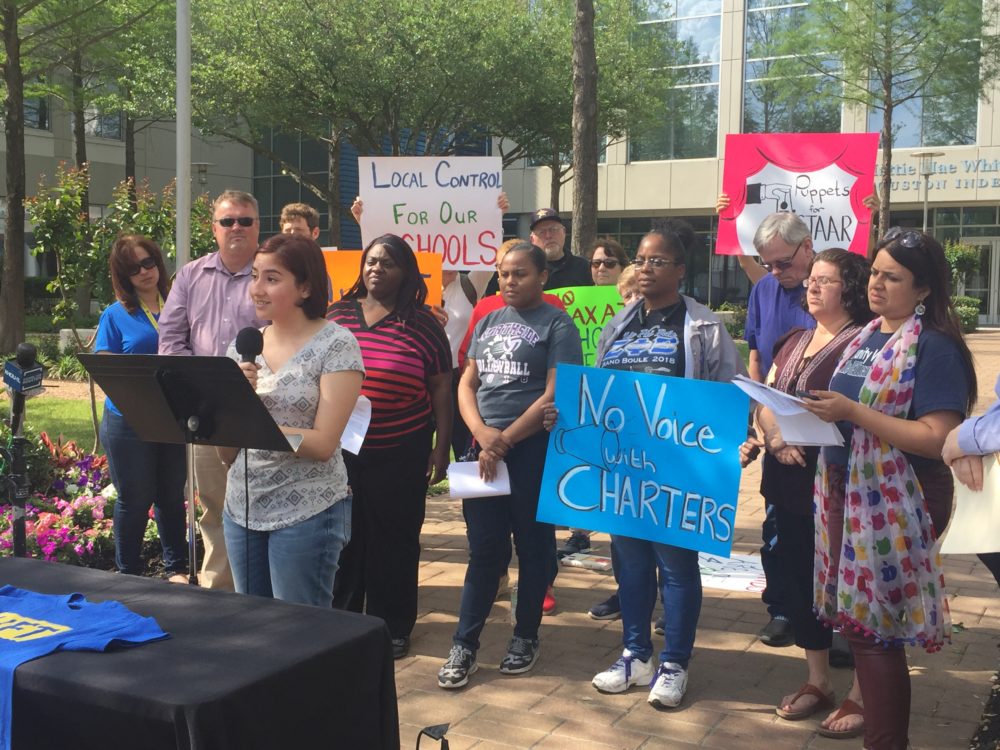 For over a year, the Houston Independent School District has faced the threat of a state takeover. First, a state law triggered the threat, because several schools had posted low academic performance on state standardized tests for several years. More recently, the Texas Education Agency expanded its investigation into the Houston school board.
In the face of the threat, a new coalition of parents, teachers and advocates has formed that still wants to keep local control over their public schools. They say that they prefer to "police" the school district through local elections and not through a state takeover.
"I believe our voices should be heard no matter who we are," said Natalia Villarreal, a junior at Northside High School.
She told reporters this week that she plans to vote for the first time in November and that she feels students and schools are being punished based on standardized test scores. She also said that she failed that test in elementary school because she was still learning English. Now she is in the top 15 percent of her class and is taking college-level classes.
"Do not take away my democratic right to vote in my first election. Do not take away my voice in making my community and school better," Villarreal said.
Villarreal is part of the new coalition, which spoke out against a potential state takeover outside HISD headquarters. She was flanked by teachers, retired librarians, parents and advocates of children with special needs.
If Texas' Education Commissioner Mike Morath decides to take over the Houston school district, he would replace the locally elected school board with a group of outside managers.
Some parents worry that the outside board of managers wouldn't answer to families or follow any kind of due process. Oftentimes, if a parent has an issue or complaint, they can ask their school board member for advice or assistance.
"And those board of managers are not elected and they make all the decisions that a school board would make. But they do not have the same accountability to the electorate," said Kara DeRocha, who's with the group HISD Parents for Inclusion, which advocates for children with special needs.
DeRocha said that instead, voters in HISD can hold the school board accountable through local elections, which are coming up in November.
"We would prefer to police our school board through our local elections and we don't need the TEA to come in and do that," she said.
DeRocha said that a state takeover would also hurt Houston children because the Texas Education Agency has a poor record of providing all children with disabilities access to an appropriate education, as required by federal law. The agency is currently facing two federal violations regarding special education, because it didn't provide access to all eligible students and because it illegally cut state funding for special services.
"There's a reason for that old cliche that says the devil you know is better than the one that you don't," said Zeph Capo, president of the Houston Federation of Teachers. "This is exactly what applies to TEA. We don't know what we're going to get from somebody in Austin."
While the TEA currently has the authority to take over HISD, the district's future won't be clear until after school ratings are released in August and the state investigation into board governance is finished.