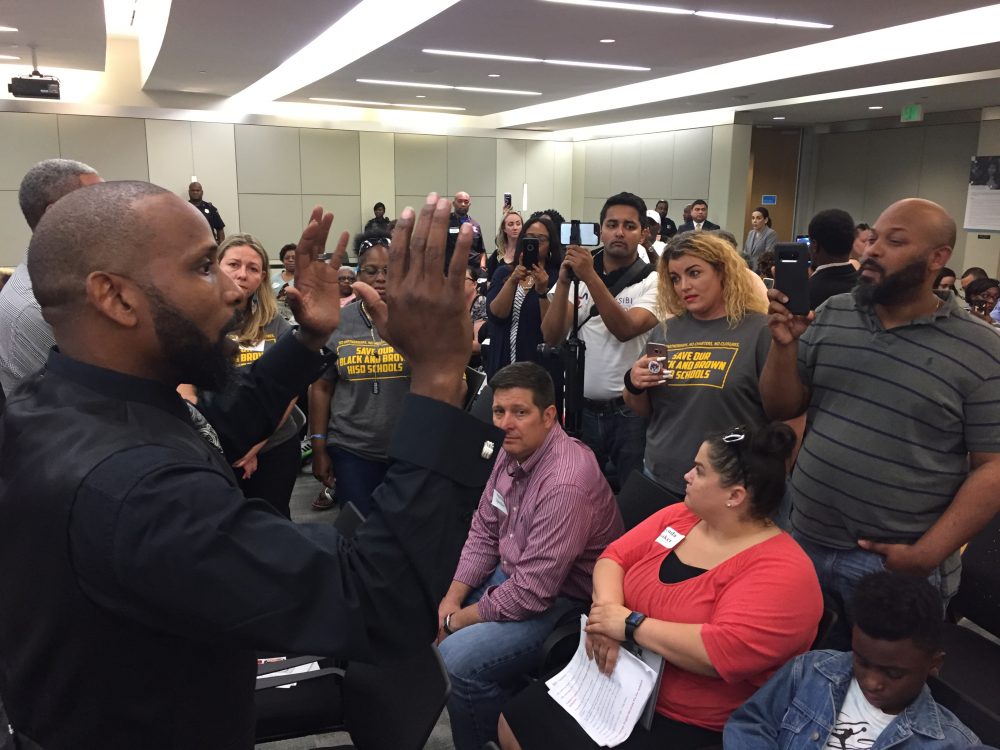 Months ago in May, Houston Mayor Sylvester Turner announced that he wanted the city to get directly involved in local schools.
Now that desire has evolved into a new nonprofit, created by Turner's education office.
It's the latest effort to address problems with Houston's chronically under-performing schools and the threat of a state take-over, but already it's drawing protests and push-back from parents and education advocates.
"I recognize there needs to be a collaborative effort and shouldn't be something I should do by myself, but collaboratively, there should be no low-performing schools in my city," Turner said earlier this year.
The city-related nonprofit is called the Coalition for Educational Excellence and Equity in Houston. News 88.7 obtained state records that show Turner's education chief Juliet Stipeche and three civic leaders are heading up the coalition.
Under the state law known as SB 1882, the Houston Independent School District could give the nonprofit temporary control of some Houston schools. That in turn would give the district a two-year pause on steep sanctions, including a potential state takeover.
The board has to decide by early February if it wants to pursue this effort or any other partnership for struggling schools. This week, the HISD board added a new agenda item for its meeting Thursday to decide if they want to request any outside partnerships.
On Tuesday, Turner issued new details on the objectives of the coalition and defended it at City Hall.
He outlined in a statement that the nonprofit aims to administer 15 HISD schools. They would include struggling schools that could trigger state sanctions and their related schools in their neighborhoods, or feeder patterns. Turner also said that he plans to appoint six more board members to the nonprofit. So far, three business executives are the only voting members: Corbin J. Robertson Jr.; Trinidad "Trini" Vasquez-Mendenhall; and Stephanie Nellons-Paige.
About half a dozen people protested the idea at City Hall. Bobbie Cohen called it an effort to privatize public education.
"I don't know why the city has decided to involve itself in a nonprofit coalition with three board members none of whom seem to have any real expertise in education, unless, of course, you count lobbying for ALEC which is an organization that has never met a government entity it did not want to privatize," Cohen said.
Still, Turner defended the effort: "It is an offer, it is up to HISD. No one here is trying to force HISD to do anything. No one."
HISD Board President Rhonda Skillern-Jones told News 88.7 that the board will vote on issuing an RFP (meaning a Request for Proposal) on Thursday. "After then we will know how to move forward," said Skillern-Jones.
Earlier this year, when the HISD board considered approving an outside partnership for struggling schools, the controversial measure sparked protests and arrests at the public meeting.
EDITOR'S NOTE: This story has been updated to include the comment by HISD Board President Rhonda Skillern-Jones.