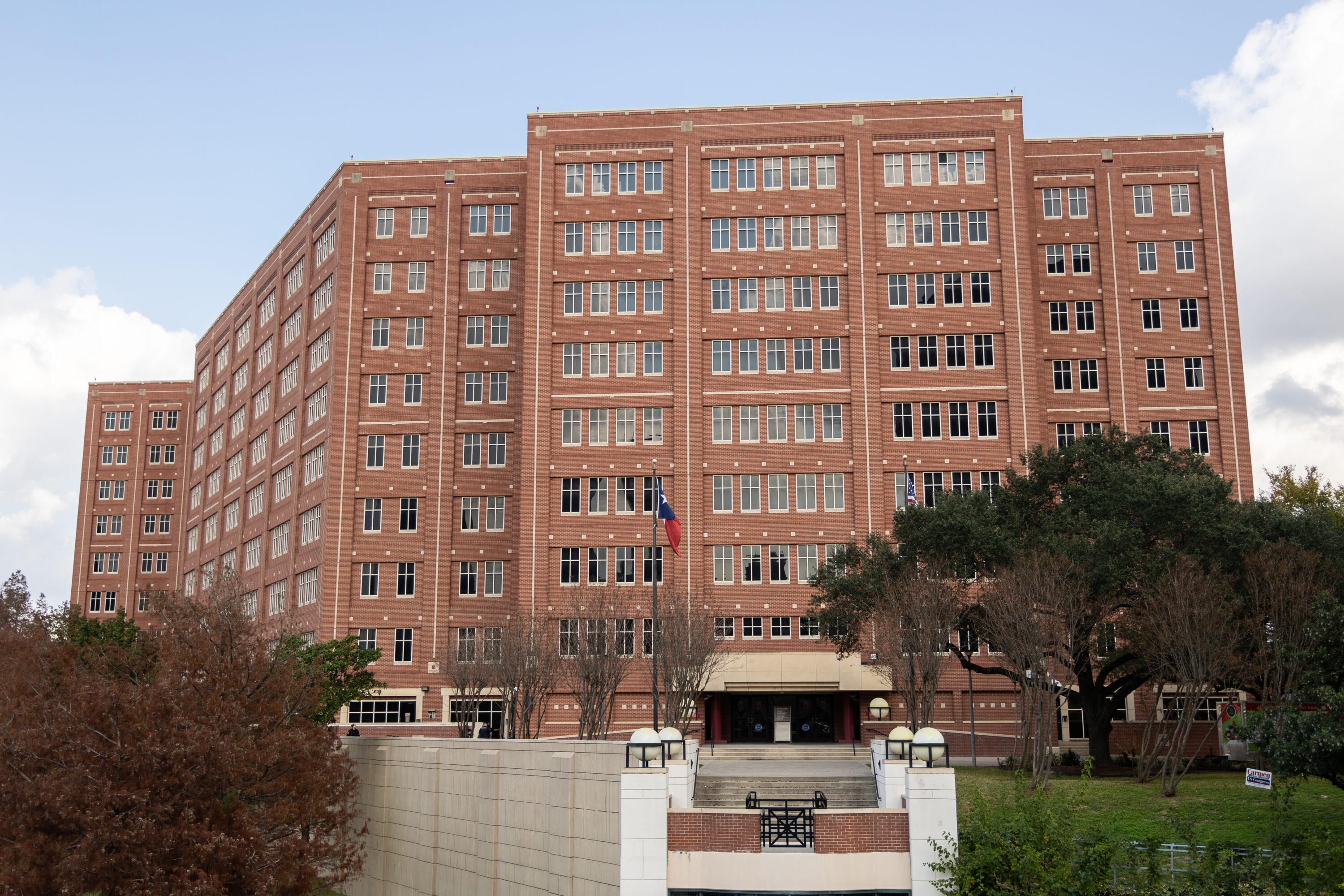 County officials on Tuesday approved an $11 million contract to send more Harris County Jail inmates to a private facility in Mississippi. This comes just weeks after state officials threatened to reduce the county jail's operational capacity due to chronic overcrowding and understaffing within the facility.
Starting Dec. 1, the county will begin sending people who are being held in the Harris County Jail to the Tallahatchie County Correctional Facility, a privately owned medium-security prison located 500 miles from Houston and operated by CoreCivic, which manages more than 110 facilities across the country.
The contract, which was unanimously approved by Commissioners Court, comes as the jail continues to violate state safety standards for a plethora of issues, including a lack of timely medical care and insufficient staffing levels within the facility. During the Texas Commission on Jail Standards' quarterly meeting earlier this month, state officials threatened to reduce the jail's capacity by 144 beds per month if staffing levels weren't stabilized by Dec. 1.
According to Brandon Wood, the executive director of the commission, the county hasn't been able to consistently maintain the state-mandated ratio of one detention officer per 48 inmates held in the Harris County Jail.
"They're still struggling with providing a sufficient number of staffing," Wood said after the Nov. 2 meeting. "If they don't have enough officers for the number of inmates they have, then they need to reduce the number of inmates, or they need to provide more staffing."
If issues within the jail continue to persist, Wood said the commission will likely refer to the Attorney General's office for stricter enforcement.
Harris County's continued reliance on outsourcing
Earlier this year, Sheriff Ed Gonzalez told Houston Public Media that he believed outsourcing was not a "preferred choice" in dealing with overcrowding inside the jail. However, the county's agreement with CoreCivic is the third outsourcing contract that county officials have approved over the last few years.
As of Tuesday, there were 9,371 people in the county's custody, but 1,296 of those people were already being outsourced to other facilities, according to the county's jail dashboard.
According to County Judge Lina Hidalgo, the agreement was necessary to make progress toward complying with state safety standards before the impending deadline set by the commission. Still, Hidalgo said she empathizes with families who will be further separated from incarcerated loved ones.
"To those families, it breaks my heart and I wish we didn't have to do it, and I'm hoping to honor them by figuring out a solution," Hidalgo said. "It's a little scary to say 'I'm working on one' and I don't know if we're going to find one, but I'm going to try my hardest to find one."
However, Krishnaveni Gundu, the executive director of the Texas Jail Project, pushed back against how county officials have framed the contract's approval.
"We weren't told to send people out by the jail commission, we were told to get our population in line with our staffing," Gundu said. "If we choose to interpret that as 'we have no choice but to ship people out,' that's a policy choice we are making, which honestly, is morally bankrupt."
Gundu added that she believed expanding the county's outsourcing efforts was comparable to putting "a Band-Aid on cancer."
"There is absolutely no imagination for some creative problem-solving here," Gundu said. "The court backlog is going to increase, and that's because every time you have to bring somebody back from that distance, it takes longer. And the more you delay, the more the prosecutors keep changing on the case…so every time the prosecutor changes, the court dates get reset."
Previous recommendations and investments
Jail reform advocates like Gundu have pointed towards a Justice Management Institute report published in 2020, which recommended the Harris County District Attorney's Office make "uncomfortable, but necessary changes" by dismissing "all non-violent felony cases older than nine months" in order to alleviate the growing number of cases. The report found that of all the county's felony cases in 2019, about 57% were either dropped or deferred.
Earlier this year, District Attorney Kim Ogg said that the JMI recommendation was "an unrealistic solution," and has instead pushed for more prosecutors and courts to expedite the county's pending cases, which surpasses more than 100,000 cases in both criminal and civil court, according to the county's district court dashboard.
Ogg has also lauded the passing of Senate Bill 402, which requires district judges in Texas to give preference to hearings and trials for murder and capital murder offenses.
Additionally, county officials in September approved a 12% salary increase for detention officers working inside the jail in an effort to alleviate understaffing within the overcrowded facility. Officials also approved funding to equip detention officers with body-worn cameras and to hire five Jail Population Specialists, who are tasked with identifying stagnant cases in an effort to expedite the court process and depopulate the facility.
However, County Administrator Diana Ramirez told commissioners on Tuesday that the county's retention efforts have yet to make a noticeable impact.
Additionally, despite the investments, at least 18 people have reportedly died while in custody at the jail this year. In 2022, at least 27 people died while in custody at the Harris County Jail — the highest number in nearly two decades, according to county records and data from the Texas Justice Initiative.