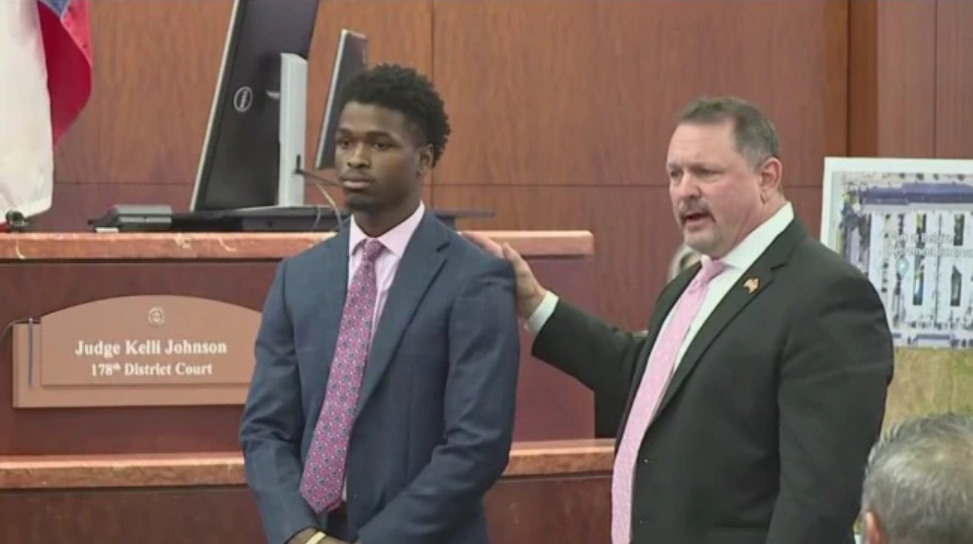 Antonio "A.J." Armstrong Jr., the Houston man convicted of shooting his parents to death when he was a teenager in 2016, is asking for another new trial.
A new defense attorney for the 23-year-old Armstrong, who last month was convicted of capital murder after two previous trials resulted in hung juries, claimed in a Harris County court filing last week the guilty verdict should be voided because of a series of purported issues. The motion for a fourth trial questions the credibility of an expert witness for the prosecution who presented damning new evidence in the most recent trial and also whether Armstrong should have been tried as an adult or a juvenile, among other things.
Armstrong was 16 at the time his parents, Dawn and Antonio Armstrong Sr., were shot to death as they slept in the family's Bellaire-area townhome during the early hours of July 29, 2016. The younger Armstrong was sentenced to life in prison after being convicted of shooting them in the head with his father's .22 caliber pistol, with the possibility of parole in 40 years.
Patrick McCann, the attorney hired by Armstrong for his appeal, claimed in the Sept. 14 motion for a new trial that the court never had proper jurisdiction to hear the case because a legal guardian for Armstrong was not notified about the 2017 hearing when it was determined he would be tried as an adult and not a juvenile. Also filed Sept. 14 was an affidavit by Armstrong's former defense attorney, Rick DeToto, who wrote that he did "not recall any adult in his family being served with notice of the hearing."
Neither McCann's motion nor DeToto's affidavit specifies who should have received such notice in place of Armstrong's deceased parents. Armstrong married and became a father himself between the time he was charged with capital murder in 2016 and his conviction this August.
"If he had been tried as a juvenile the jury would have had numerous sentencing options including a cap of 40 years total as the sentence," McCann wrote in the motion. "Contrast this with the faint 'hope' of a parole after 40 years have passed, when most if not all current family members will have passed away, and any good he has done in his life up to now or any mitigating reasons to help his cause at a parole hearing will have vanished into the mists of time."
The Harris County District Attorney's Office did not immediately respond to a Tuesday request for comment about Armstrong's appeal for a fourth trial.
McCann's motion also claims the DA's office "committed misconduct" because it did not inform defense attorneys about a 2019 complaint made against Celestina Rossi, a crime scene investigator for the Montgomery County Sheriff's Office who served as an expert witness for prosecutors during the most recent trial. The complaint filed with the Texas Forensic Science Commission accuses Rossi and others of planting fabricated DNA evidence related to a 2007 murder in Willis, with the man who was charged ultimately being found not guilty by a jury.
Rossi testified during the third capital murder trial for Armstrong that specks of his father's blood were found under the adhesive name placed on Armstrong's clothing when he was brought to the Houston Police Department for questioning in the aftermath of the murders, and that subsequent testing confirmed the blood's DNA matched that of Armstrong Sr. This evidence was discovered shortly before the trial was set to begin and delayed it for nearly two months.
Armstrong's defense team did not challenge the newly found evidence, according to the affidavit by DeToto, who wrote that it might have if it had known about the 2019 complaint made against Rossi.
"Rossi's testimony in the third trial was crucial because it involved new and dramatic evidence of what the state believed was incriminating blood evidence, and what we believed was simple careless transfer," DeToto wrote in his affidavit. "Rossi's credibility before the jury was critical to the prosecution's case, and the complaint against her by a respected DNA expert would have allowed me to impeach her."
While the jury was deliberating after the most recent trial, a Houston civil rights attorney representing Armstrong filed a federal lawsuit against the Houston Police Department, claiming it planted the evidence. The lawsuit is pending.
According to the motion for a new criminal trial filed last week by McCann, the county court has 75 days from Armstrong's Aug. 16 sentencing to either grant the request or set a hearing to consider arguments about it.