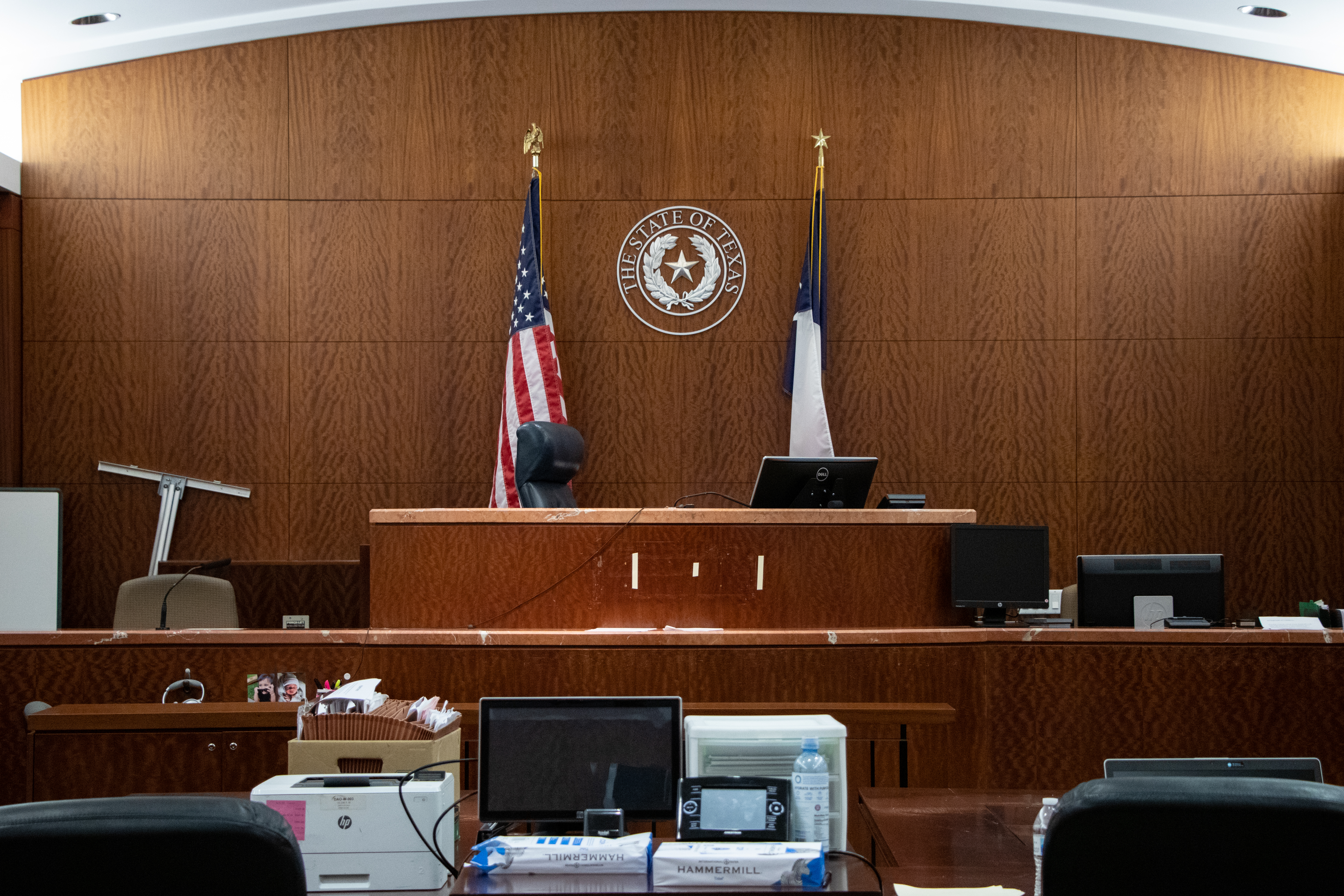 Harris County public safety officials are hopeful that a new state law will help reduce the county's criminal court backlog by expediting pending murder cases.
Under Senate Bill 402, district judges in Texas are required to give preference to hearings and trials for murder and capital murder offenses. The law would amend previous guidelines to give murder and capital murder offenses equal priority to offenses involving the sexual assault of a child.
During a press conference with local law enforcement officials on Wednesday, District Attorney Kim Ogg said the new law "will positively affect and impact public safety in Harris County."
"Murder cases will finally take the priority in the courthouse that other types of cases, such as child abuse and domestic violence, have had for several years," Ogg said. "This law simply tells [judges] what is a priority, and it will be up to our judiciary to determine how they implement that in each court."
According to Ogg, there are currently 1,816 murder and capital murder cases pending in Harris County. Additionally, Ogg said the number of murder cases filed in Harris County shot up from 250 in 2017 to 505 in 2022.
This comes after pending cases in Harris County's courts began piling up after Hurricane Harvey closed the county's criminal courthouse for nearly a year. As of now, the backlog still surpasses 100,000 cases in both criminal and civil court in Harris County, according to the county's district court dashboard.
The bill was authored by John Whitmire, a Democratic state senator and Houston mayoral candidate. He said the new law would make the state's criminal justice system "a lot more fair and just."
"It's my opinion that this would do justice to those that are waiting for trial to be either found innocent or guilty and get them out of a dangerous county jail," Whitmire said. "To move justice along to prevent evidence from getting old witnesses lost. It just makes sense to me to move some of these more serious cases to the front of the line."
Under the new law, cases involving people who are incarcerated and family violence would still take precedence over murder offenses under the new law, according to Kelli Johnson, judge of Harris County's 178th criminal district court. Previously, the guidelines didn't specify where murder offenses would be placed within the hierarchy of importance for judges, Johnson said. Now, this law changes that.
"That's really the only change made to it," Johnson said. "It still is a little unusual that [murder cases are] placed further down than people that are in jail, even if they're charged with a lesser offense."
However, according to Shannon Baldwin, presiding judge for 16 of Harris County's criminal courts, the law may not have much of an impact.
"Do I think that there that it would change anything in the practical sense? No, because I do believe that these cases would always have taken priority," Baldwin said.
Baldwin added that she hopes that the law would, at the very least, help speed up evidence processing.
SB 402 is among nearly 800 new Texas laws that'll go into effect on Friday.