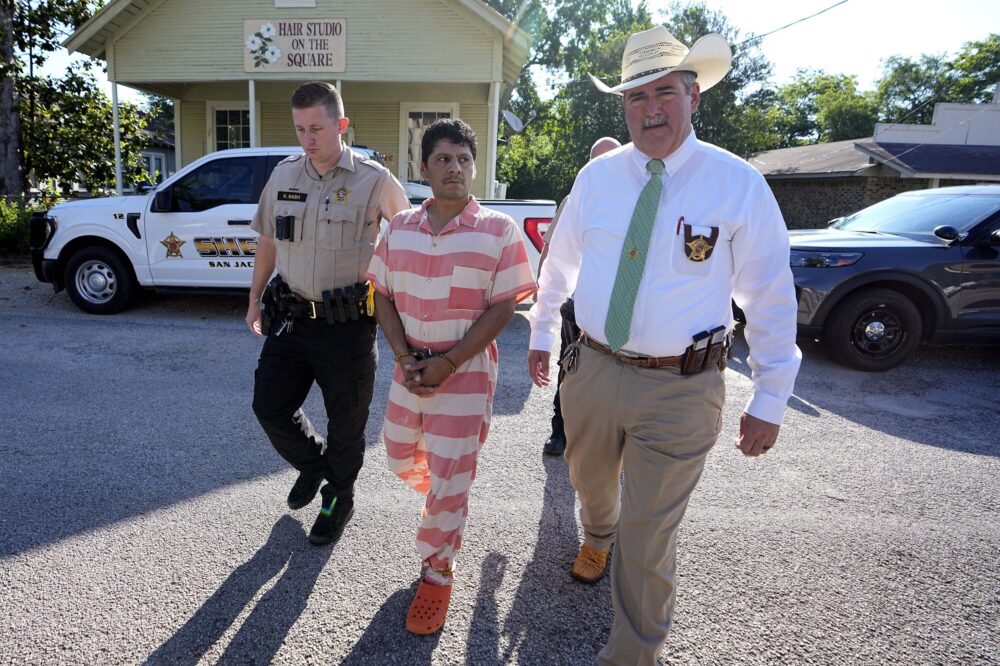 A Houston-area man who went on the run after allegedly killing five of his neighbors, including a 9-year-old boy, pleaded not guilty Thursday in a courtroom in San Jacinto County.
Francisco Oropeza, 38, was indicted by a grand jury in June on a charge of capital murder of multiple persons. He is accused of using an AR-style rifle to shoot and kill five members of the same family inside their home in Cleveland, about 45 miles northeast of Houston, on the night of April 28, local authorities said at the time.
Oropeza was arrested four days later in the town of Cut and Shoot, which is about 17 miles west of Cleveland. Authorities said he was found hiding under clothing in the closet of a home.
On Thursday, Oropeza made his first court appearance since May and formally entered a plea of not guilty, according to Rob Freyer, the first assistant to San Jacinto County District Attorney Todd Dillon. Freyer said prosecutors also submitted a letter to Oropeza's defense attorneys, asking if they wanted to provide any information that might dissuade prosecutors from pursuing the death penalty against Oropeza.
"Weighing in whatever they provide us, we'll go from there and make our decision," Freyer said Friday. "It will be a very deliberate, thought-out decision. We take our role and our responsibility very seriously here."
Oropeza's bond was set at $7.5 million in May and he remained in jail as of Friday. His Houston-based defense attorneys, Lisa Andrews and Anthony Osso, did not immediately respond to messages seeking comment Friday.
In the immediate aftermath of the shooting, San Jacinto County Sheriff Greg Capers said a member of the family that lived next to Oropeza had approached him and asked him to stop firing a gun in his yard because it was disturbing a sleeping baby. Oropeza is alleged to have subsequently entered his neighbors' home with a rifle and fired multiple rounds, killing three women and one man in addition to the 9-year-old boy, according to Capers.
Osso told reporters in May, after Oropeza's first court appearance, that there had been previous disputes between the neighbors, including incidents in which Oropeza's chickens and sheep were allegedly killed by his neighbors' dogs.
"The initial story of asking him not to shoot his gun in the backyard because a baby was sleeping is probably not going to prove to be an accurate version of the events," Osso said in May.
Prosecutors continue to investigate the shooting, according to Freyer, who said Oropeza's next court appearance is scheduled for Dec. 7.