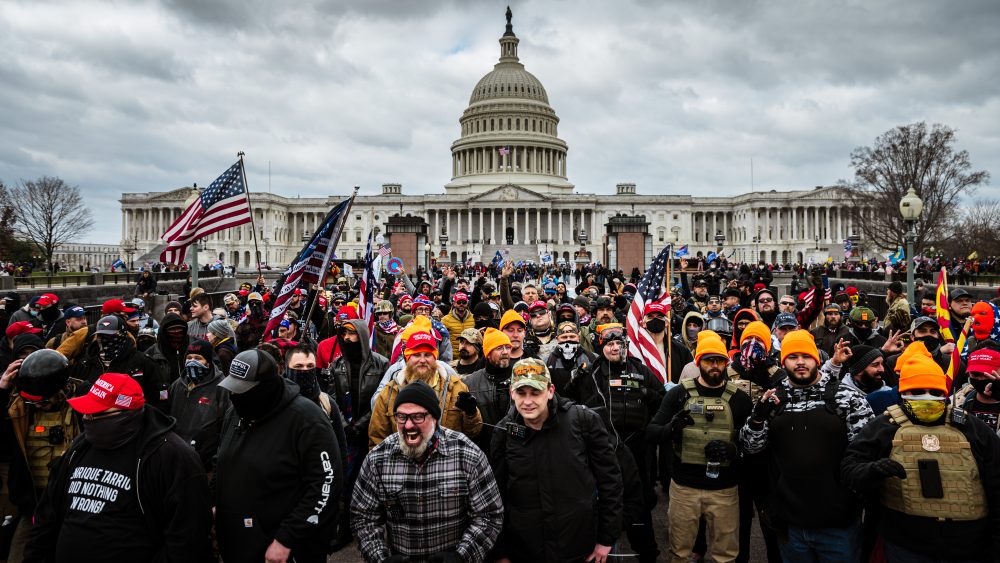 A tip from a relative and recordings from a lost cell phone led to the arrest of a Southeast Texas man who is accused of participating in the insurrection at the U.S. Capitol on Jan. 6, 2021.
Nederland resident Michael Marroquin, 63, was arrested last Thursday in his Beaumont-area hometown and charged with one felony crime and six misdemeanors for his alleged involvement in the riot, in which a crowd of supporters of then-President Donald Trump disrupted a joint session of Congress and tried to prevent lawmakers from certifying the 2020 presidential election results in favor of Joe Biden. Five people died during the attack, which injured more than 100 police officers and resulted in millions of dollars in damages and losses, according to federal court records.
A relative of Marroquin's allegedly spotted him in video footage of the insurrection, posted a screenshot to her Instagram account and provided it to the FBI on Jan. 7, 2021, according to a criminal complaint filed in U.S. District Court for the District of Columbia. The complaint also states that the FBI's Washington field office received a postal package in August of that year that contained a cell phone and a typed note that said, "There is photo, video and other evidence on this device that implicates the owner as a participent in the January 6, 2021 Capitol riot."
Federal investigators later determined the phone was owned by Marroquin and interviewed him in March 2022, according to court documents.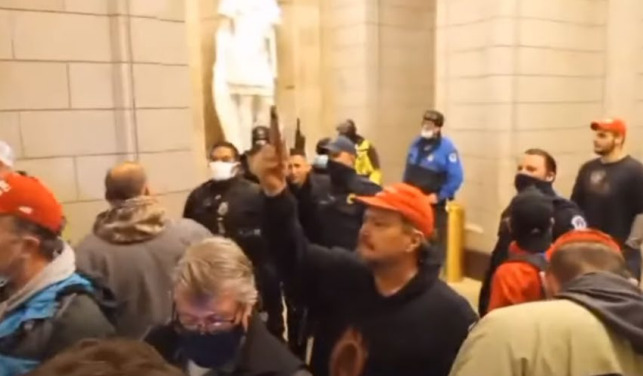 "Marroquin admitted entering the United States Capitol and using his cell phone to record during the entire time he was inside," the criminal complaint alleges. "Marroquin stated that after leaving the Capitol, Marroquin fell asleep on a train while returning to his hotel and when he awoke, his cell phone was gone and he has not seen it since."
A defense attorney for Marroquin was not listed in his online case file as of Monday. He is charged with obstruction of an official proceeding, a felony, along with the misdemeanor crimes of entering and remaining in a restricted building or grounds; disorderly and disruptive conduct in a restricted building or grounds; entering and remaining on the floor of Congress; disorderly conduct in a Capitol building; impeding passage through the Capitol grounds or buildings; and parading, demonstrating or picketing in any of the Capitol buildings.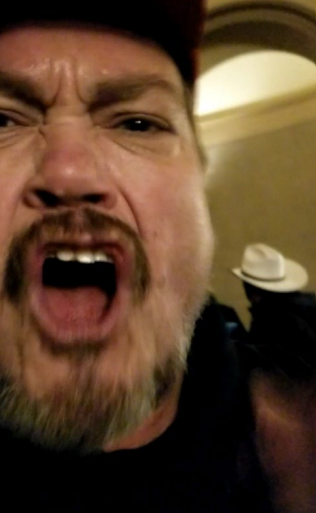 Marroquin allegedly wrote in a Facebook post on Jan. 4, 2021, that he was traveling to Washington D.C. to attend the "Trump rally to stop the steal!" and posted on Jan. 10, 2021, that he had been inside the Capitol during the insurrection and "filmed all of it with my phone which was later taken from me," court documents show.
Recordings on Marroquin's phone allegedly documented his movements through the Capitol on the afternoon of Jan. 6, 2021, as well as his interactions with other rioters and law enforcement, according to court documents, which show he made remarks such as, "This is our House!" and "We occupy and we don't leave!"
At one point Marroquin can be heard thanking Capitol police for their service and offering them water, but he also allegedly could be heard telling them, "Drop your gun!"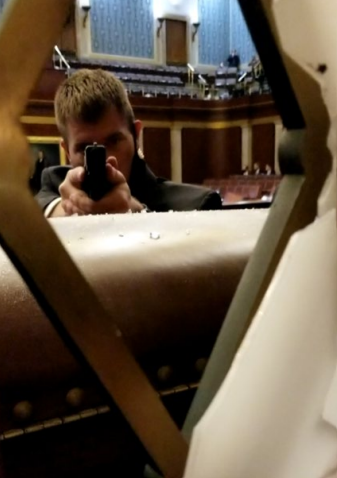 "One video on Marroquin's phone was filmed from directly outside the House Chamber, looking through the broken door and into the faces of law enforcement with their weapons drawn and aimed back at the camera," the criminal complaint states. "Marroquin attempts to engage the officer in conversation, eventually shouting, 'You're a traitor!'"
More than 1,000 people have been arrested in nearly all 50 states for crimes related to the Capitol breach, with more than 350 of those people having been charged with assaulting or impeding law enforcement, according to the U.S. Department of Justice. Houston resident Alexander Fan was arrested earlier this summer for his alleged role in the insurrection.
At least four Houston-area men have been convicted for their involvement in the riot. Christian Cortez of Seabrook was sentenced to four months in prison last May after pleading guilty to civil disorder, Joshua Lee Hernandez of Houston pleaded guilty last November to two felony crimes, Shane Jenkins of Houston was found guilty in March of seven felony crimes and two misdemeanors, and Joshua Lollar of Spring pleaded guilty to a felony in May and was sentenced to 13 months in prison.