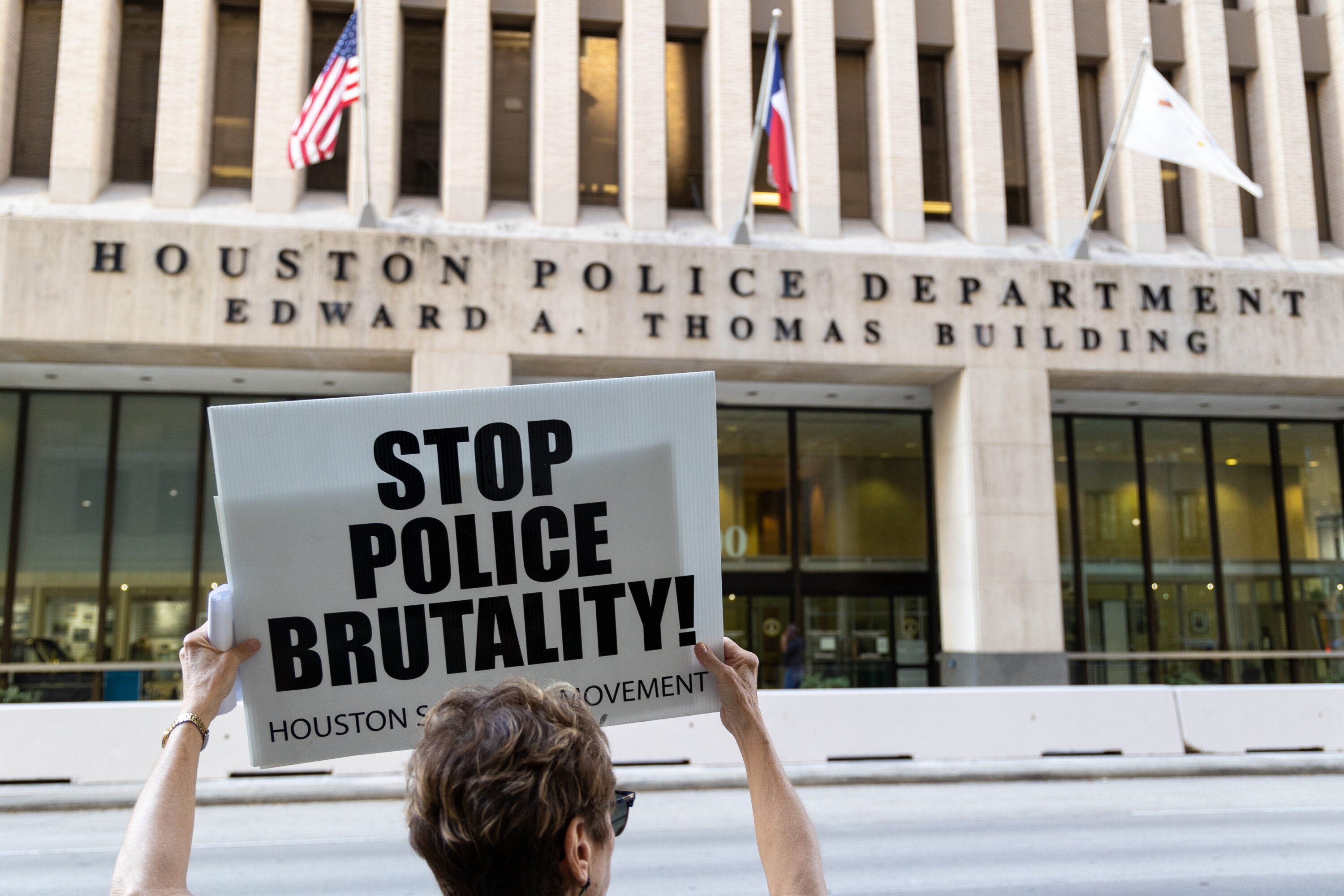 Five Houston police officers allegedly racially profiled a Hispanic man before hogtying him during an arrest, according to a federal lawsuit filed on Monday.
The lawsuit alleges five Houston Police Department officers — Scott Erwin, Jennifer Gilbreath, Hallie Smith, Fredrick Morrison and Gino Dago — violated Alberto Ramos' Fourth Amendment rights by using excessive force while arresting him without probable cause.
According to the civil rights lawsuit, Officer Erwin responded to a 911 call in the Montrose area alleging a Hispanic man had physically assaulted a woman in July 2021. Despite not receiving a physical description of the man from dispatch, apart from his race and gender, Erwin began questioning Alberto Ramos, who was nearby and walking home after enjoying a night out dancing, according to the lawsuit.
"Any Hispanic male who was out and about around that time would have matched the description," said Kiah Duggins, an attorney with the Civil Rights Corps. "HPD's behavior is putting people at risk of being falsely arrested and being subjected to excessive force just because of their race."
Court records say Ramos "showed no physical aggression" during his interaction with Erwin, who suddenly "grabbed Mr. Ramos' arm and began tackling him to the ground before asking any investigatory questions related to the 911 call." Eventually, Erwin and Officer Gilbreath handcuffed Ramos and placed him into a police car, according to the lawsuit.
"Although Mr. Ramos was physically subdued, he was in extreme emotional distress. Mr. Ramos was crying loudly for help, asking questions in confusion, and making nonsensical statements in both Spanish and English," the lawsuit read.
Shortly after, Officers Smith, Morrison and Dago arrived and proceeded to pull an already-handcuffed Ramos out of the police car and hogtie him on the ground, according to court records.
"There's really no excuse for the officers to use this technique," Duggins said. "In this case, Mr. Ramos was in a heightened state of delirium and was medically and physically vulnerable."
Duggins added that for the last 28 years, the U.S. Department of Justice has warned police departments that hogtying vulnerable people can lead to suffocation. Additionally, an investigation from the Marshall Project found that 23 people nationwide died as a result of being hogtied by police from 2010 to 2021.
After the incident, Ramos was hospitalized and charged with assaulting a peace officer — he was never criminally charged for the allegations related to the 911 call.
"This was very deeply traumatizing for Mr. Ramos," Duggins said. "It's had an impact on his personal and professional life, and he would like to see the officers be held accountable for their actions here."
Read the full lawsuit below: