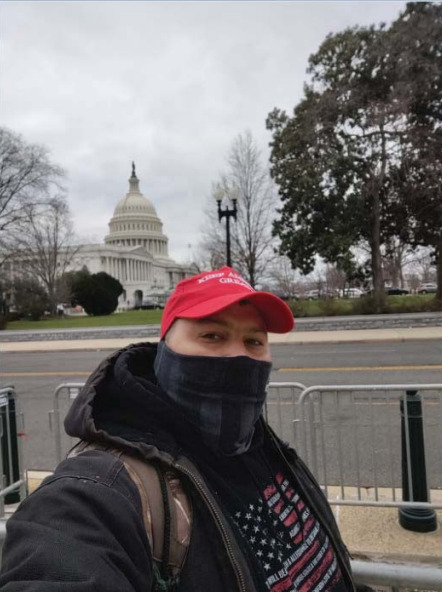 An Army veteran from the Houston area who drove to Washington D.C. with an assault rifle, body armor and gas mask pleaded guilty to a felony Monday and was sentenced to 13 months in federal prison for his involvement in the 2021 insurrection at the U.S. Capitol, according to the U.S. Attorney's Office for the District of Columbia.
Joshua Lollar, 41, of Spring, pleaded guilty to obstruction of an official proceeding and began serving his prison sentence immediately, according to federal prosecutors, who said he also was sentenced to 12 months of supervised release and ordered to pay $2,000 in restitution.
Lollar's defense attorney, Brian McDaniel, did not immediately respond to an email Tuesday seeking comment. Lollar took responsibility for his actions and expressed regret in a May 16 sentencing memorandum filed in court by McDaniel.
"Mr. Lollar recognizes the serious nature of the offense to which he will plead guilty," the memorandum states. "He feels deep remorse and pervasive shame for the conduct that has brought him before the court and understands that he must now make amends to society, his family and the country."
At least three other Houston-area men have been convicted for their involvement in the riot at the Capitol building on Jan. 6, 2021, when a crowd of supporters of then-President Donald Trump disrupted a joint session of Congress and attempted to prevent lawmakers from certifying the 2020 presidential election results in favor of Joe Biden. Christian Cortez of Seabrook was sentenced to four months in prison last May after pleading guilty to civil disorder, Joshua Lee Hernandez of Houston pleaded guilty last November to two felony crimes and Shane Jenkins of Houston was found guilty in March of seven felony crimes and two misdemeanors.
Five people died during the insurrection, which injured more than 100 police officers and resulted in millions of dollars in damages and losses, according to federal court records. More than 1,000 people have been arrested in nearly all 50 states for crimes related to the riot, with more than 320 people having been charged with assaulting or impeding law enforcement, according to the U.S. Department of Justice.
In the aforementioned sentencing memorandum, in which McDaniel asked Judge Tanya S. Chutkan to give Lollar a home confinement sentence as opposed to prison time, McDaniel suggested Lollar was motivated by Trump's false claims that the 2020 election was stolen from him.
"Mr. Lollar, like many of those who were called to (Washington) by former President Trump and his supporters, were the unfortunate pawns used to advance the lofty and illegal political goals of those desperately hoping to hold on to power," McDaniel wrote. "This on the backs of those who had been indoctrinated with false information. Mr. Lollar's love of country, evidenced by his military service, was abused and now he will be called upon to accept his punishment while those who are responsible for the orchestration of this event, in large part, have and apparently will avoid any level of accountability."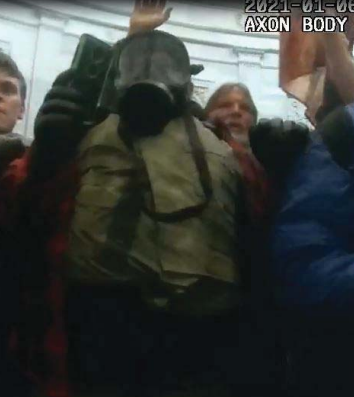 Lollar, who served in the Army from 2001-07, was incriminated by his own social media posts and text messages as well as admissions to federal investigators in the aftermath of the insurrection, court documents show. He traveled alone from Spring to Arlington, Virginia, in the days leading up to the riot, bringing an AR-15 assault rifle, gas mask, body armor vest, gloves and backpack, according to prosecutors, who claim Lollar sent a text message while en route that said, "We are going to try to save the country."
Lollar attended Trump's "Stop the Steal" rally on Jan. 6, 2021, and later followed a mob of Trump supporters to the Capitol building, where at different points he donned his gas mask, body armor vest and a red "Keep America Great" cap, court records show. Lollar physically engaged police officers multiple times while at the Capitol, using his arms and torso to push or restrict the movements of officers, and documented his actions with a series of videos, photos and written posts on Facebook, one of which said, "Just got gassed and fought with cops that I never thought would happen," according to court documents.
A little before 5:30 p.m. that day – about two hours after Lollar exited the Capitol building – one of his Facebook friends contacted the FBI and alerted the agency to his posts, court documents show. A Facebook user believed to be Lollar's sister wrote on his page that night, advising him to delete the incriminating posts from his account, according to court records.
FBI agents interviewed Lollar at his Spring home on Jan. 11, 2021, when they also obtained records from Facebook related to his account, and arrested Lollar four days later, court records show.