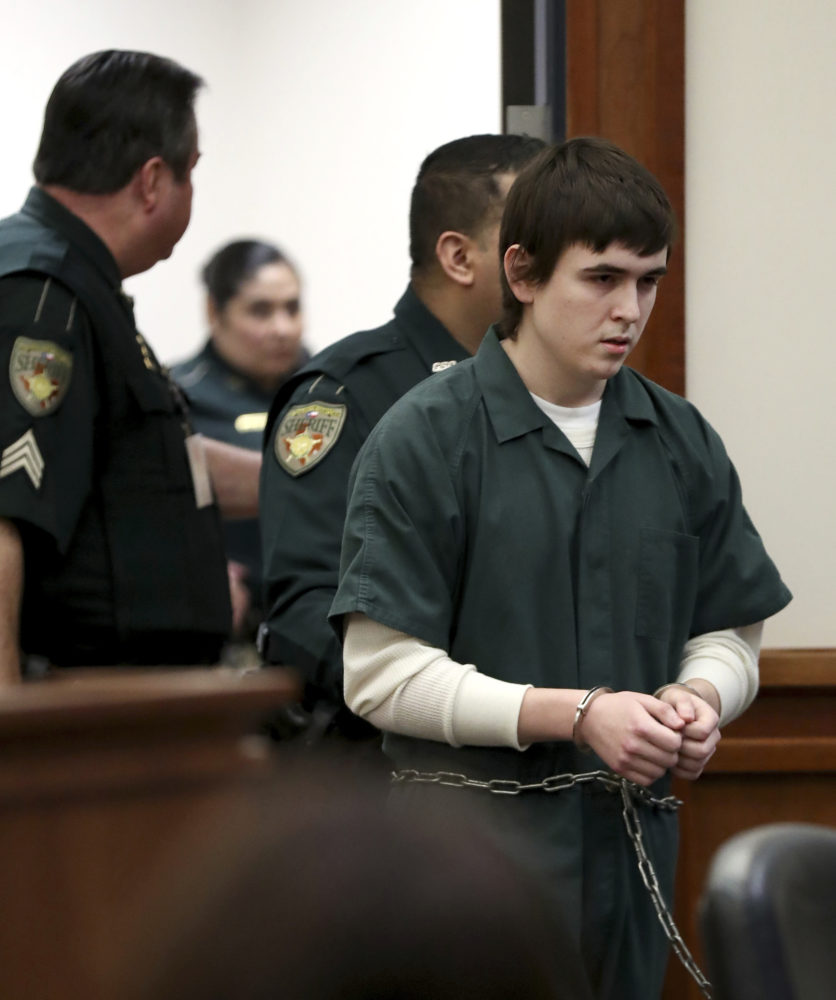 The capital murder case involving the accused Santa Fe High School shooter is getting a new judge for the third time in less than five months after Judge Jeth Jones was disqualified Monday over a conflict of interest.
Defense attorneys for Dimitrios Pagourtzis, 22, accused of shooting and killing eight of his fellow classmates and two teachers on May 18, 2018, and has since been determined to be mentally incompetent to stand trial, argued during a court hearing last month that Jones should be removed from the case because of alleged bias regarding Pagourtzis' competency and also because of Jones' previous professional relationship with another attorney-turned-judge in Galveston County. Judge Jared Robinson was law partners with Jones when Robinson met with Pagourtzis and his other defense attorneys in the immediate aftermath of the shooting, which constituted a brief attorney-client relationship that extended to Jones even though Robinson did not ultimately take the case, argued defense attorney Nick Poehl.
Judge Susan Brown of the Eleventh Administrative Judicial Region accepted Poehl's latter argument on Monday while granting a motion to disqualify Jones, who was elected to Texas' 122nd District Court last November and inherited the 5-year-old case from now-retired Judge John A. Ellisor. The case is now being transferred to the 56th District Court in Galveston County, where Judge Lonnie Cox presides.
"There was just a lot of concern on our part the way that the case was being handled," Poehl said. "We've got full confidence in Judge Cox to handle it appropriately."
Galveston County District Attorney Jack Roady, whose office is prosecuting the case against Pagourtzis, also gave a vote of confidence to Cox while expressing disappointment in Jones' disqualification. Roady had argued against such a move, and Jones declined to voluntarily remove himself, which left the decision up to Brown.
Jones did not immediately respond Tuesday to a voicemail left at his office seeking comment.
"Our office is disappointed to lose Judge Jones, but we believe that Judge Cox will handle the case fairly and efficiently," Roady said in a statement. "He is known for making decisive rulings that are fair to all parties."
Jones' disqualification means the rulings and orders he's made since taking over the case at the start of this year are now voided, according to Poehl, who added that the case should not be disrupted as a result. Jones ordered Feb. 1 that Pagourtzis is to remain committed for up to another 12 months at North Texas State Hospital in Vernon, and Poehl said Cox is likely to sign a new, similar commitment order "very quickly."
Jones also ordered March 10 that Pagourtzis receive a separate mental health evaluation from Dr. Joseph Penn of the University of Texas Medical Branch at Galveston. The Texas Attorney General's Office subsequently filed a motion to vacate that order, arguing that the court lacks personal jurisdiction over Penn and that he is barred from performing competency and forensic examinations because of a statewide policy governing health services administered within the Texas Department of Criminal Justice system.
"He's going to stay right where he is," Poehl said of Pagourtzis, "and another (commitment) order will be signed. Functionally, nothing will really change."
Roady echoed that sentiment in his statement, saying, "The case will move forward as before, under the same law, the only difference is that it will be in a different court."
Pagourtzis, a student at Santa Fe High School at the time of the shooting, is charged with capital murder of multiple persons as well as aggravated assault of a public servant. In addition to the 10 people who were killed, 13 were injured in the May 2018 shooting southeast of Houston.
Poehl told Houston Public Media in February that Pagourtzis' mental state at the time of the shooting, and whether he should be held legally responsible for the victims' deaths and injuries, would be the crux of his argument in a trial. Poehl added, "We've never disputed that he did the act. That's not a contested question."
Pagourtzis was initially committed to the state hospital for restorative treatment in November 2019 and has been recommitted every subsequent year, based on mental health evaluations conducted by multiple doctors. The most recent recommitment order issued Feb. 1 by Jones says Pagourtzis was "suffering severe and abnormal mental, emotional or physical distress" and his condition was expected to continue for at least 90 days.
Despite that order, Jones ordered the aforementioned evaluation by Penn a little more than a month later. Poehl also claims that Jones contacted North Texas State Hospital and arranged a separate evaluation of Pagourtzis without informing the defense attorneys or Galveston County DA's office, with Poehl alleging in a motion to recuse Jones that the judge's actions demonstrated bias or prejudice against Pagourtzis and his mental state.
Now that Jones has been disqualified, Poehl said the drawn-out case will take its next cues from Cox or the state hospital in Vernon. Pagourtzis remains mentally incompetent, according to Poehl.
"In terms of getting the right judge on the case, one thing that would be worse than a long case is having to do it twice because the wrong judge was sitting at the bench," Poehl said. "We've gotten that corrected, so hopefully we can move forward at some point. It's going to be up to the hospital. We'll wait to hear."