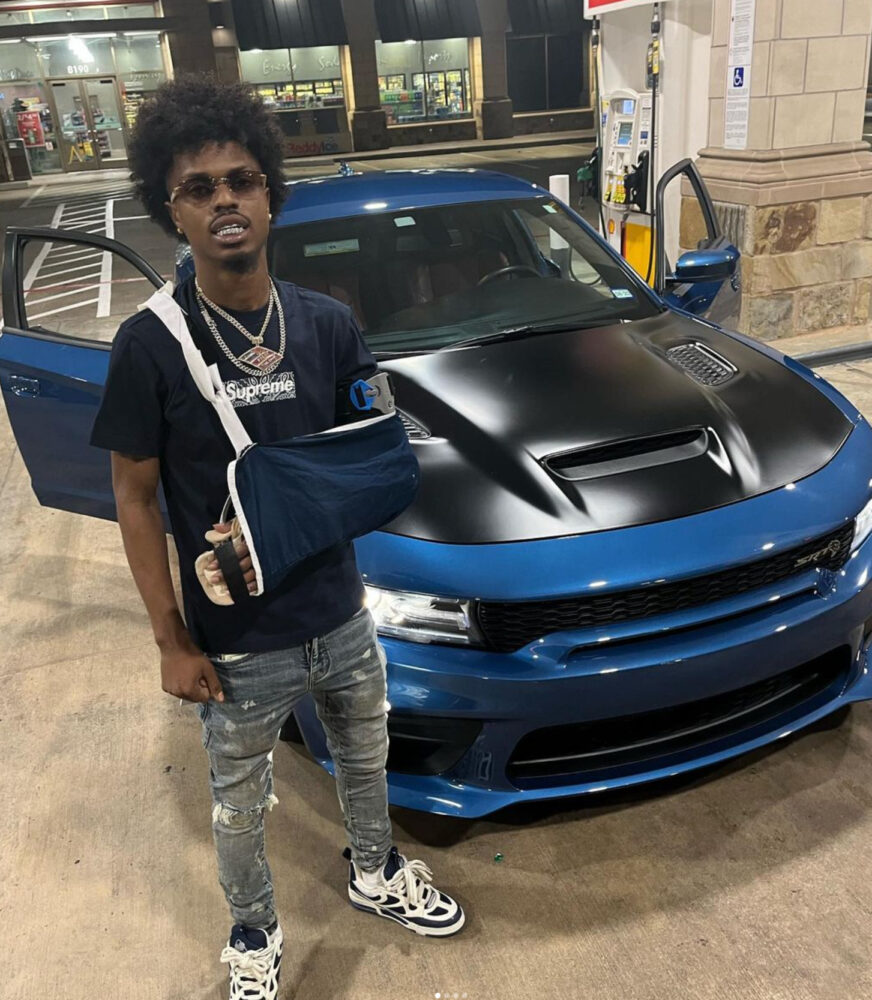 A man accused of fatally shooting San Antonio-based rapper BTB Savage late last month in Houston was arrested early Tuesday and had his bail set at $1 million, according to Harris County court records, which describe the killing as gang-related retaliation.
Montrel Burley, 40, of New Braunfels, has been charged with murder in the March 30 shooting death of Darrell Gentry, 26, who rapped under the name BTB Savage and had recently been staying in a short-term rental in Houston, court documents show. In the day and hours leading up to his shooting near the intersection of Mid Lane and San Felipe Street in River Oaks, Gentry had talked in a YouTube video and made a social media post about his involvement in the Feb. 3 shooting death of Omar Richardson in San Antonio, where police determined that Gentry and his then-girlfriend acted in self-defense and no criminal charges were filed, according to a probable cause affidavit filed in Harris County court.
Coordination between police in Houston, New Braunfels and San Antonio, along with a statement to detectives allegedly made by Burley's fiancé, revealed that Burley was close friends with Richardson as they were original members of San Antonio's Stixx gang that branched into Blood Stone Villains, or BSV, according to court documents.
"(Gentry's mother) stated that after the shooting of Omar Richardson in San Antonio, Darrell was receiving threatening messages via Instagram from Omar's family members," Houston Police Department detective Kyle Stringer wrote in the probable cause affidavit. "She told Darrell that he needed to come to her in Las Vegas to get away from them. She stated that he was either going to head to Las Vegas that day (March 30) or the next, but he was shot."
Burley's defense attorney did not immediately respond Tuesday to a message seeking comment.
The Houston Police Department, citing witnesses, said two people were seen fleeing the scene of the drive-by shooting in a black Subaru sport-utility vehicle. Burley is suspected to be one of them, while the second person was unknown as of Tuesday, according to HPD.
Police connected Burley to the vehicle because he had rented it in San Antonio a few days before the shooting in Houston and surveillance footage showed it was parked in front of his residence in New Braunfels on March 29, according to the probable cause affidavit. Images of the SUV were captured by stationary license plate readers in Fayette County on March 30 – showing it was traveling east on Interstate 10 toward Houston a couple hours before the shooting, which happened at about 6 p.m., and was traveling west toward San Antonio a couple hours afterward, court documents show.
Police obtained a search warrant for the SUV the following day, March 31, and New Braunfels police stopped Burley and his fiancé shortly after leaving their home in the vehicle that morning, court records show. A subsequent search of the vehicle revealed a shell casing that was similar to those found at the scene of the shooting, and the phones of Burley and his fiancé also were seized, according to court documents.
Burley told detectives during an interview that day that he had not recently been in Houston and had loaned out the vehicle he rented, and then ended the interview and requested an attorney when asked who borrowed the vehicle, court documents show. Burley's fiancé told police he had been away from home from the morning of March 30 until that night, according to the probable cause affidavit, which show that police also used Burley's cell phone records to track its location during the days surrounding the shooting.
His phone was used in New Braunfels late during the morning of March 29 and had moved to Houston near the location where Gentry was staying late that night and early the following morning, according to court documents, which show the phone remained in that general area throughout most of the day March 30 before being near the location of the shooting around the time it occurred. The phone left that area shortly thereafter and was tracked as being near Burley's home in New Braunfels at about 11 p.m. that night, court records show.
Burley's bond was set at $1 million Tuesday by a magistrate judge, who ordered that Burley is to remain in Texas and wear a GPS monitor if he posts bail and is released from jail. Burley also was ordered to undergo an evaluation to determine if he has a mental illness or intellectual disability.
Burley's next court appearance is scheduled for Monday, April 17, court records show.