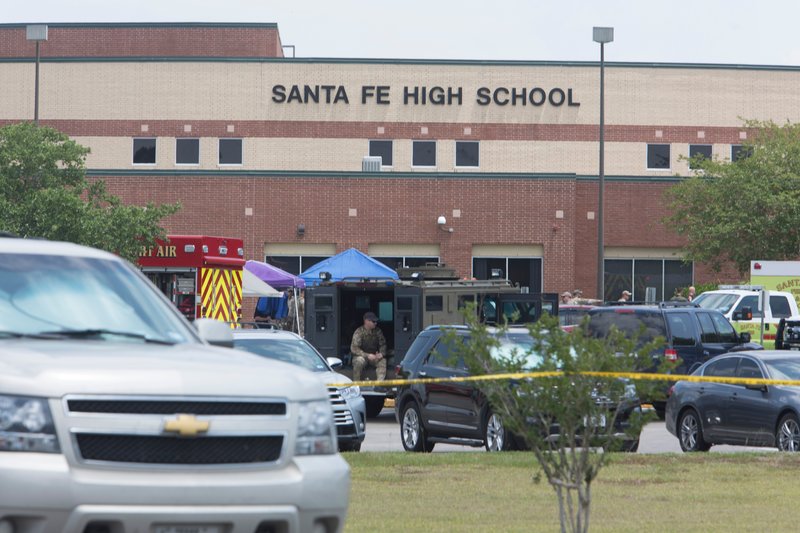 Defense attorneys for the Santa Fe High School shooter are seeking to have the presiding judge recused from the 5-year-old capital murder case, citing an alleged bias toward their client regarding his mental competency to stand trial.
Attorneys for gunman Dimitrios Pagourtzis, 22, filed a motion for recusal on Tuesday in Texas' 122nd District Court in Galveston County, claiming Judge Jeth Jones has been "expert shopping" in order to find a medical professional who will determine that Pagourtzis is competent to stand trial for the murder of eight of his classmates at the Houston-area school as well as two teachers on May 18, 2018. Pagourtzis has been committed to a state-run mental health institution since 2019, with Jones ruling in February that Pagourtzis remained mentally incompetent before ordering a new evaluation a little more than a month later.
Defense attorney Nick Poehl argued in the motion that Jones, who was elected last fall and inherited the case from retiring Judge John A. Ellisor at the start of this year, has demonstrated bias or prejudice by ordering a new mental health evaluation within 90 days of the previous one without a valid reason for believing Pagourtzis' mental state had improved during that time. Poehl also claims that Jones subsequently contacted North Texas State Hospital in Vernon and arranged a separate evaluation of Pagourtzis without informing the defense attorneys or Galveston County District Attorney's Office, which is prosecuting the case.
The motion alleges that Jones has violated the Texas Code of Criminal Procedure, the Texas Code of Judicial Conduct and the Sixth Amendment of the U.S. Constitution, which sets forth defendants' rights in criminal prosecutions.
"A judge is required to remain neutral and to maintain at all times not just impartiality but the appearance of impartiality," Poehl said. "Judge Jones' actions in this case have called that into question. He appears to be an advocate rather than a referee on the issue of competency."
Neither Jones nor a representative of his court immediately responded to a Wednesday voicemail seeking comment. He told the Houston Chronicle on Tuesday that he was referring the motion to regional administrative Judge Susan Brown, who would appoint another judge to hear related arguments and make a ruling, according to Poehl. Citing correspondence with Brown's office, Poehl said a referral had not been received as of late Wednesday morning.
Galveston County District Attorney Jack Roady said in a statement that his office has reviewed the defense's motion and sees "no legal basis for recusal."
"Therefore, we oppose the motion to recuse," Roady added. "We believe Judge Jones should remain the presiding judge over these proceedings."
Pagourtzis, a student at Santa Fe High School at the time of the shooting, is charged with capital murder of multiple persons as well as aggravated assault of a public servant. In addition to the 10 people who were killed, 13 were injured in the shooting.
Poehl told Houston Public Media in February that Pagourtzis' mental state at the time of the shooting, and whether he should be held legally responsible for the victims' deaths and injuries, would be the crux of his argument in a trial. Poehl added, "We've never disputed that he did the act. That's not a contested question."
Pagourtzis was initially committed to the state hospital for restorative treatment in November 2019 and has been recommitted four times by the court, based on mental health evaluations conducted by multiple doctors. The most recent recommitment order was issued Feb. 1 by Jones, who ruled that Pagourtzis should remain at the Vernon hospital for up to 12 more months because he was "suffering severe and abnormal mental, emotional or physical distress" and his condition was expected to continue for at least 90 days.
Poehl alleges in his motion for recusal that Jones, a few days before issuing the latest recommitment order, said in a meeting with defense attorneys and prosecutors that he believed he could appoint a new expert to evaluate Pagourtzis on a weekly basis and that the shooter would eventually be found competent to stand trial. Jones also allegedly said that the state hospital "failed to do its job" in restoring Pagourtzis to competency and that the judge was prepared to "look across the country" for medical experts, according to the motion.
Defense attorneys also allege that, before the March 10 hearing in which Jones ordered a new mental health evaluation, that he refused to directly address their questions about the separate evaluation he allegedly had arranged with North Texas State Hospital. While the report from that evaluation has not been finalized, according to Poehl, he said it determined that Pagourtzis remained incompetent to stand trial.
Per the order issued March 10, Dr. Joseph Penn of UTMB Health is to perform an evaluation of Pagourtzis and submit his findings to the court within 30 days. The next status conference in the case is scheduled for May 5.
"Absent any indication from the state's medical authorities that defendant has undergone any material change in his status, Judge Jones' proposed scheme appears to be designed to either create the appearance to the public as if the court is doing something, or to eventually arrive at the specific result of the defendant being found competent," Poehl wrote in the motion for recusal. " ... In short, the court has created a situation in which it appears the court is engaged in 'expert shopping.'"
With the goal of eventually trying the case, and so as not to influence potential jurors, the Galveston County District Attorney's Office has withheld medical examiner's reports and surveillance footage of the shooting from the public and even the victims' families, leaving them largely in the dark about how exactly their loved ones died. A bill proposed in the Texas Legislature by State Sen. Mayes Middleton of Galveston County would allow prosecutors to share such information with deceased crime victims' parents or children without making that information available to the general public.