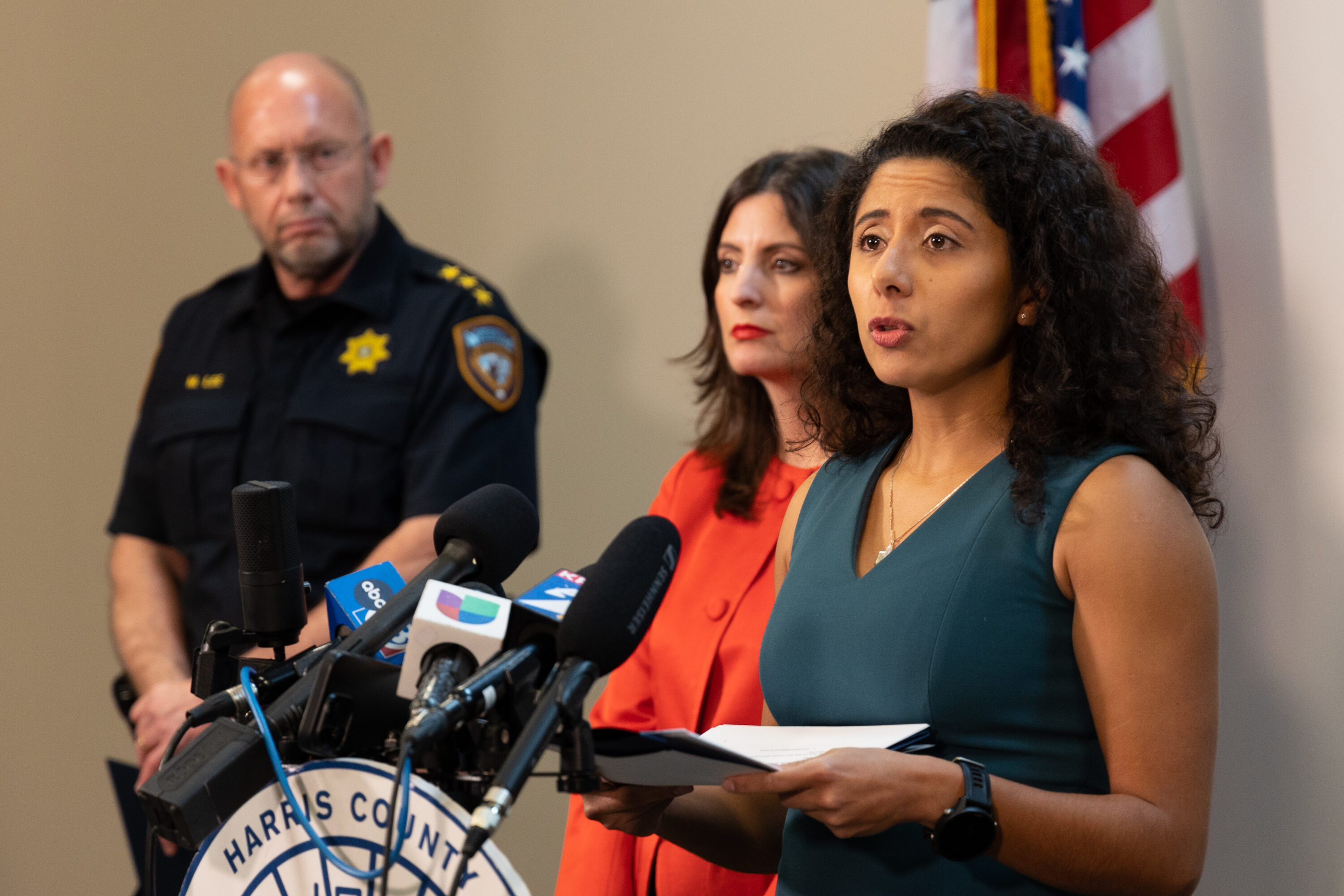 Harris County officials are expanding a program to help those deemed incompetent to stand trial in an effort to reduce the county's court backlog and alleviate overcrowding at the Harris County Jail.
Commissioners Court last week approved $645,000 to expand the capacity of the Jail-Based Competency Restoration program, which is operated by the Harris Center for Mental Health and Intellectual Disabilities. The program aims to provide services to people who are found incompetent to stand trial due to mental illness or intellectual disability.
In the end, those who enter the program will either be considered competent to stand trial or be deemed unlikely to be restored, in which case, they'll be treated outside of the county's criminal justice system.
According to Harris County Judge Lina Hidalgo, around 70 people per year are considered restored under the current program. During a press conference on Thursday, Hidalgo said the investment would double the amount of people who are considered restored.
"Every person is entitled to due process, no matter the circumstances, and surely, they should be able to stay safe in the jail," Hidalgo said. "The bottom line is there are too many folks with mental health issues stuck in jail for too long."
Hidalgo added that the extra money would help expedite cases that've been prolonged by the program's growing waitlist. According to Mike Lee, chief deputy at the Harris County Sheriff's Office, some inmates wait as long as 300 days.
"These people — who have not been convicted of a crime yet — are sitting in jail, waiting to be sent to a state hospital to hopefully have their mental competency restored, so that their cases can proceed in the justice system," he said. "This is a crisis by any definition."
This comes as the jail's daily inmate population continues to hover around the facility's maximum capacity. As of Wednesday, there were 9,879 people in the jail, according to the Harris County Jail dashboard.
A total of 27 people lost their lives while in custody last year — the highest number in nearly two decades, according to county records and data from Texas Justice Initiative. So far, at least four people have died this year.
The Sheriff's Office has pointed to the county's court backlog as one of the main reasons for the increased number of in-custody deaths. Problems began in 2017 after damage from Hurricane Harvey closed the county's criminal courthouse for nearly a year — the delays have since been exacerbated by the pandemic and other natural disasters like Winter Storm Uri.
"Unless the systems begin to move much quicker, then at the end of day, we're still going to continue to be grappling with the same thing," Sheriff Ed Gonzalez said on Houston Matters last month. "In short, more people are coming into the jail system than are going out."
The backlog has decreased by 28% over last year, according to Hidalgo. However, pending cases in criminal and civil court are still well over 100,000, according to Harris County's district court dashboard.
"We're seeing progress, but there's more to be done," Hidalgo said.