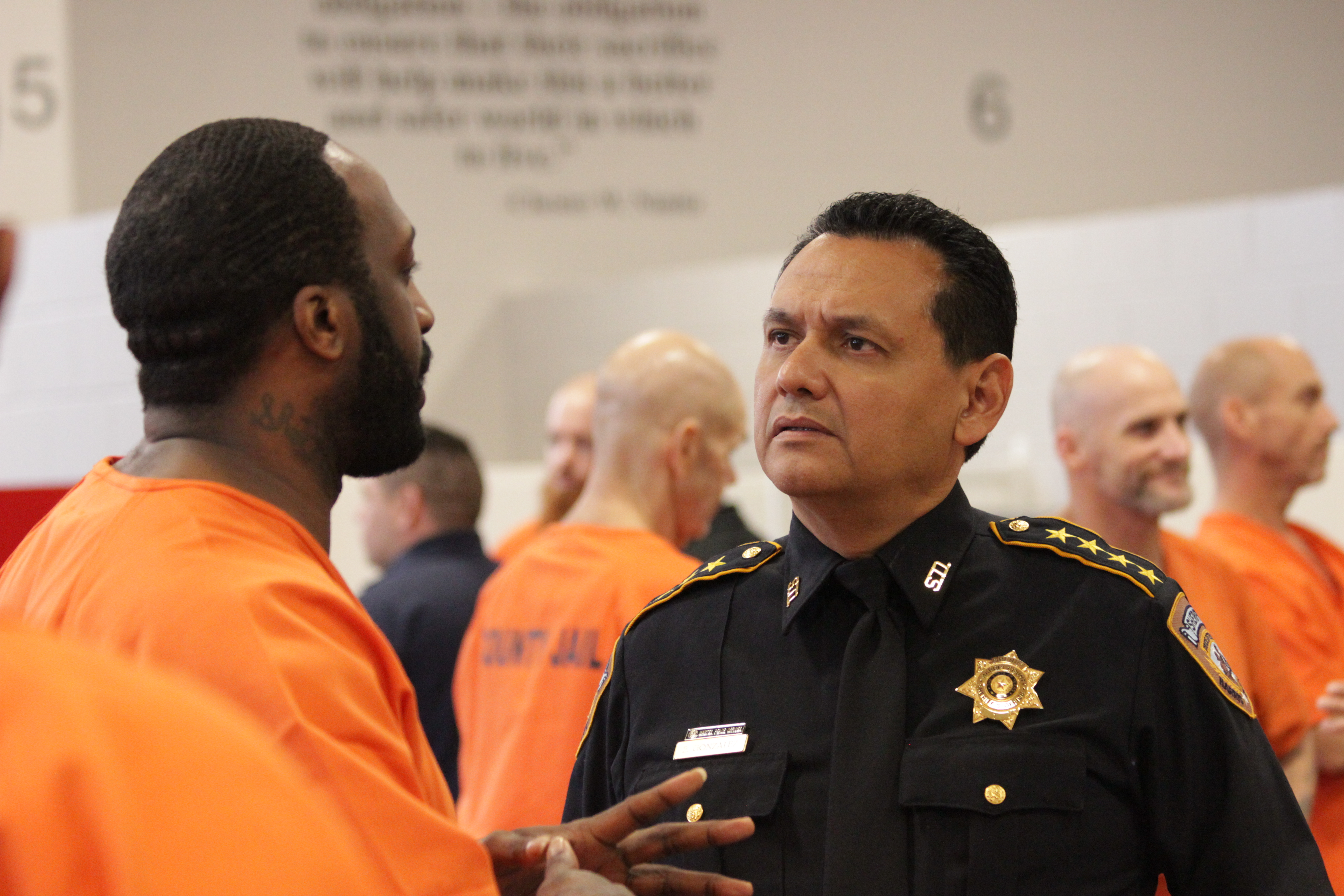 Harris County Sheriff Ed Gonzalez joined Houston Matters Thursday morning to discuss the growing number of in-custody deaths in Harris County Jail and overcrowding within the strained facility.
Over the last year, the jail's daily population has steadily increased and continued to hover around 10,000 people — close to the facility's maximum capacity. The sheriff pointed to the county's criminal court backlog as a major reason for the population spike.
"I think that the impacts of a slow and at times inefficient court system has really placed a huge burden on the jail," Gonzalez said. "As a sheriff, I have no control over who gets booked or who gets released out of the jail, that's out of my hands. We only manage the facility."
According to Harris County's district court dashboard, a total of 39,522 active criminal cases were pending in November. In total, the county is facing a backlog of more than 100,000 cases in both criminal and civil court.
Listen to the entire interview from Thursday's Houston Matters:
Gonzalez said the backlog, which began after damage from Hurricane Harvey closed the county's criminal courthouse for nearly a year, forced the sheriff's office is rely on outsourcing inmates to other facilities — a practice that Gonzalez had initially opposed when he was elected in 2017.
"We felt it was really the only recourse we had at this point, considering the circumstances of a slow system and the backlogs caused by Harvey and a pandemic." he said. "But it's not my preferred choice."
As of Wednesday, 901 people were being outsourced to other facilities — a total of 10,078 were being held in Harris County Jail, according to the county's jail dashboard.
However, the policy change doesn't alleviate the root of the problem, according to Gonzalez.
"Unless the systems begin to move much quicker, then at the end of day, we're still going to continue to be grappling with the same thing," he said. "In short, more people are coming into the jail system than are going out."
In the meantime, Gonzalez said the department is trying to hire more jail staff to keep up with the facility's growing population — a task that may be more difficult due to department getting less money than initially proposed in this year's budget.
"One of the things that we've done historically is we've always tried to maintain what we consider minimum jail standards," he said. "With an environment like we have, though, that's not always sufficient."
Additionally, jail reform advocates like Gabriela Barahona with the Texas Jail Project say conditions in the jail are rapidly deteriorating due to a lack of medical care for inmates.
"It's really important to stress again that the Sheriff's Office and detention officers are the gatekeepers of medical care," Barahona said. "So, even if there is a doctor or a medical provider ready to provide care, it all depends on whether or not a detention officer believes the person."
Overall, Gonzalez says a persistent court backlog, an ever-growing inmate population and an insufficient number of staff are among the factors that ultimately led to a record number of in-custody deaths in Harris County Jail last year.
At least 27 people died while in custody in 2022 — the highest number in nearly two decades, according to county records and data from Texas Justice Initiative. So far, two more people have died in the jail this year: 59-year-old Gary Smith and 31-year-old Jacoby Pillow, who was set to be released on a $100 personal bond.
Pillow's release was interrupted when Pillow allegedly assaulted a detention officer, according to the Sheriff's Office. Jail staff "used force" to restrain Pillow, who died hours later after being found unresponsive in his cell. Civil Rights Attorney Ben Crump is now representing Pillow's family.
In response to the increased number of in-custody deaths, Gonzalez said a majority had entered the jail with pre-existing medical conditions and died of natural causes.
"I think more people are coming in sick," he said. "It just creates a very challenging environment."
Since January 2022, at least 14 people died while in custody due to illness or natural causes, according to custodial death reports from the Texas Attorney General's Office.
However, Barahona with the Texas Jail Project says pre-existing medical conditions are often times "exacerbated by the medical neglect that happens inside" the jail.
"We have a hard time believing that any death in custody is natural because they're occurring in a context where medical neglect, isolation, poor nutrition, elevated stress levels and disease are everyday occurrences," Barahona said.
As of now, Gonzalez said he's been working with Commissioners Court in order to get more money to fund 700 positions more within the jail.
"We operate a 24/7 environment and we want to make sure we're giving our personnel relief," he said. "We're trying to tackle violent crime, but at the same time, we need the jail system to work efficiently and effectively. So we're still advocating for more personnel."